Thomas Jayne is looking forward to speaking at this year's Theta Charity Antiques Show, one of the top three antiques shows in the country and the highest caliber show in the south. His talk will present examples of his work from the last 25 years with emphasis on the collaborations with artists and artisans who create the special features that make the Studio's work unique.
The Theta show has a storied past. Founded in 1952 by the Houston Alumnae of Kappa Alpa Theta, they took a cue from the the group of socialites that organized the Winter Antiques Show in New York, and created their own antiques fair. The show has grown into an important three-day fundraising event benefiting educational programs, medical research and cultural arts. It will showcase 50 of the finest purveyors of antiques and feature a lecture series, gala preview party, luncheons, and Designers Walks.
The event is held at the Bayou City Event Center at 9401 Knight Rd, Houston, TX 77045. Tickets for Thomas' lecture, the preview party and all related show events can be purchased from the Theta Charity Antiques Show events page.
If you visit the show, we also encourage you to hear esteemed architect Allan Greenberg who will be speaking on Saturday, November 12th.
Read more about Thomas' lecture and the show at the Theta Charity Antiques Show site.
The Theta Charity Antiques Show receives no monies from the sale of art and antiques. This production is fueled by nearly 300 alumnae volunteers who devote their time to creating an intimate experience for attendees with a unique theme and emphasis on close ties to the community. Solely through revenue from underwriting, ticket and advertising sales, TCAS has raised more than 7 million dollars in contributions to over 100 valued beneficiaries.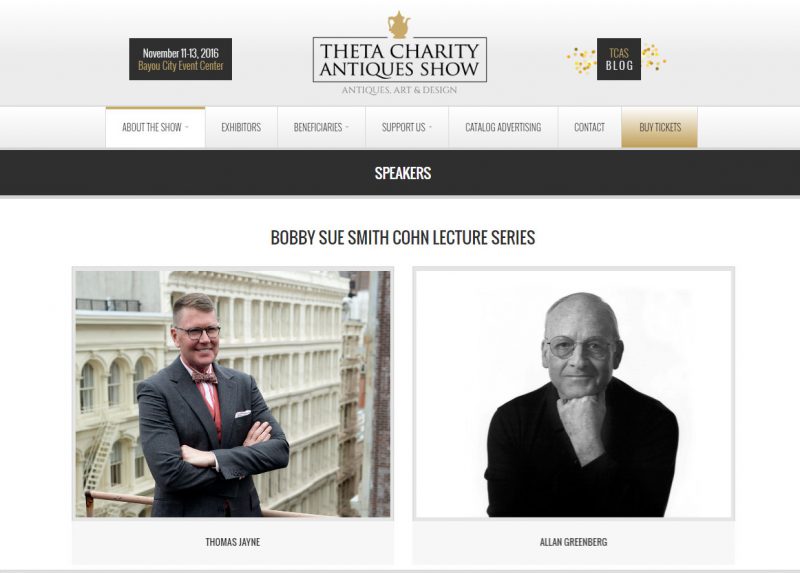 .