The Well-Dressed Window is a celebration of du Pont's genius as a decorator and scholar of early American design. Focusing on 40 of the house's important period rooms, it tells how he adapted historical models to suit the rooms where he displayed his collections, at the same time leaving his own mark on the designs. Authoritatively written by Sandy Brown with an in-depth introduction on Henry du Pont's life and work by Linda Eaton, it is a visual delight and illuminating look at how both historical and contemporary forces shaped the results.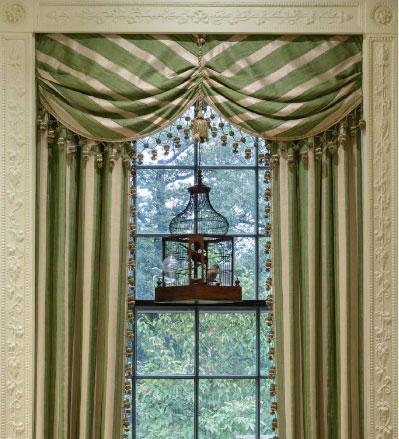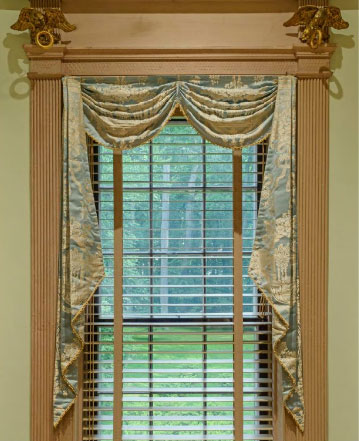 In the foreword, Thomas Jayne shares his own passion for history in design, but notes the hand of the designer is always apparent:
[du Pont] consulted historical references, especially illustrations, to inform his schemes for the rooms. He was known to have sought period designs, and sometimes he even used surviving examples. However, as a designer he acknowledged that aesthetics played an important role in the presentation of his collections. Hence many of the windows in the museum have qualities that are both historical and personal.
Today we are careful to also preserve Mr. du Pont's curtains. His take on history and taste is historically important, and we have come to understand that accuracy is a relative term. And in fact, Mr. du Pont's curtains are an accurate reflection of the time in which he created them. With this handsome book we celebrate their beauty, and their place in the history of American material culture.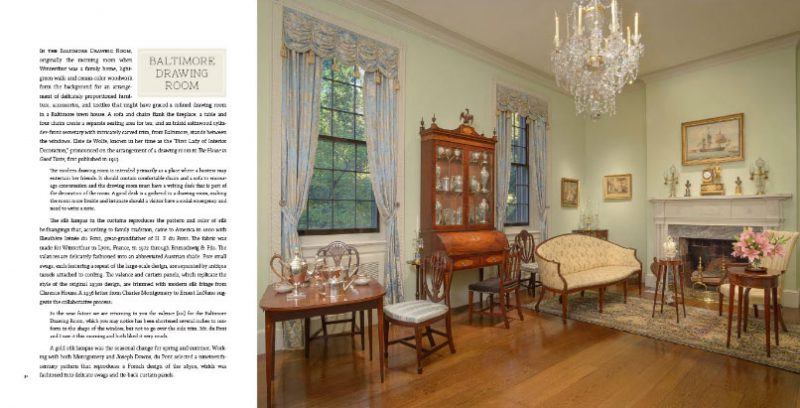 Details on the book from Monacelli Press' site:
The Well-Dressed Window – Curtains at Winterthur
Written by Sandy Brown, Introduction by Linda Eaton, Foreword by Thomas Jayne
Monacelli Press, New York
Release date: June 13, 2017
Today Henry Francis du Pont, the force behind the transformation of Winterthur from a family house to the premier museum of American decorative arts, is recognized, along with Henry Davis Sleeper and Elsie de Wolfe, as one of the early leaders of interior design in this country.
Working with architects, curators, and antiques dealers, du Pont created some 175 room settings within the house. He assembled his rooms using architectural elements from historic houses along the East Coast and filled them with an extraordinary collection of American furniture and decorative arts. Du Pont's unique talent was his ability to arrange historically related objects in a beautiful way, in settings that enhanced their shape and form through the choice of color, textiles, and style.
Du Pont paid particular attention to the design of the curtains, and The Well-Dressed Window surveys his achievement, explaining how the fabrics were selected as well as their relationship to the architecture and other decorative elements in the rooms. Forty rooms are presented, each specially photographed to show the overall space in addition to details of fabric and trim. A series of stereoviews taken in the 1930s as well as other period photographs reveal the evolution of the window treatments and upholstery over nearly sixty years. Of particular interest is du Pont's seasonal changing of the curtains, which were rotated throughout the year as the lighting and colors in the surrounding garden shifted.