The Winter Antiques Show is the leading art, antiques, and design fair in America, featuring 70 of the world's top experts in the fine and decorative arts. Held at the historic Park Avenue Armory in New York City, the Show highlights a dynamic mix of works dating from ancient times through the present day, and maintains the highest standards of quality in the art market. Each object at the fair is vetted for authenticity, date, and condition by a committee of 150 experts from the United States and Europe.
As described the New York Times' art critic Roberta Smith, "The Winter Antiques Show is a … galaxy of colliding worlds. Nearly every booth provides a glimpse into some areas of visual culture, from Egyptian antiquities to American folk art to postwar Italian art glass."
Thomas Jayne, along with Wendy Goodman and Gil Schafer, will serve as this year's Design Co-chairs, lending their voices to advocate for the use of historic art and objects in contemporary interiors and highlighting the important work of the event's charity beneficiary, East Side House Settlement, a community-based organization in the South Bronx. East Side House works with schools, community centers and other partners to bring quality education and resources to residents of the Bronx and Northern Manhattan. Recognizing education as the key to economic and civic opportunity, the organization helps approximately 10,000 individuals improve their lives each year with programs ranging from basic literacy to specialized technology training.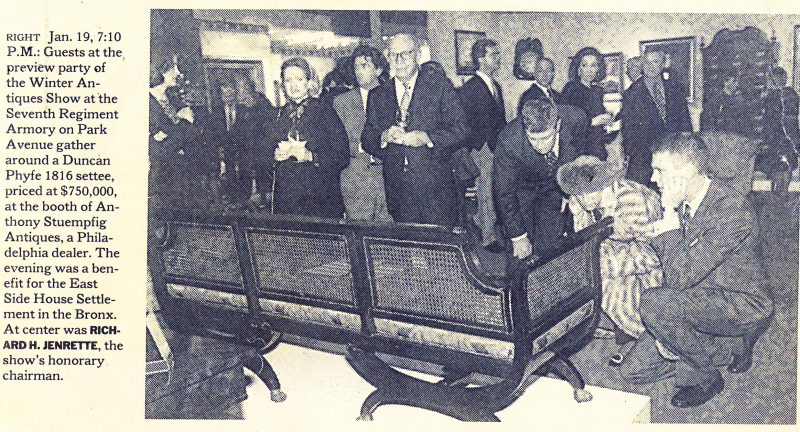 Thomas has been a devoted follower of the show for over 3 decades (that's him crouched at the bottom right of the image at left, taken during the 1995 show and featured in The New York Times). "I've been attending the Winter Antiques Show for many years, so I'm honored to support the event in an official way. With pieces from antiquity to the present day, the options are endless and stunning alike," he states. "The Show is truly unlike any other—it invites visitors to touch and feel objects, while discussing provenance and background with dealers directly. What more could you ask for?"
Save the Date: The Opening Night Party of the 64th Annual Winter Antiques Show will be held on Thursday, January 18, 2018. Reserve your ticket for the opening at the WAS site. This year's invitation is handsome — request one by email: events@eastsidehouse.org or calling (718) 292-7392 or (718) 665-5250.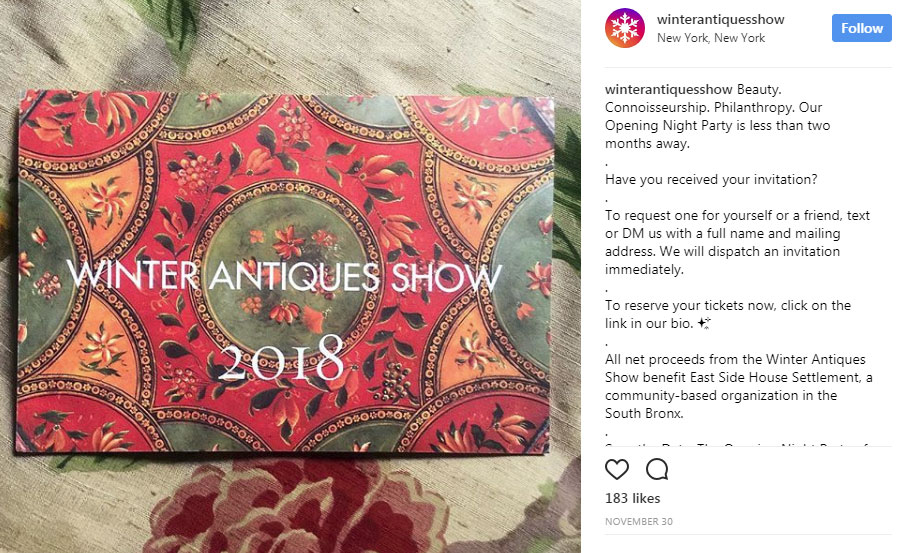 .
The Winter Antiques Show is an annual benefit for East Side House Settlement. All revenues from the Show's general admissions and the net proceeds from the Opening Night Party and other events go to East Side House and contribute substantially to its private philanthropic budget.