A round up of recent write-ups on Classical Principles for Modern Design.
Incollect (and also appearing in the January-February print edition of Antiques and Fine Arts magazine) features an excerpt from the book's introduction.
Ted Loos for Introspective, 1stdibs's online magazine, Thomas Jayne Rewrites the Bible of Interior Design
Mieke Ten Have for The Wall Street Journal, Gilded Age Decorating Advice That Holds Up Today (Read the article as a pdf here if you are not a WSJ.com subscriber.)
Katherine Roth for Associated Press, Rooms with Good Bones – Edith Wharton's Design Legacy
Mitch Owens's piece on AD online, Thomas Jayne Revisits Design's Most Important Book
Jacqueline Terrebonne, Galerie online, New Design Lessons from a Classic 19th-Century Decorating Book
Jacqueline Terrebonne from Galerie also posted a great piece on Thomas Jayne and architect Gil Schafer's picks from this year's Winter Antiques Show.
Betsy Pochoda, The Magazine Antiques, The Irrefutable Freshness of Thomas Jayne, in the January/February 2018 issue.
Michael Boodro, Dering Hall's online journal section, How Modern is Classicism?, January 30, 2018.
Veranda, Lessons Learned in their January/February field notes section.
Monique Mcintosh on Luxe Daily on January 24, 2018, Thomas Jayne Revisits A Novelist's Gilded Age Style Tips
Luxe, Shelf Life, in their January/February issue.
Modern Luxury Manhattan, in their January/February designer picks section titled Belle Vie, the magazine features Thomas's selection of contemporary Belle Epoque items, the style that was popular when The Decoration of Houses first came out.
New York Spaces, Join Design Co-Chair Thomas Jayne's Lecture During the Winter Antiques Show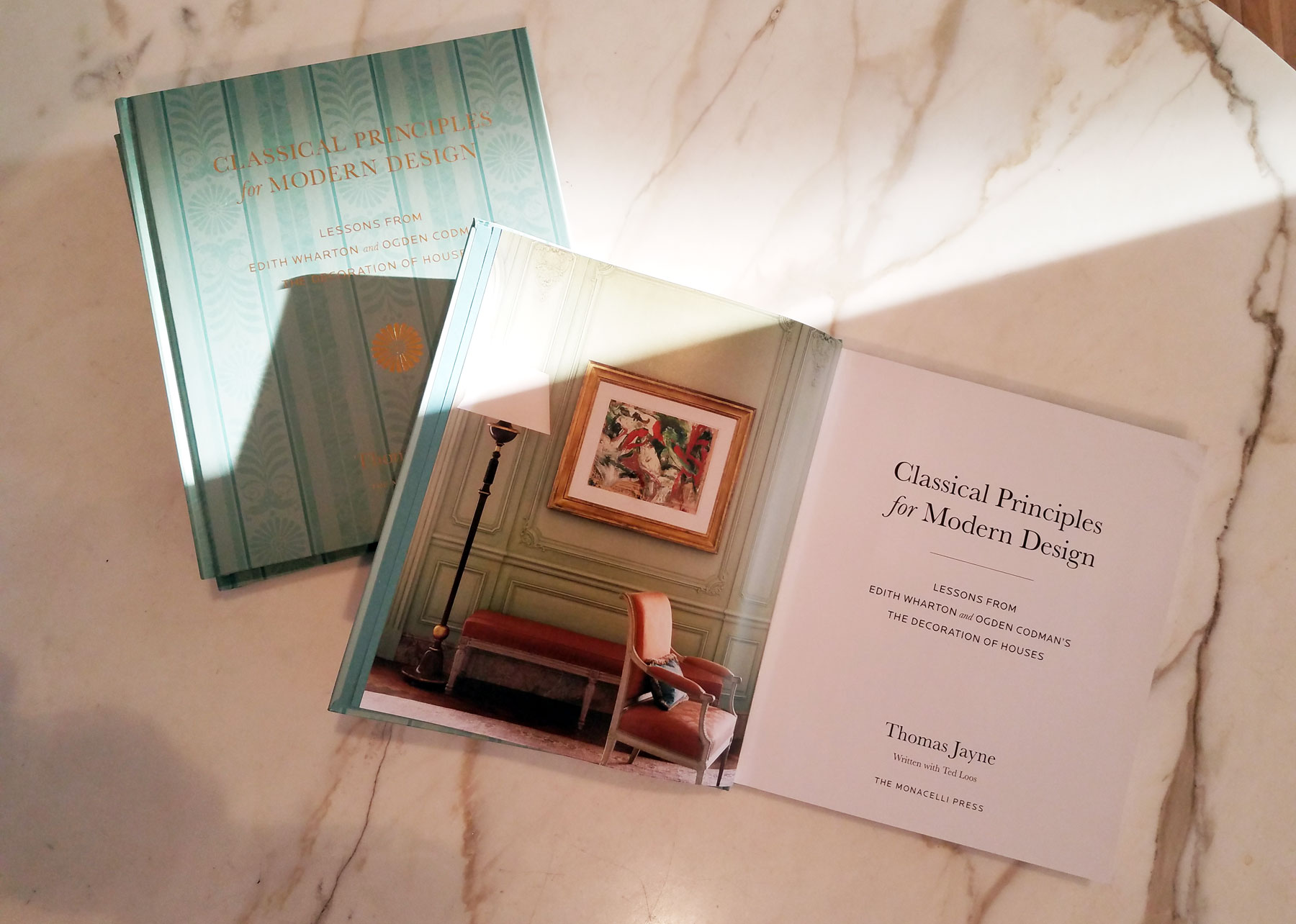 And, a sampling of the press on Classical Principles for Modern Design
"Every religion has its sacred text…. 'Like all sacred texts,' [Thomas Jayne] explains, 'it bears regular reading and rereading to find its meaning.' Sometimes, those revisits inspire a new translation that makes a holy work more accessible to contemporary worshippers. Thus Jayne's freshly published Classical Principles for Modern Design, an insightful and amusing 21st-century reinterpretation of The Decoration of Houses. Call it the King Jayne Version."
—Architectural Digest
"Designer Thomas Jayne's Classical Principles for Modern Design takes on Edith Wharton and Ogden Codman's 1897 classic The Decoration of Houses, updating its tenets for contemporary homes and finding that most of its advice—including ideas on proportion and the planning of spaces—remains startlingly relevant today."
—Veranda
"Edith Wharton and Ogden Codman's 1897 manual, The Decoration of Houses, is 'the most important decorating book ever written,' asserts New York designer and decorative arts historian Thomas Jayne. In his book… Jayne evaluates the guide's relevance to current design and establishes the difference between contemporary elements and those Wharton and Codman held in the 19th century."
—Luxe Interior + Design
"Jayne explains that [Wharton and Codman] originally wrote The Decoration of Houses as a reaction to the decline of architectural importance in the designing of houses and the rising fad for interiors being overwhelmed with decorative objects and schemes…. Over 100 years later, Classical Principles for Modern Design asks which of the rules they set forth still apply and how can others be tweaked for modern living. Following the chapter organization of the original book, Jayne takes the reader through topics such as walls, doors, windows and curtains, and ceilings and floors, stressing how these fundamental rules are still important today."
—Galerie