This selection is for the single circle painting on a block of wood shown above measuring 6″ x 6″ x 2.25″.
A jewel on their own, and a treasure as a group. This work is meant to be displayed on a shelf or mantel or can be hung on a wall with hooks (not provided, but easily installed on the piece).
Materials: Multi-colored Japanese sterling silver and copper leaf on wood.
Weight: less than a pound.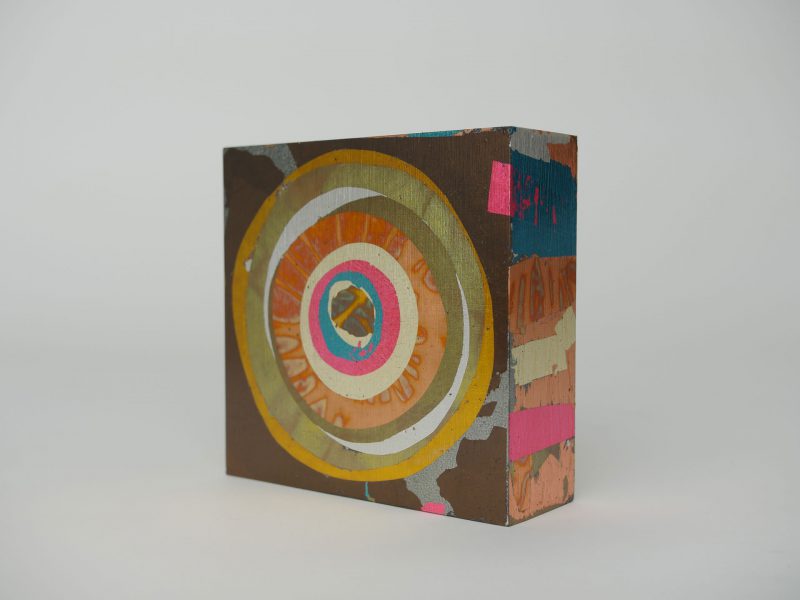 From a 2015 review in Art in America:
For the New York-based artist Christopher Tanner—also a set designer, actor and downtown cabaret singer in drag—that old modernist dictum "less is more" has rarely carried much weight. Rather, his motivating mantra has long been "more is more." Over the years, Tanner's esthetic outlook and art-making efforts have focused on the value of meticulous craftsmanship, the meaning and nature of glamour, and an unabashed celebration of beauty. More recently, the artist has said, he's become interested in "succulence, abundance, bounty and the life force that flows through nature and the human body."
Best known for spectacular, mixed- medium "paintings"—luxurious, canvas-mounted assemblages of such humble materials as big shiny sequins, colored sand, shells, stones and fabric scraps—Tanner is also a capable draftsman who routinely draws from live models, and sinuous lines derived from his drawings often make their way into his compositions in other mediums. Lately, Tanner has taken a break from his brightly colored, thickly encrusted paintings, experimenting instead with more pointedly three-dimensional, wall-mounted and freestanding sculptures.

If you are interested in purchasing the small blocks as a set, please contact us at shop@jaynedesignstudio.com for a special price.