This 1930s seaside cottage on the north shore of Long Island is the perfect retreat for our clients, a couple of passionate sailors, who make the most of its idyllic setting a stones-throw from the calm waters of Oyster Bay. Though built toward the tail end of the architectural heyday of the area, the structure fits into the great tradition of shingle-style houses and estates that proliferated during the late 19th and early 20th century, like Theodore Roosevelt's "Sagamore Hill."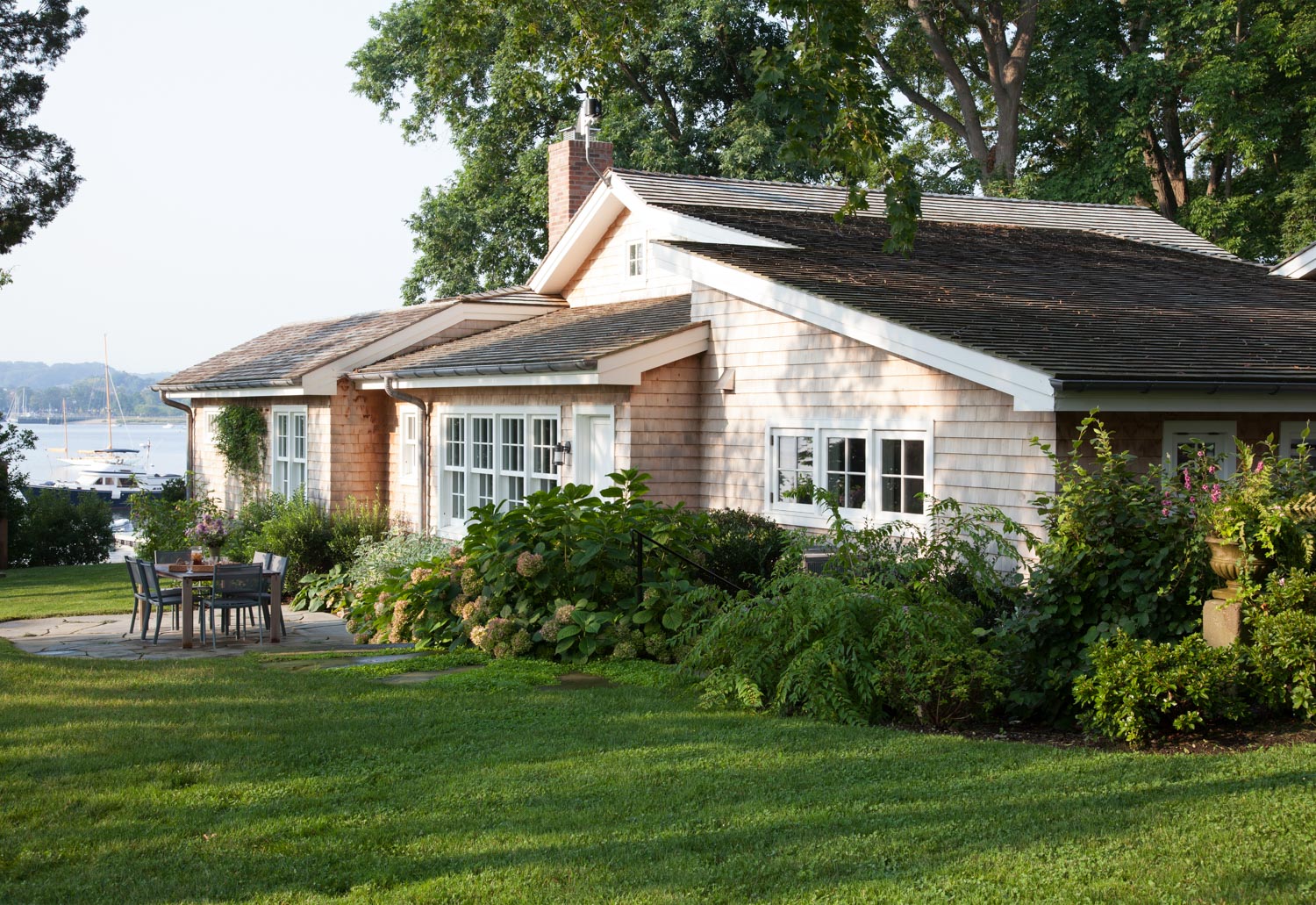 The open and bright sitting room pictured here is lovingly referred to as the 'view room' by our clients. It looks directly onto the water where their small fleet of antique sailboats is moored. A Dutch door can be opened to offer unobscured views and the new seating and fireplace add warmth and comfort to this relaxing room where some of their art collection is showcased. In additions to works by the owner, a sculpture by Maurizio Pellegrin adorns the wall behind the sofa, a painting by Theodoros Stamos hangs next to the fireplace, and across the room, a work by Shirley Jaffe hangs to the left of the window alcove.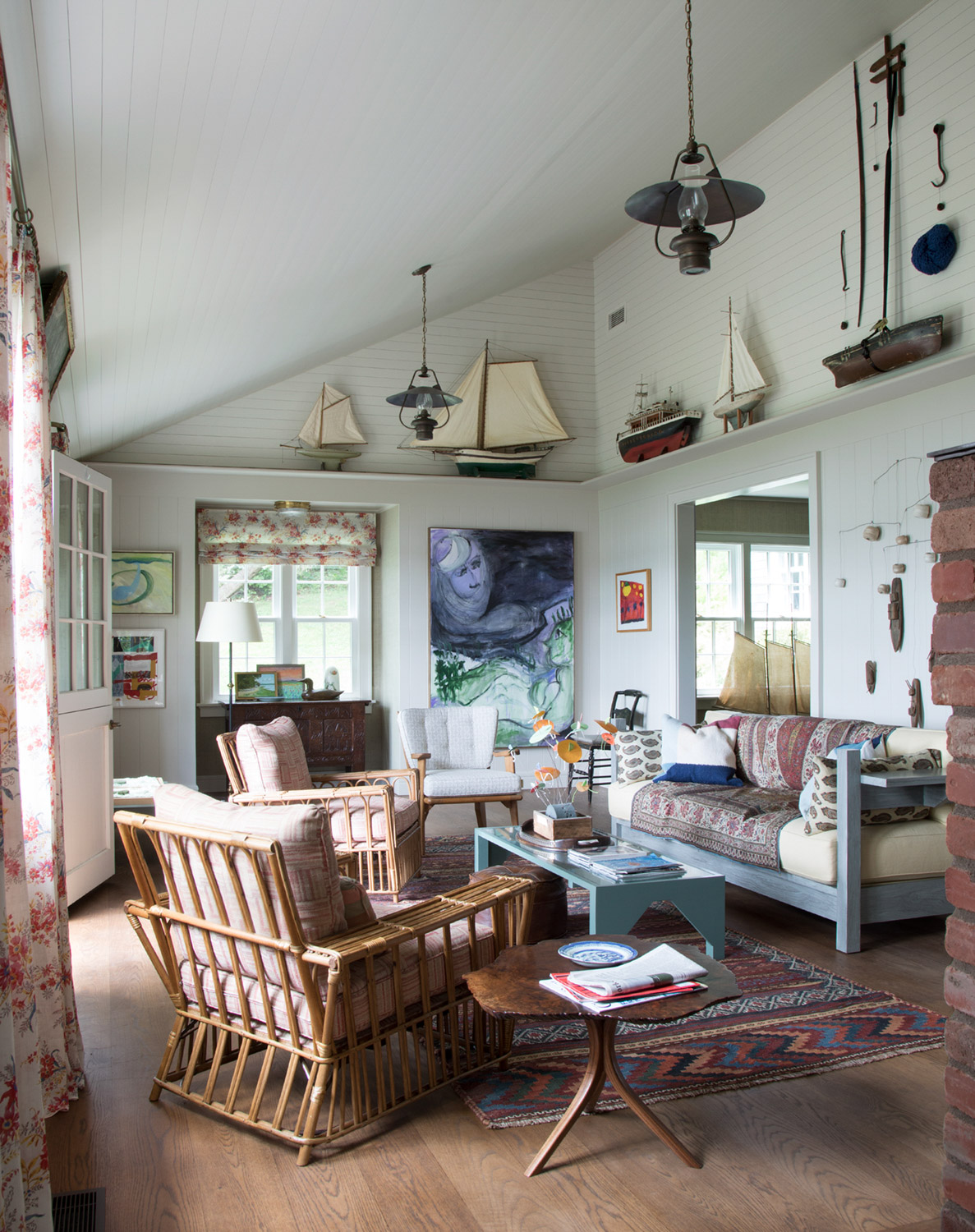 The principal bedroom features a four-poster bed with a bespoke embroidered valance and collected antique textiles. We designed the fireplace using the 18th century Delft porcelain tiles that are commonly found in historic homes in the region, but in a contemporary fashion. The white walls provide a clean backdrop for the vibrant large scale paintings by the owner.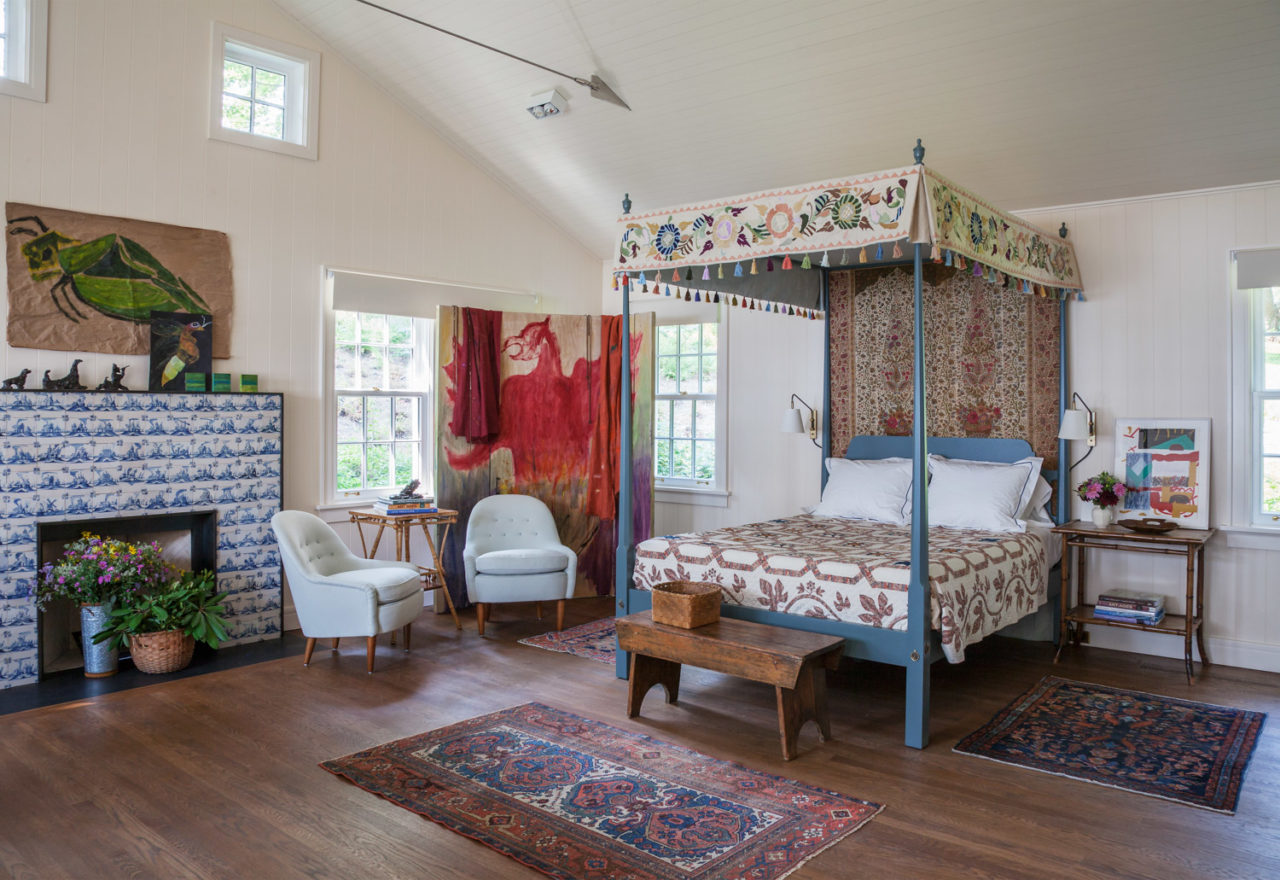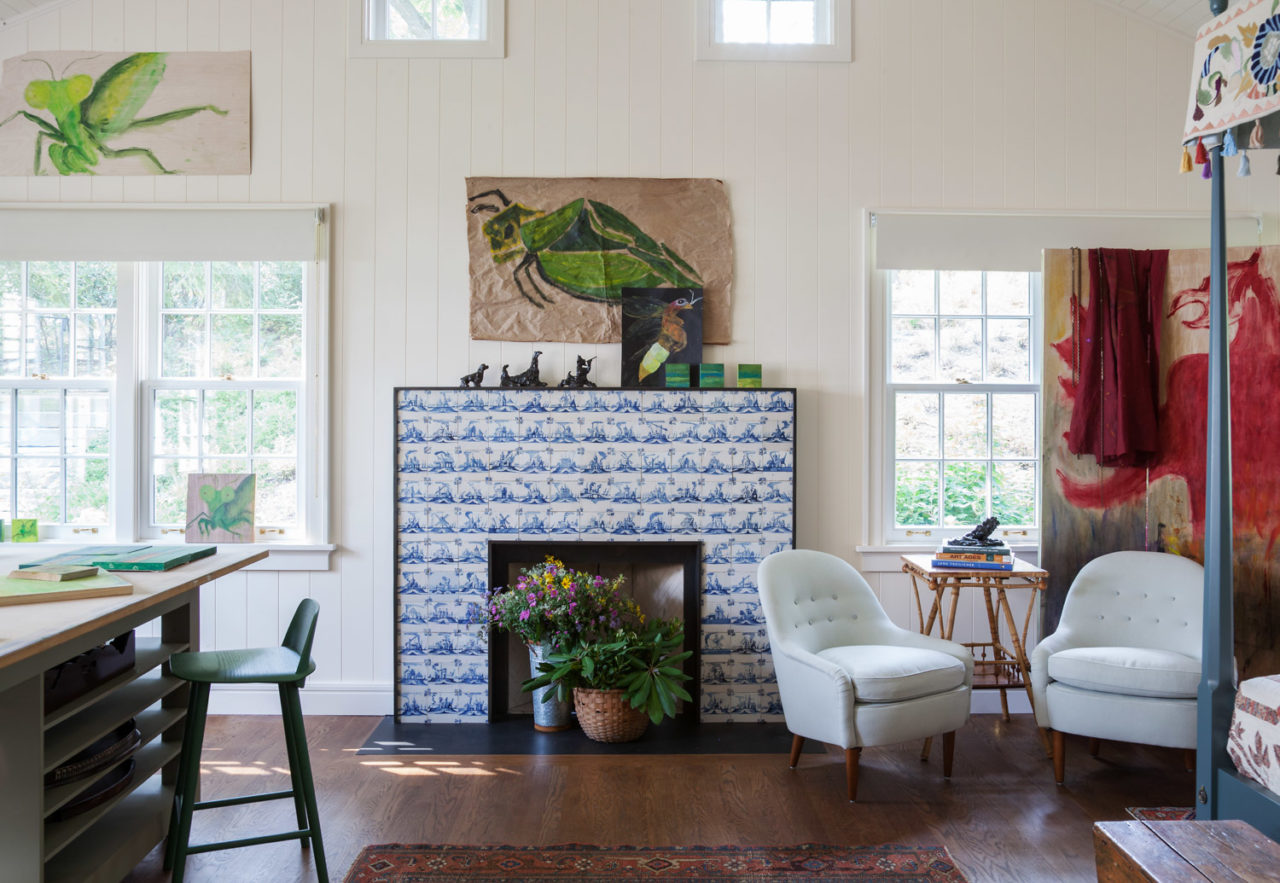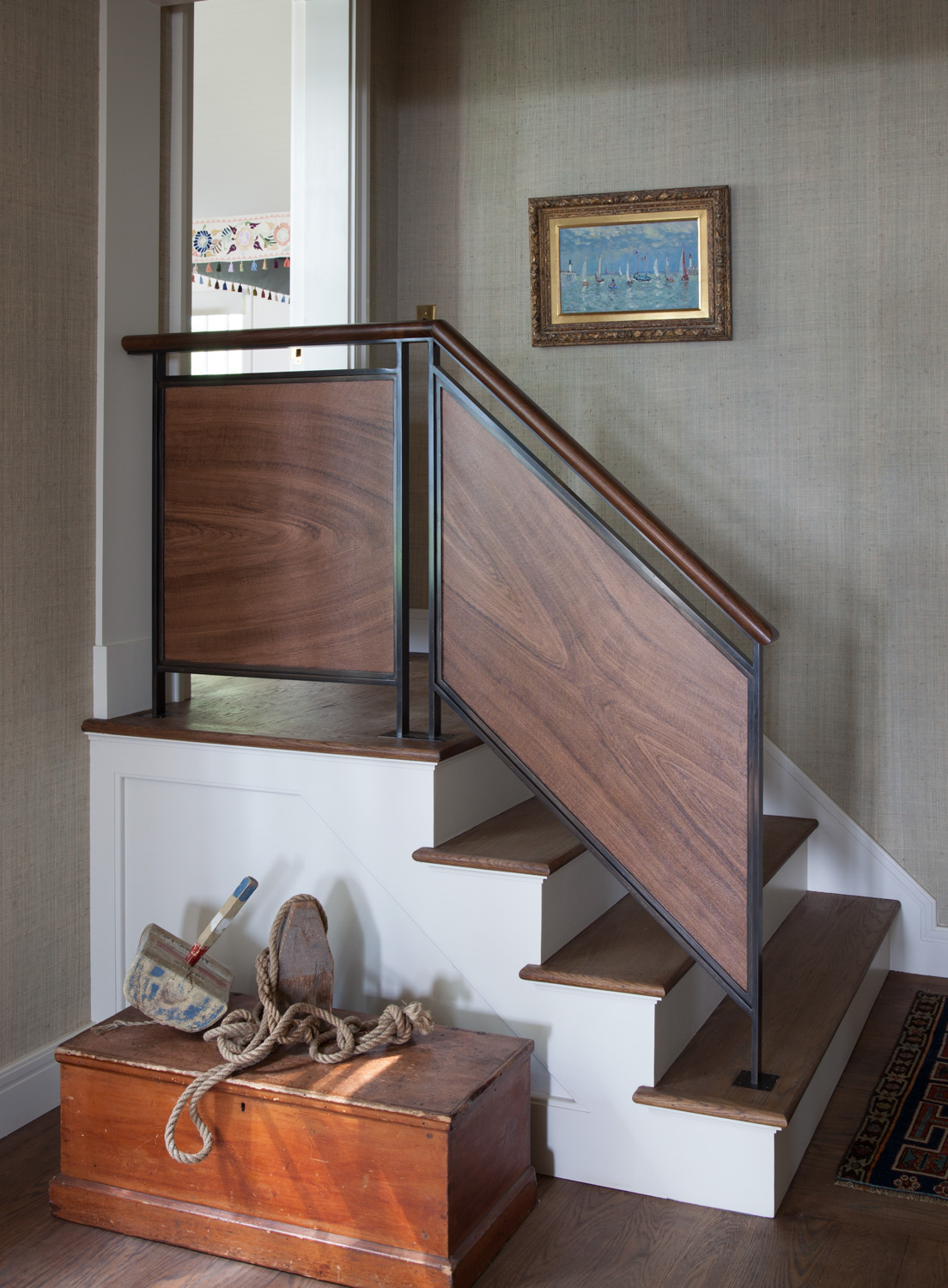 The original house had a level change which we retained and enhanced by devising a faux-bois bannister which is distinctly nautically influenced.
A large opening connects the kitchen and the dining room. The kitchen island is painted blue to stand out and balance all the white in the room. Like any Jayne Design Studio kitchen, we like to include comfortable seating and antiques.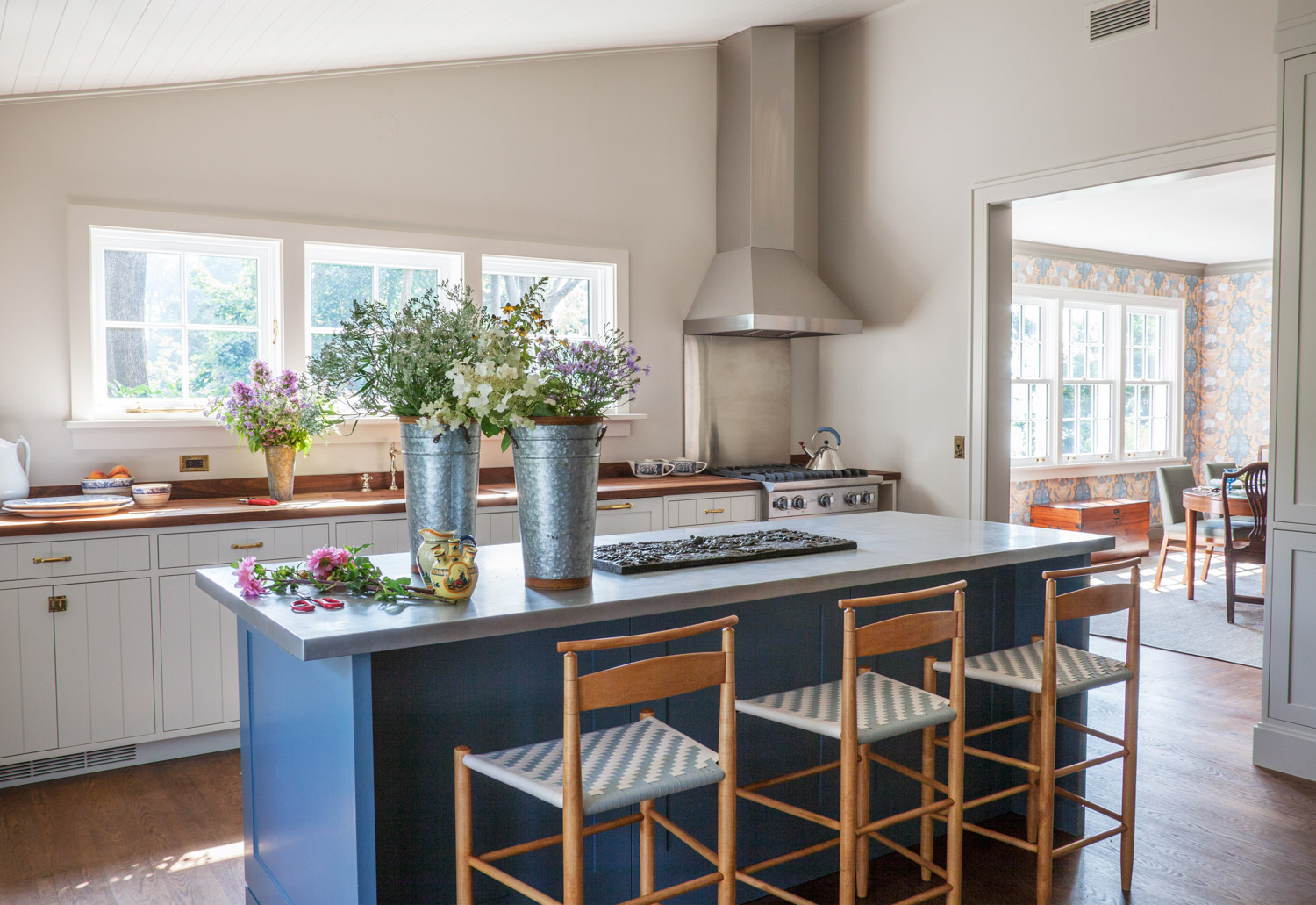 The dining room features a contemporary wallpaper with a distinctly 1930s spirit, which suits the period of the house. A painting by Henry Finkelstein hangs above the gothic sideboard.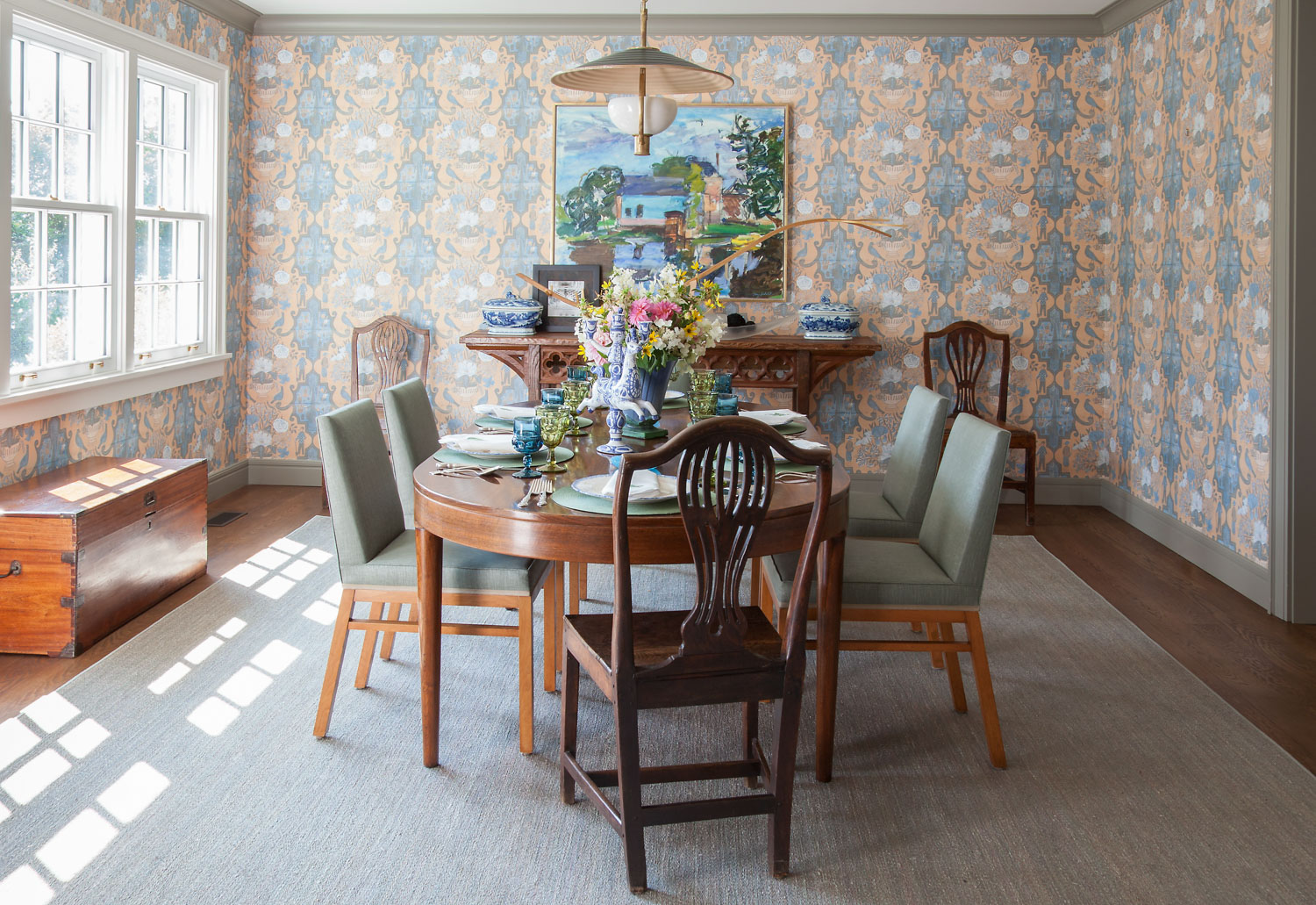 This space is set aside for watercolor painting as windows on three sides give the room fantastic light, not to mention a winning view of the harbor. The chest is early 19th century Scandinavian- the eclectic collection of rustic and well-made furniture references the precedent and tradition of artists having antiques in their studios.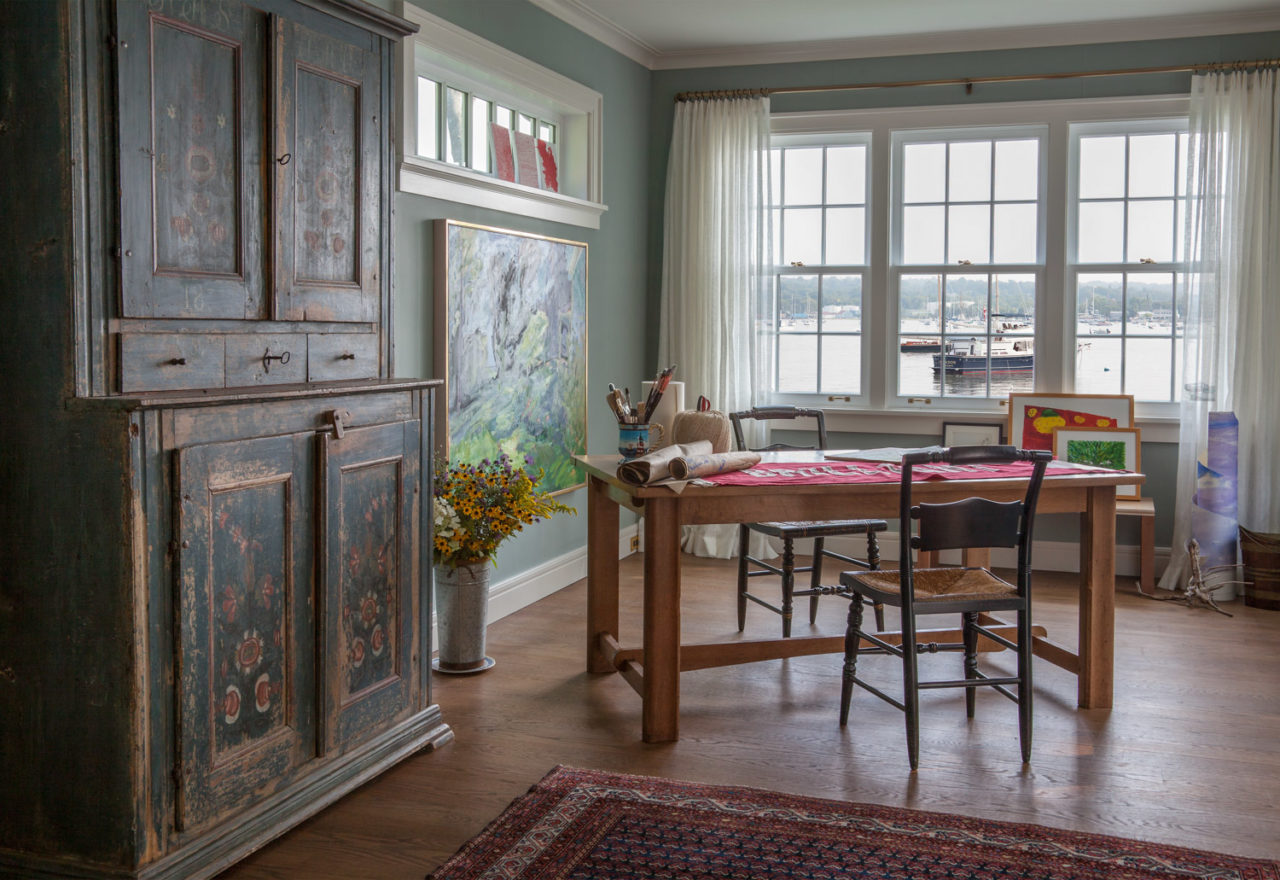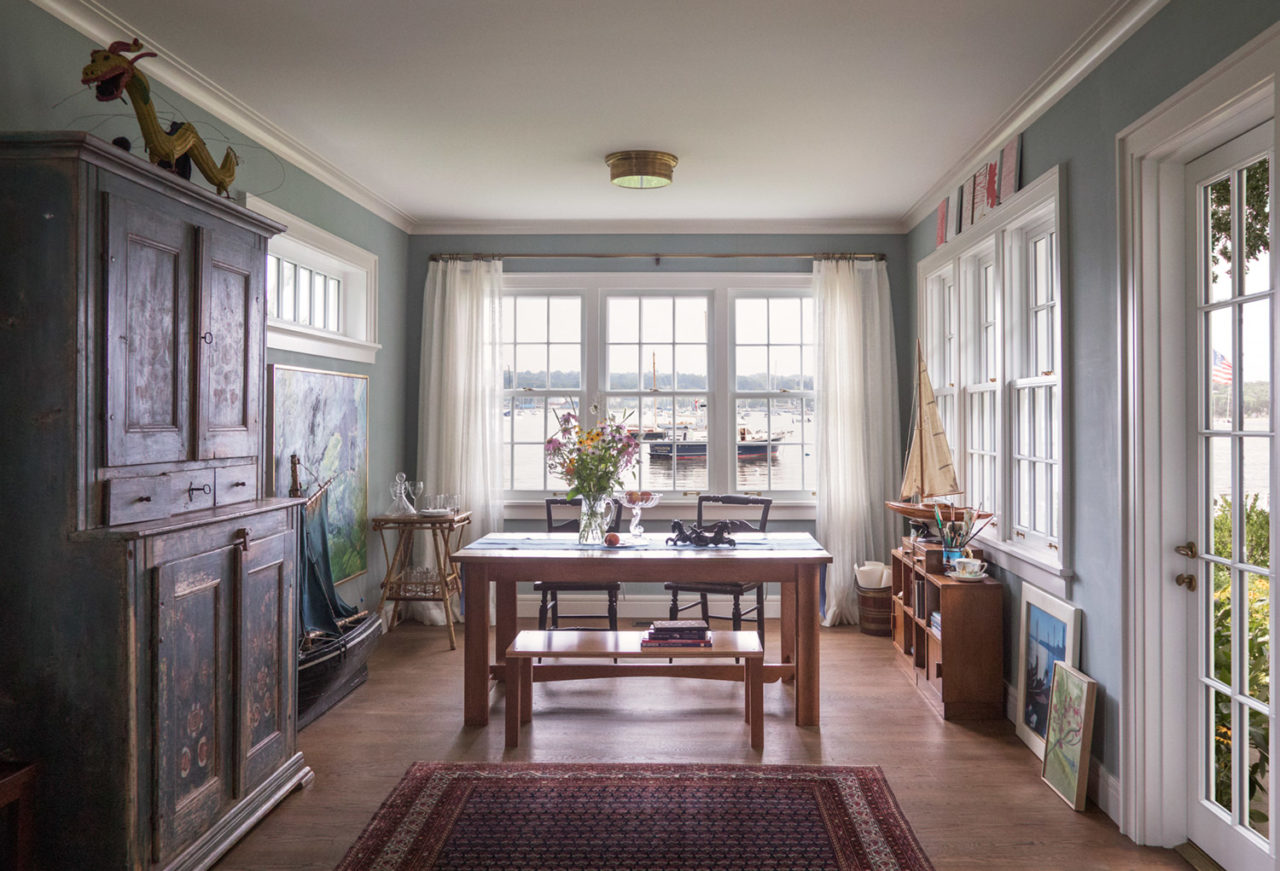 French doors in the studio space open onto a terrace.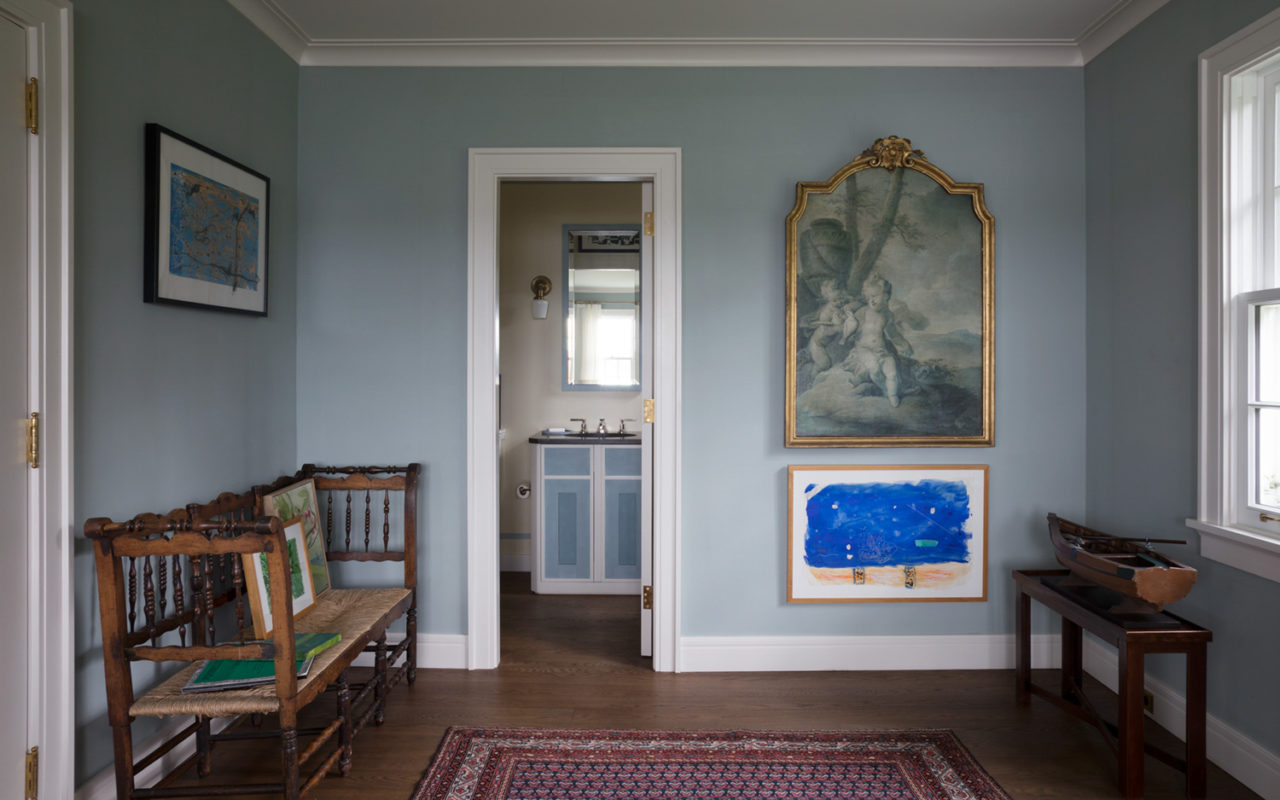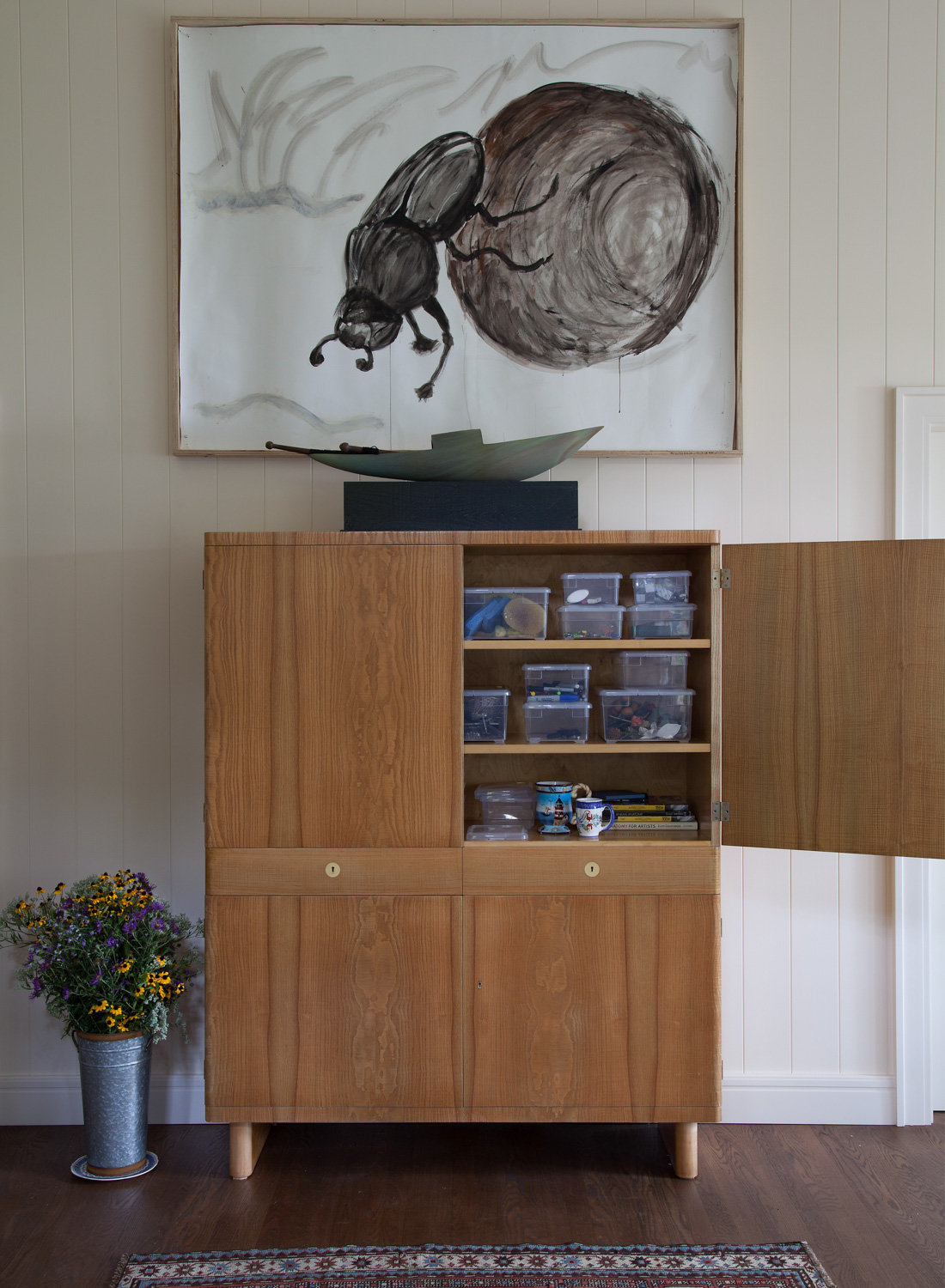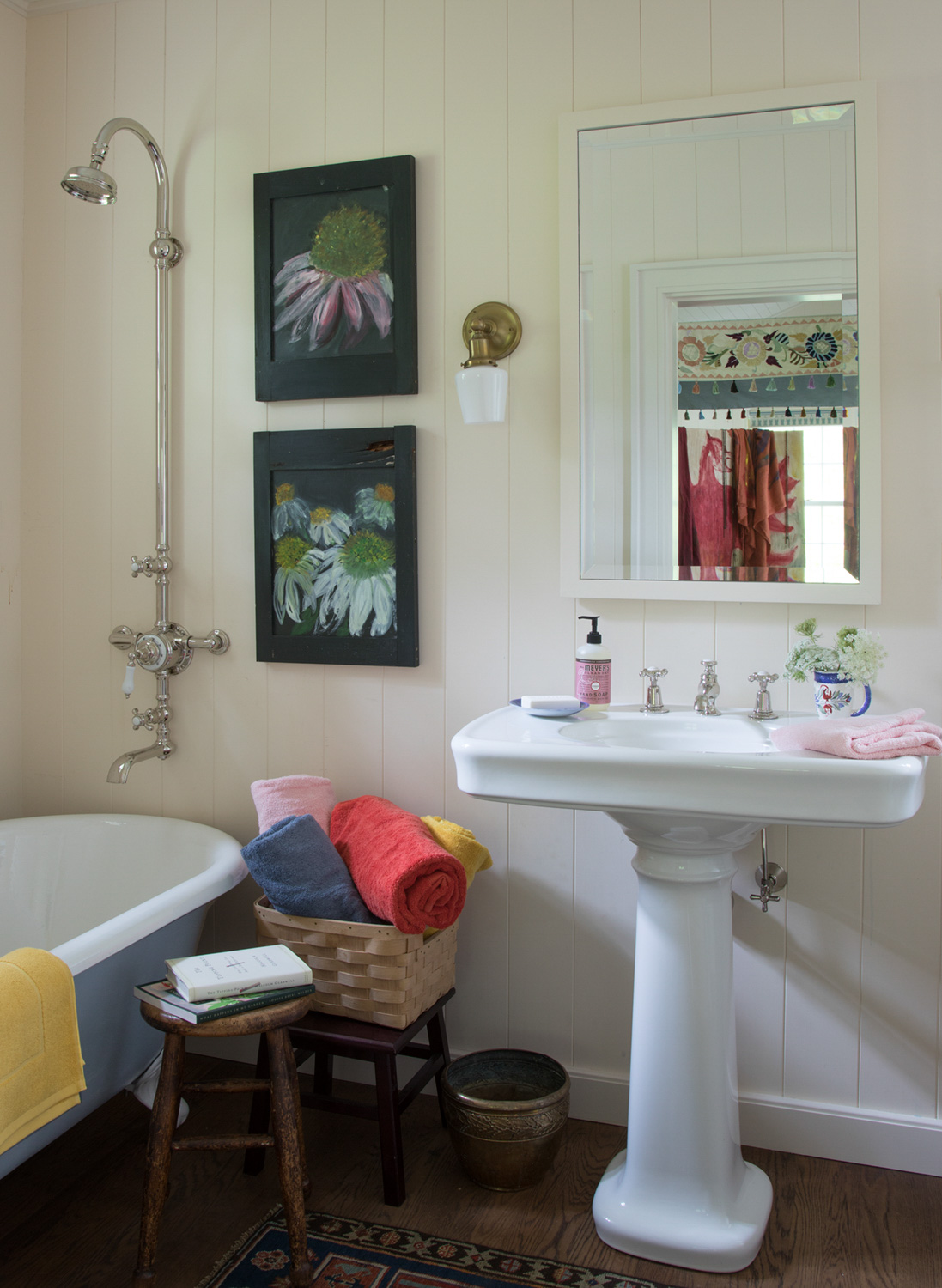 The old-fashioned style bathroom fits in with the character of the house but is still comfortable and inviting.
This tasteful living room furthers the antiquarian influence of the house with old masters paintings and an eclectic blend of antiques.