When William Cullum, senior designer for Jayne Design Studio, and his partner Jeffery Rhodes were leaving their East Village apartment and eyeing a new spot on University Place, they didn't quite imagine being directly across the street from the office. They wanted a prewar studio and this 1929 apartment offered just the right amount of space with distinct rooms and vestibules, making it feel more spacious than a traditional studio – and also the opportunity for more decoration.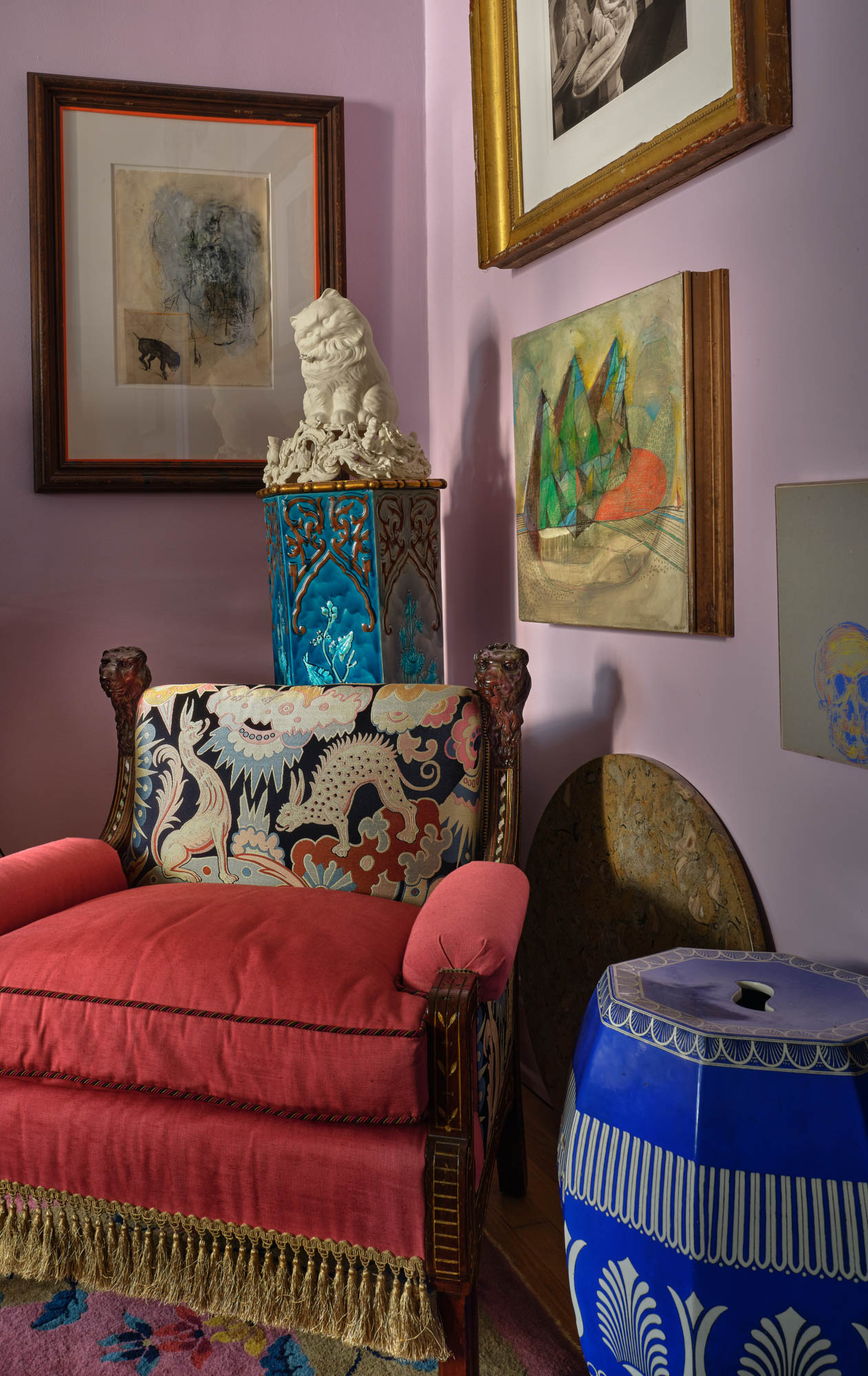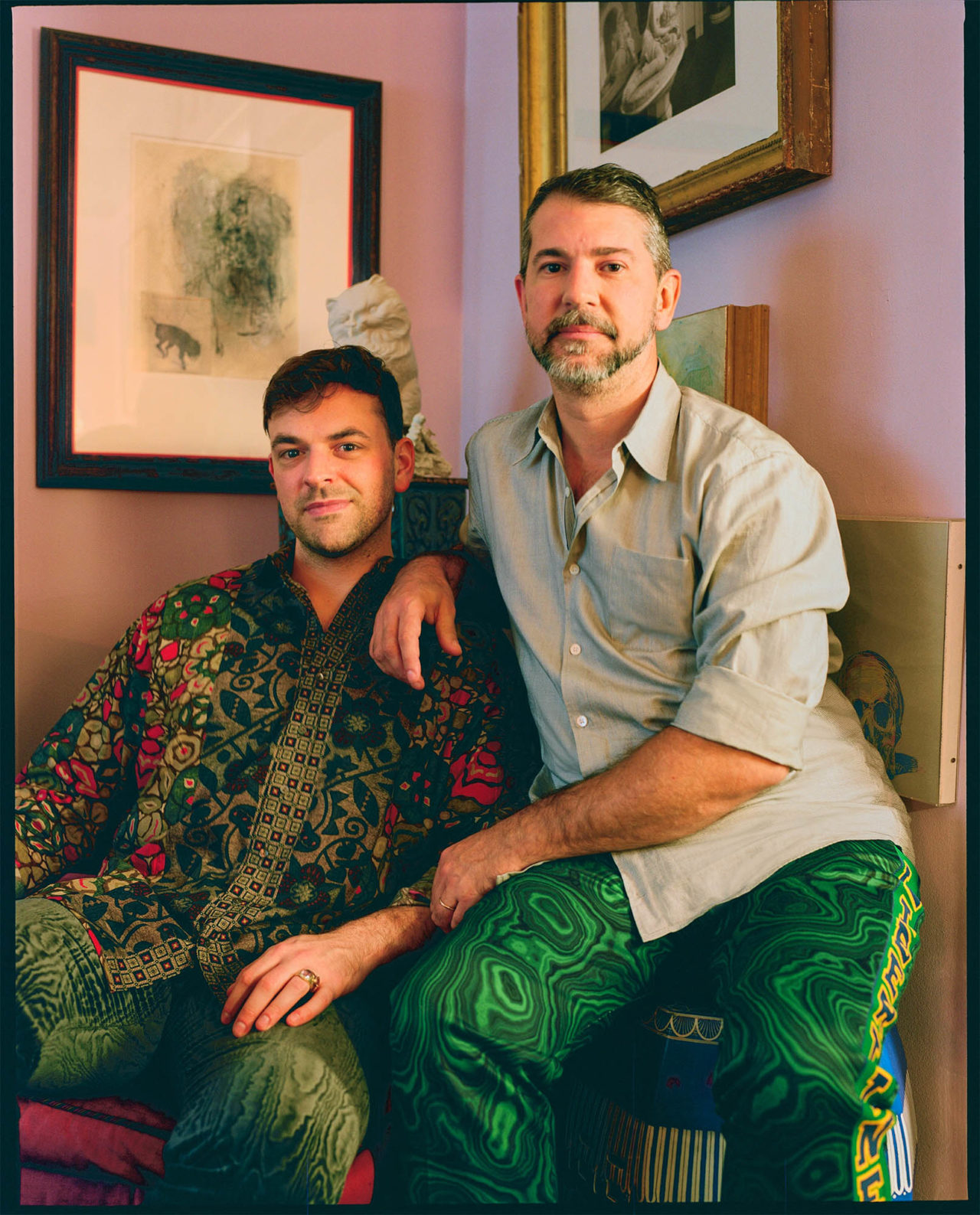 A favorite corner of the apartment is indicative of their combined style – an Aesthetic Movement chair and majolica pedestal live harmoniously with contemporary works by Brooklyn based ceramicist Beth Katleman and Charleston artist Tim Hussey.
Cullum and Rhodes believe that if they love it, it will work into the greater context of their interior. To embrace this seemingly disparate collection of art and objects, Cullum devised a paint scheme that deceptively enlarged the apartment, giving each space its own character. All surfaces of the entry hall, including the moldings and ceiling, were washed in a deep blue, which gave the space a feeling of infinite depth. A vestibule connecting the entry hall and kitchen was painted an intense red, providing a defined transition. In contrast, the living room was painted a frothy lilac, a nod to the apartment of collectors Leo Lerman and Gray Foy.

A vintage Sisley advertisement and a resin goat, previously part of a Saks 5th Avenue store display and saved from the bin, offer a humorous greeting when entering the kitchen.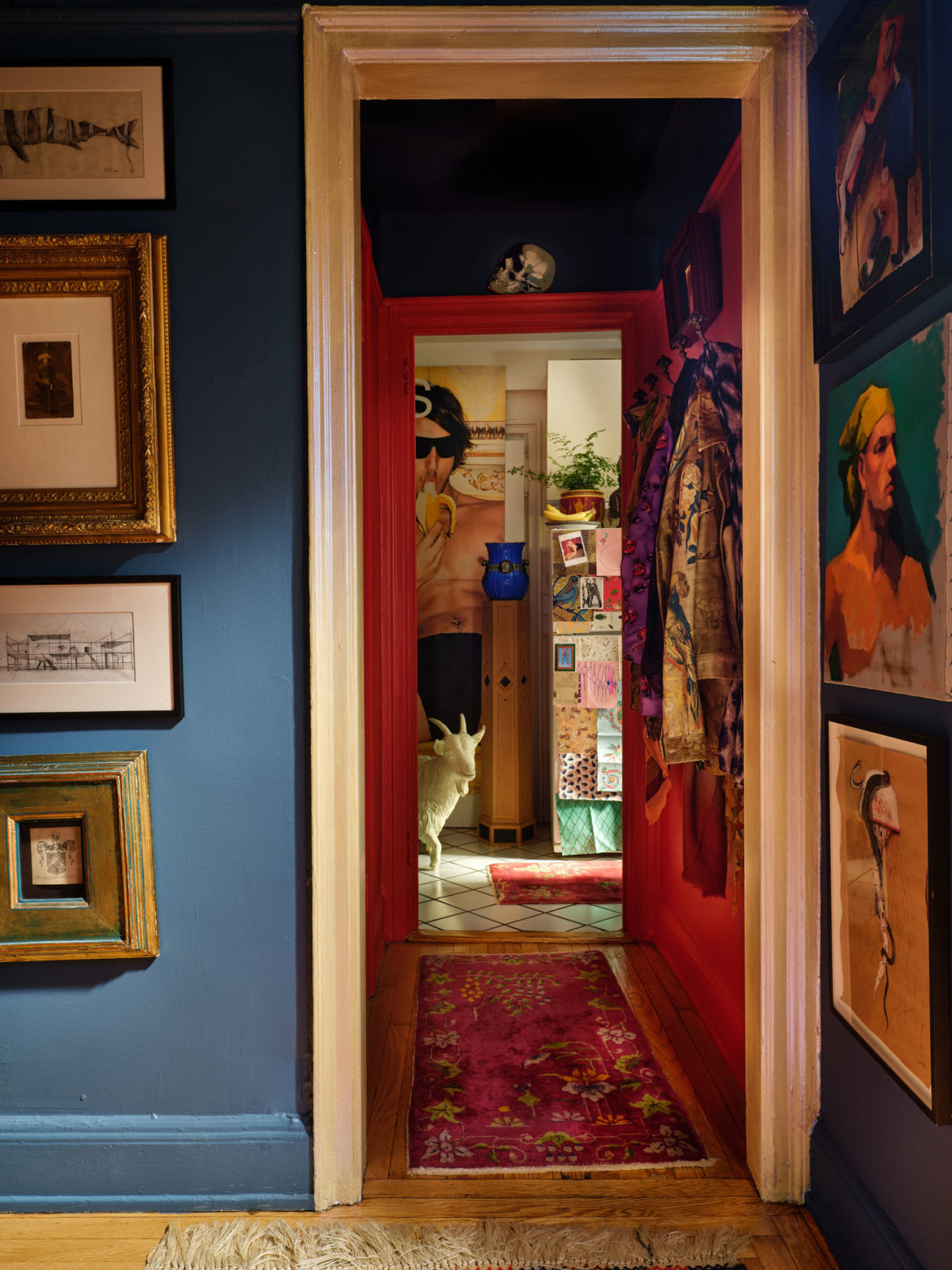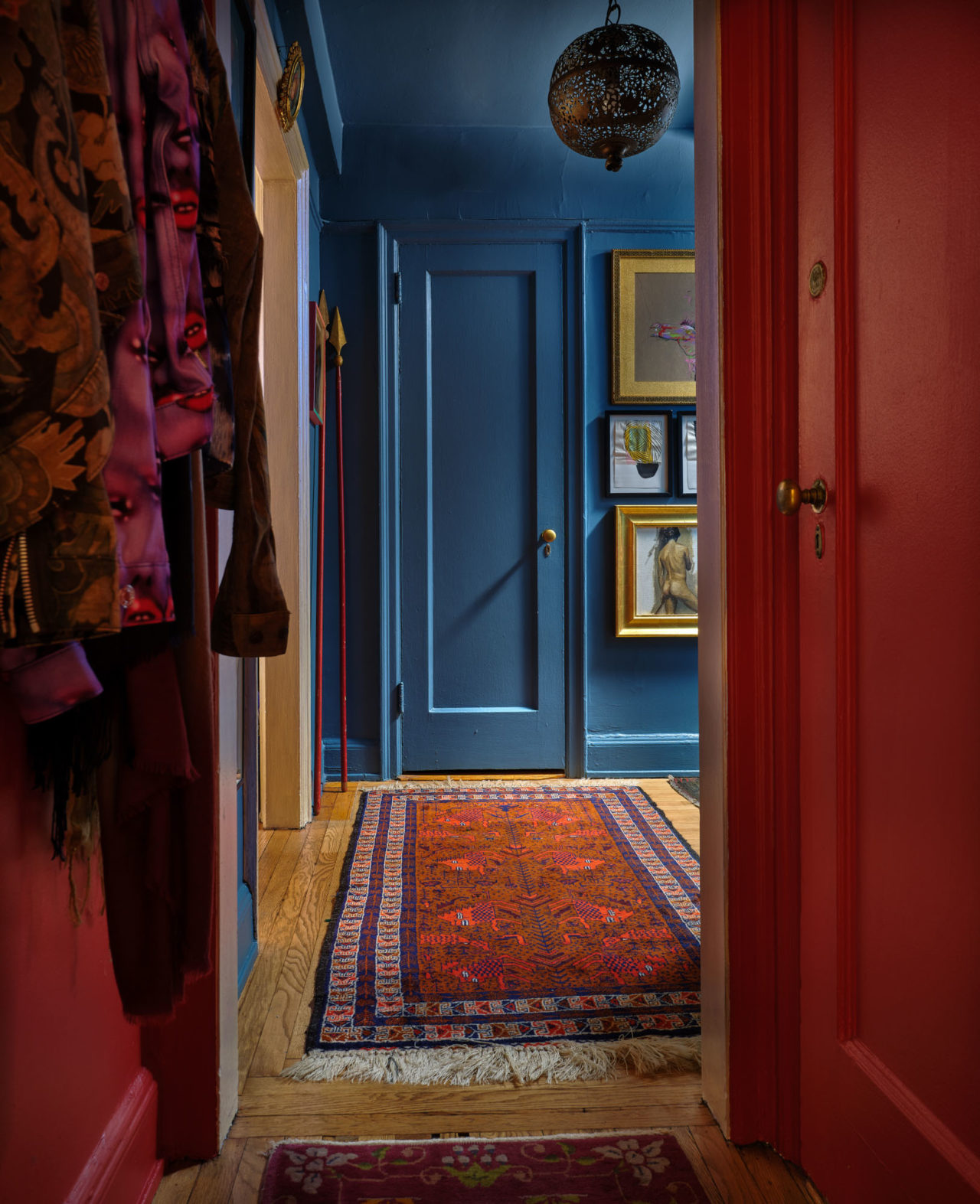 Looking from the vestibule back towards the entry hall, a Chinese lantern found while shopping in the Hudson Valley lives alongside a pair of antique Masonic spears and a carpet purchased from an estate sale in Charleston.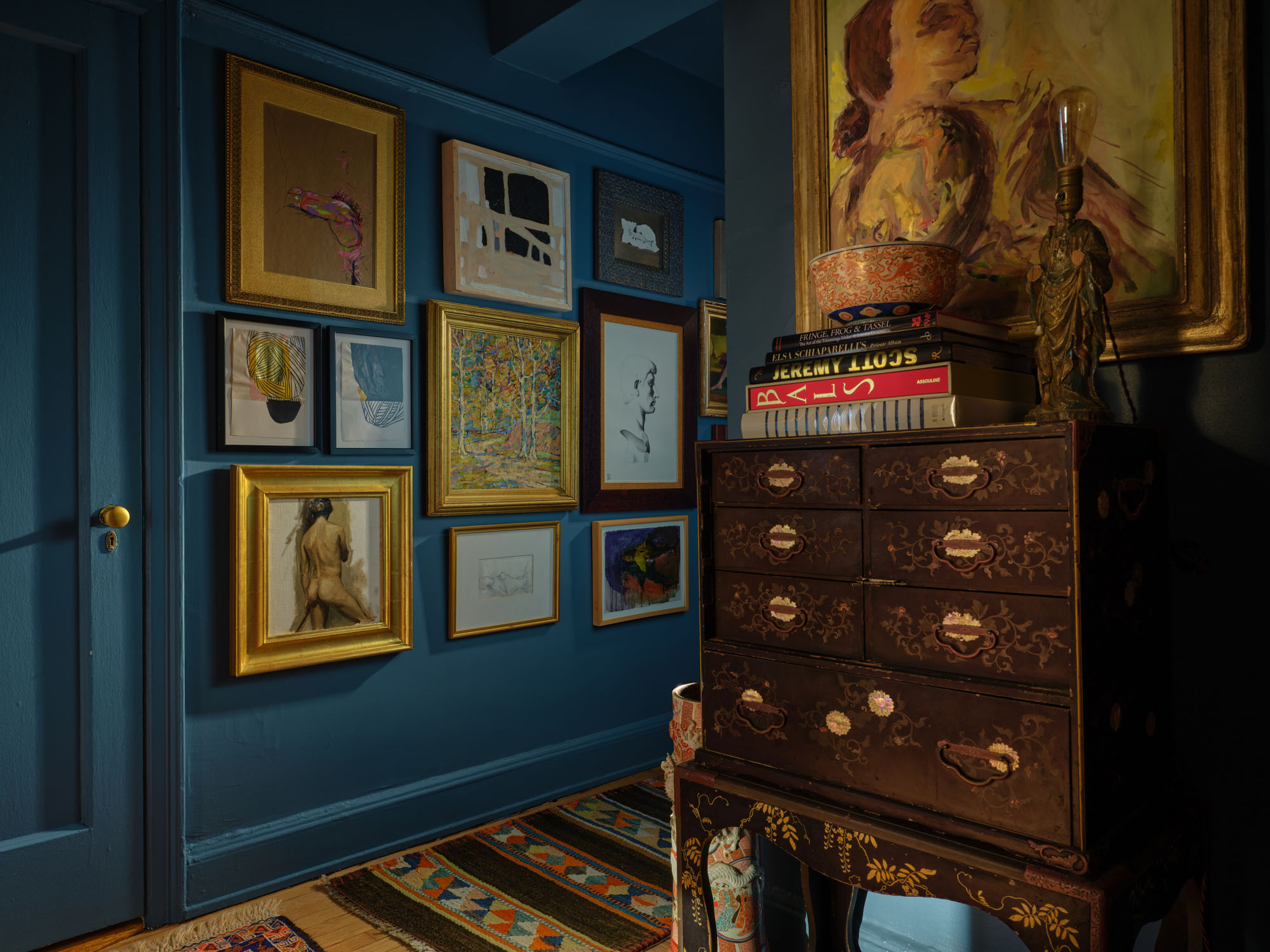 The entry hall has works by Sally King Benedict, Neil Gilks, Sarah Boyts Yoder, Tina Christophilis and Kevin Earl Taylor, among others.
The casing between the living room and hall was decoratively painted with an iridescent finish and frames a vignette of a Japanese lacquer cabinet and Tina Christophilis' 'Gypsy Night' Cullum purchased in Charleston his freshman year of college. Above hangs a collection of 'Mars' by artist R.C. Hagans. The carpet is Chinese Art Deco and the garden seat is Copeland, circa 1860.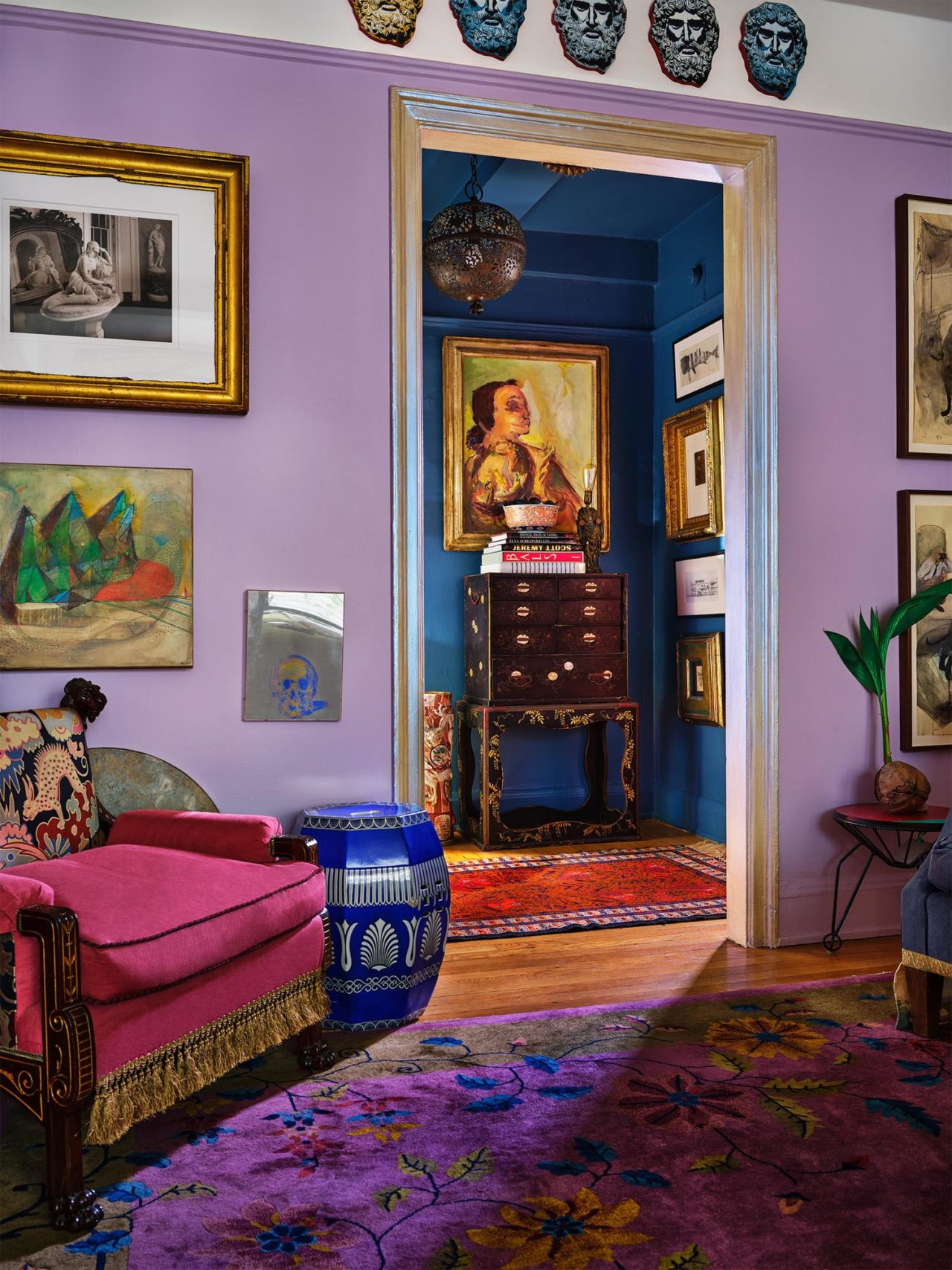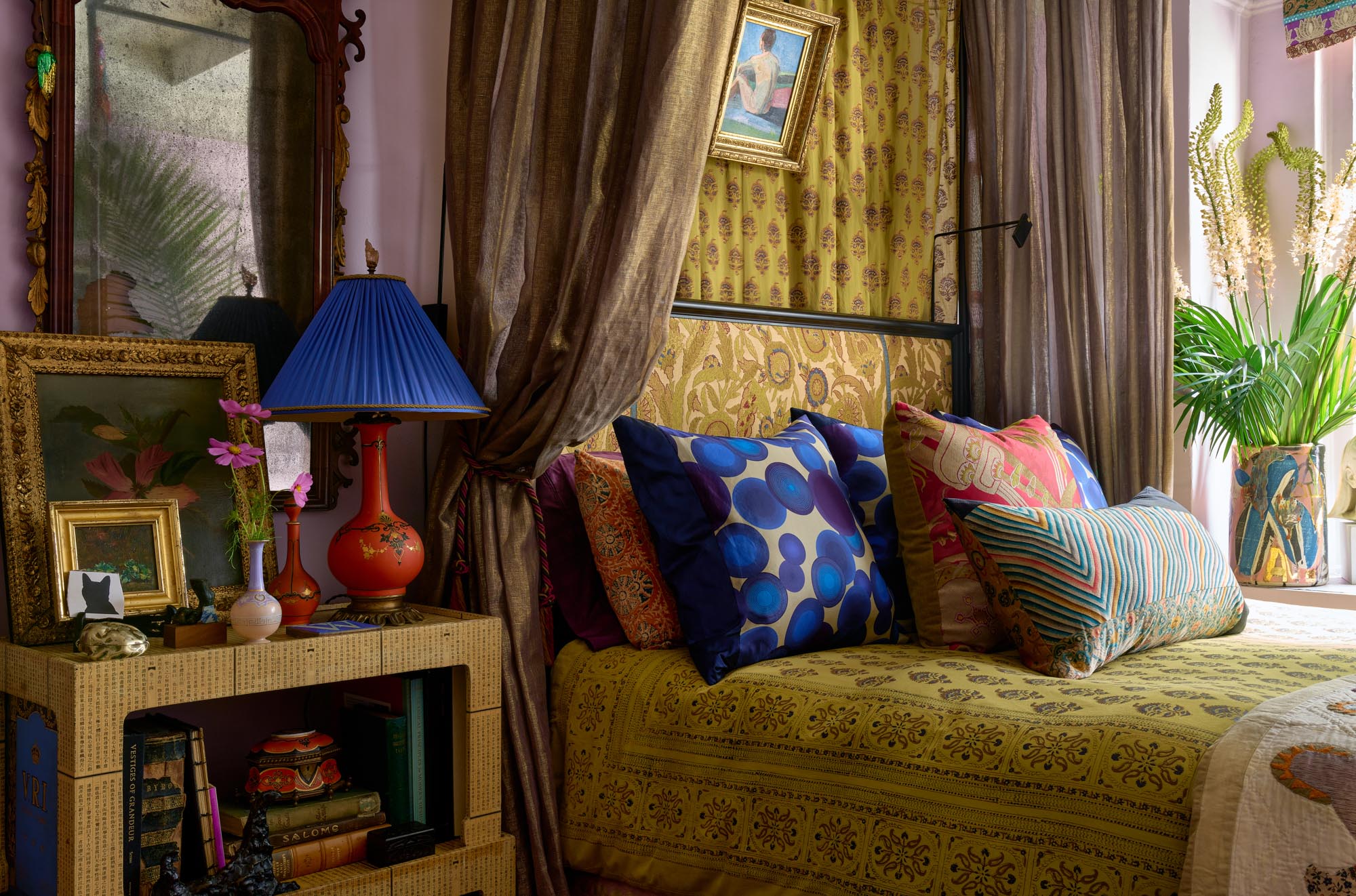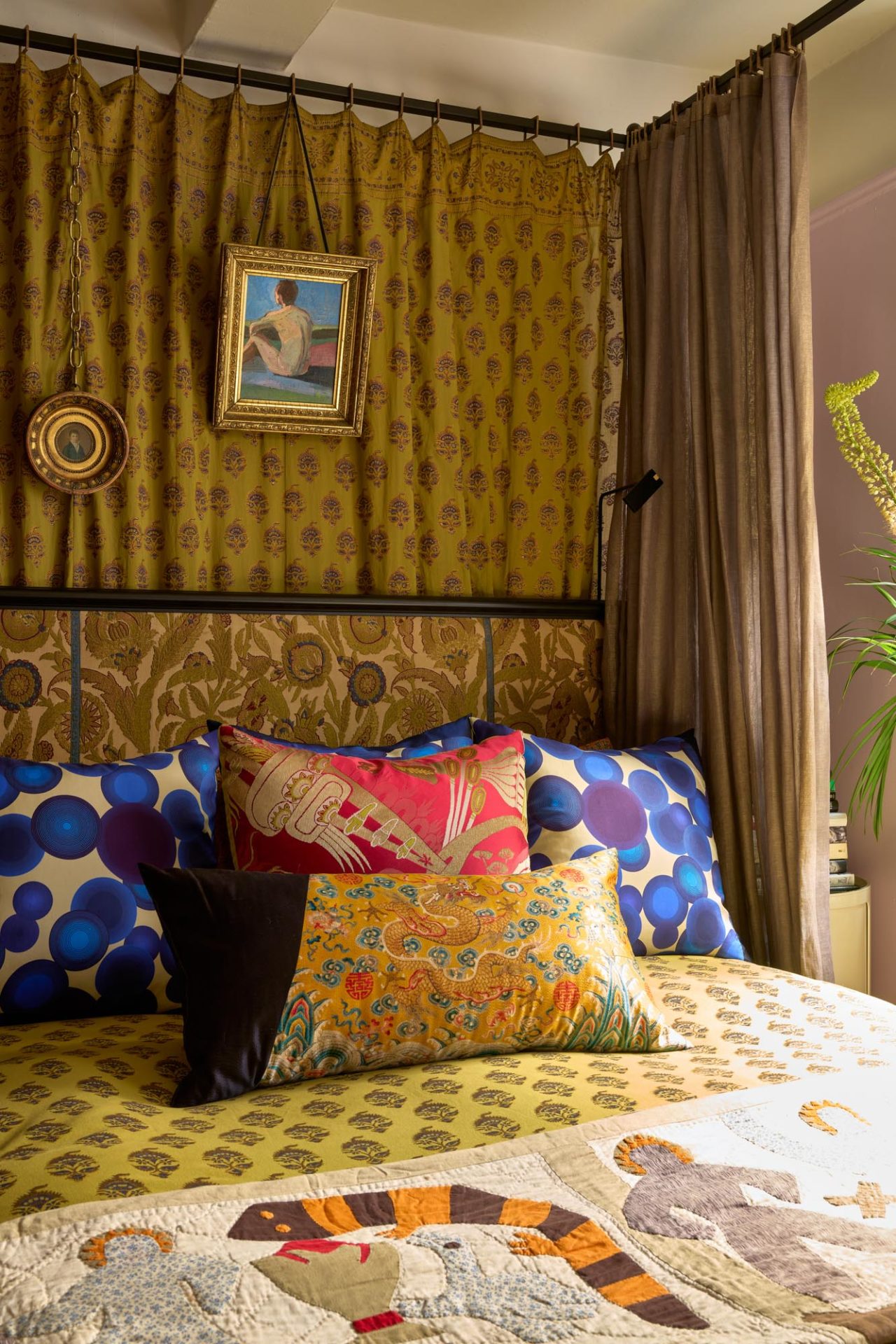 The bed has hangings made of a printed Indian fabric and metallic purple linen which gives separation from the living room. The bed is dressed with a collection of favorite textiles. Rhodes added pillows made from Dries van Noten dresses and the quilt is from Cullum's childhood bedroom. The nude is by Charleston artist Anne Darby Parker.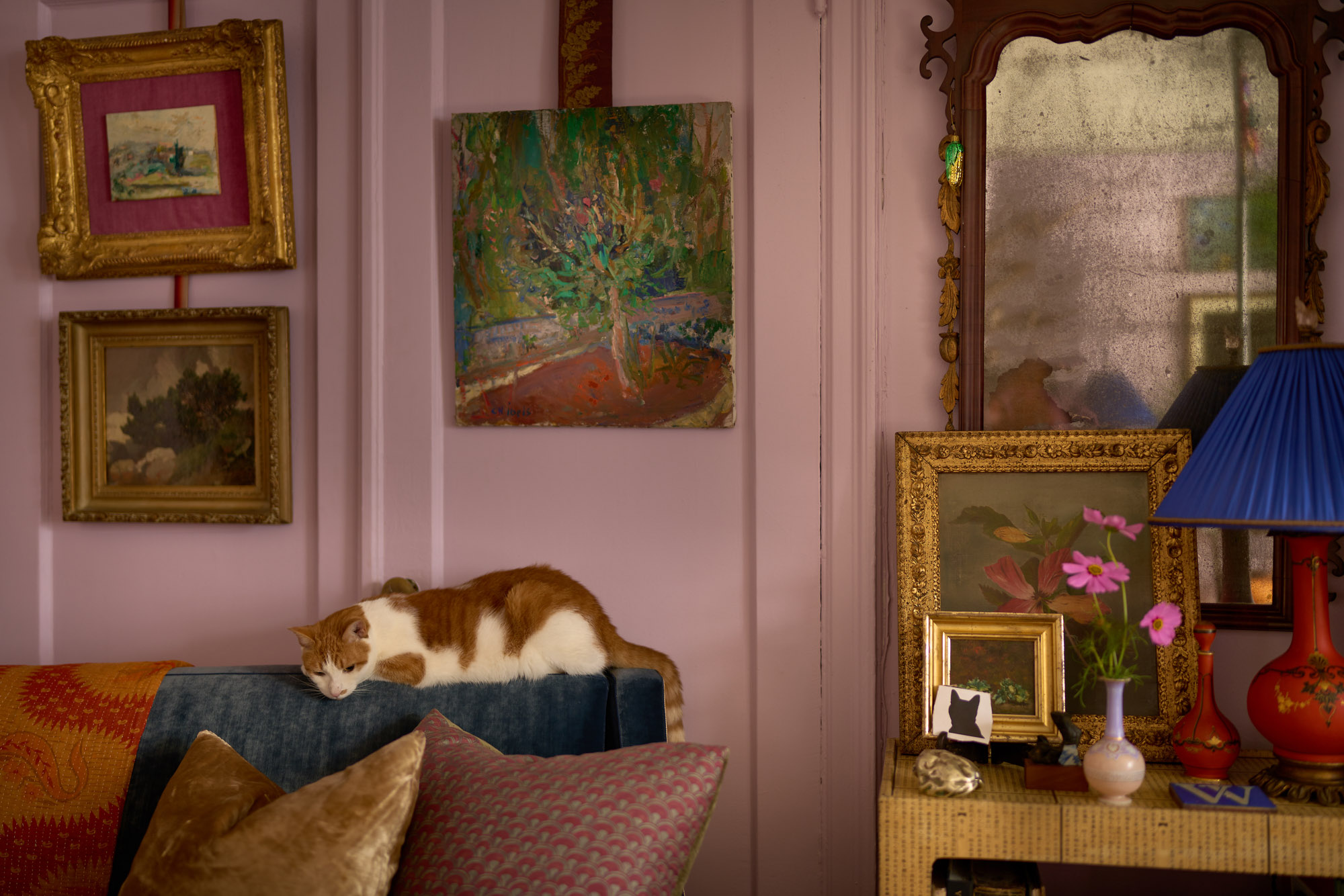 Bash, the couple's beloved cat.
The publication of Leo Lerman and Gray Foy's New York apartment made such an impression on Cullum as an adolescent that he painted their living room lilac in a direct homage. In fact the terra cotta griffin head was purchased by Cullum from their estate when it was sold at Doyle in 2013.
A carved sunburst by Mike Diaz hangs above a mid-century Rosewood credenza. Below sits a McCarty Pottery clamshell which holds Bash's collection of toys.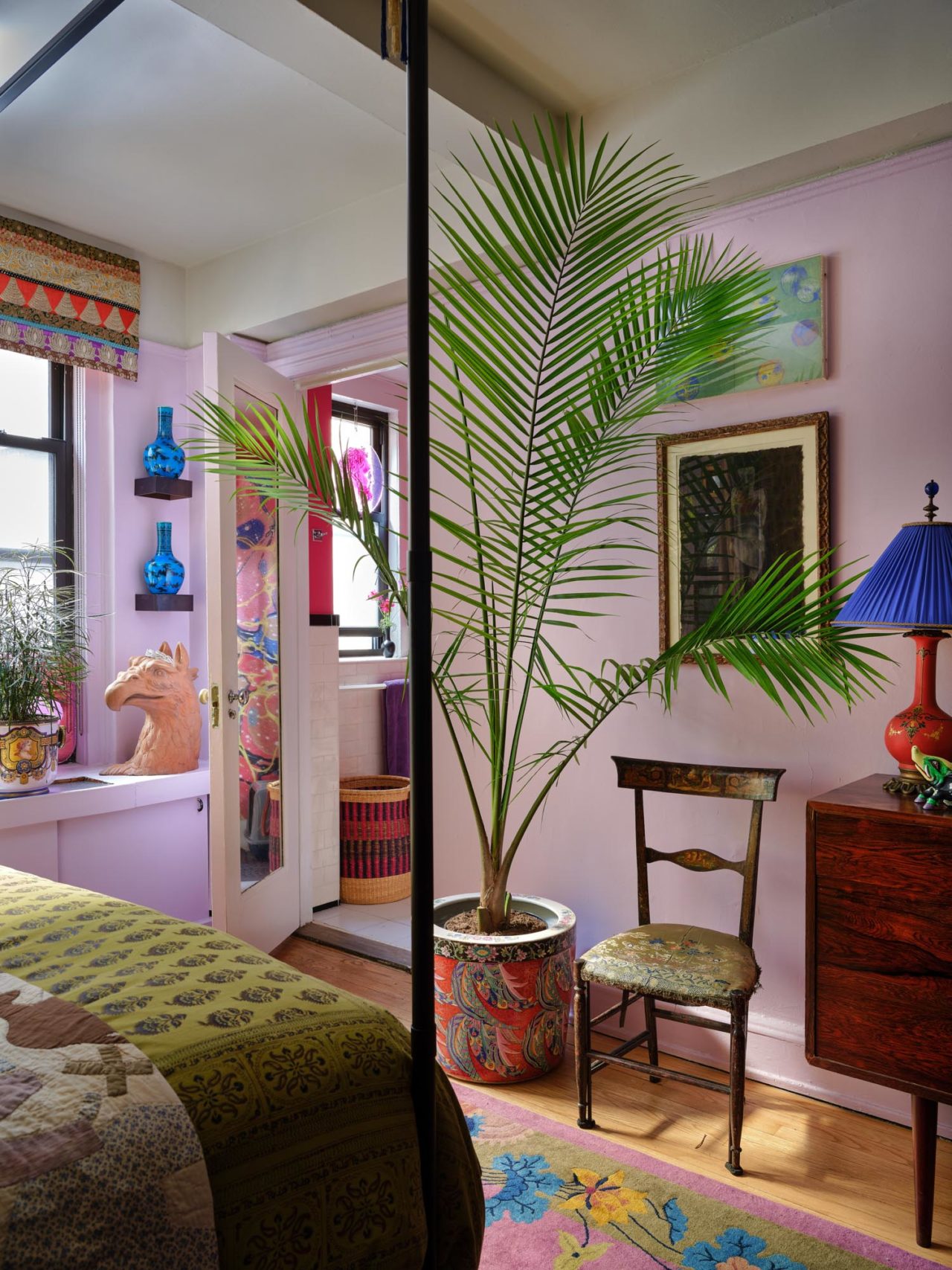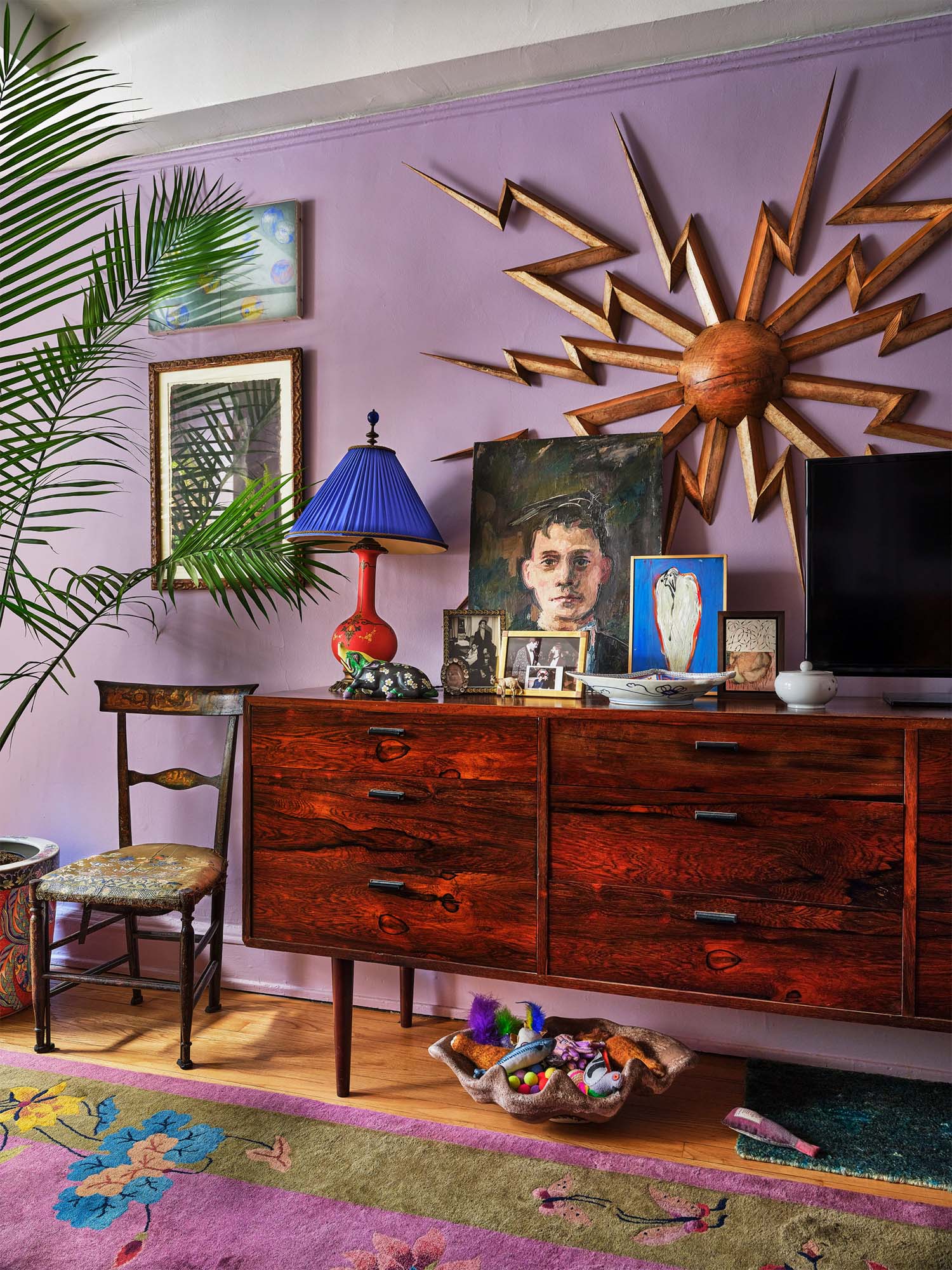 Our living room includes works by Aggie Zed, Michael Egan, Paul Richard, Mike Diaz, Tim Hussey, Beth Katleman, Helen Rice, Julia Cart, and RC Hagans.
Rhodes was adamant that the bathroom be painted Elsa Schiaparelli's Shocking Pink, which contrasts perfectly with the original 1920s black and white tile. The shower curtain was digitally printed from an antique marbleized paper document. The purple resin plaque of the Farnese Hercules was purchased by Cullum at the Sir John Soane Museum.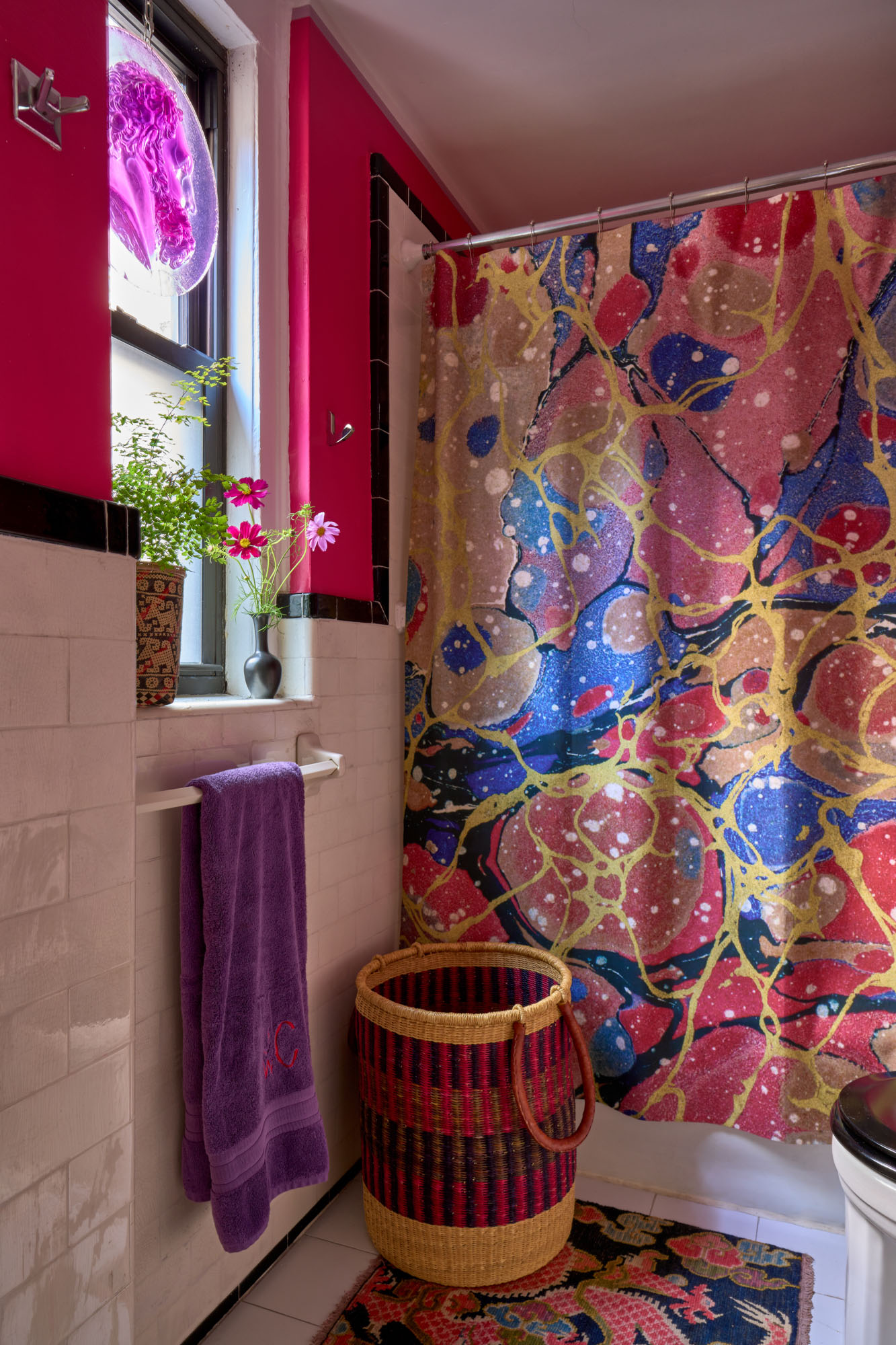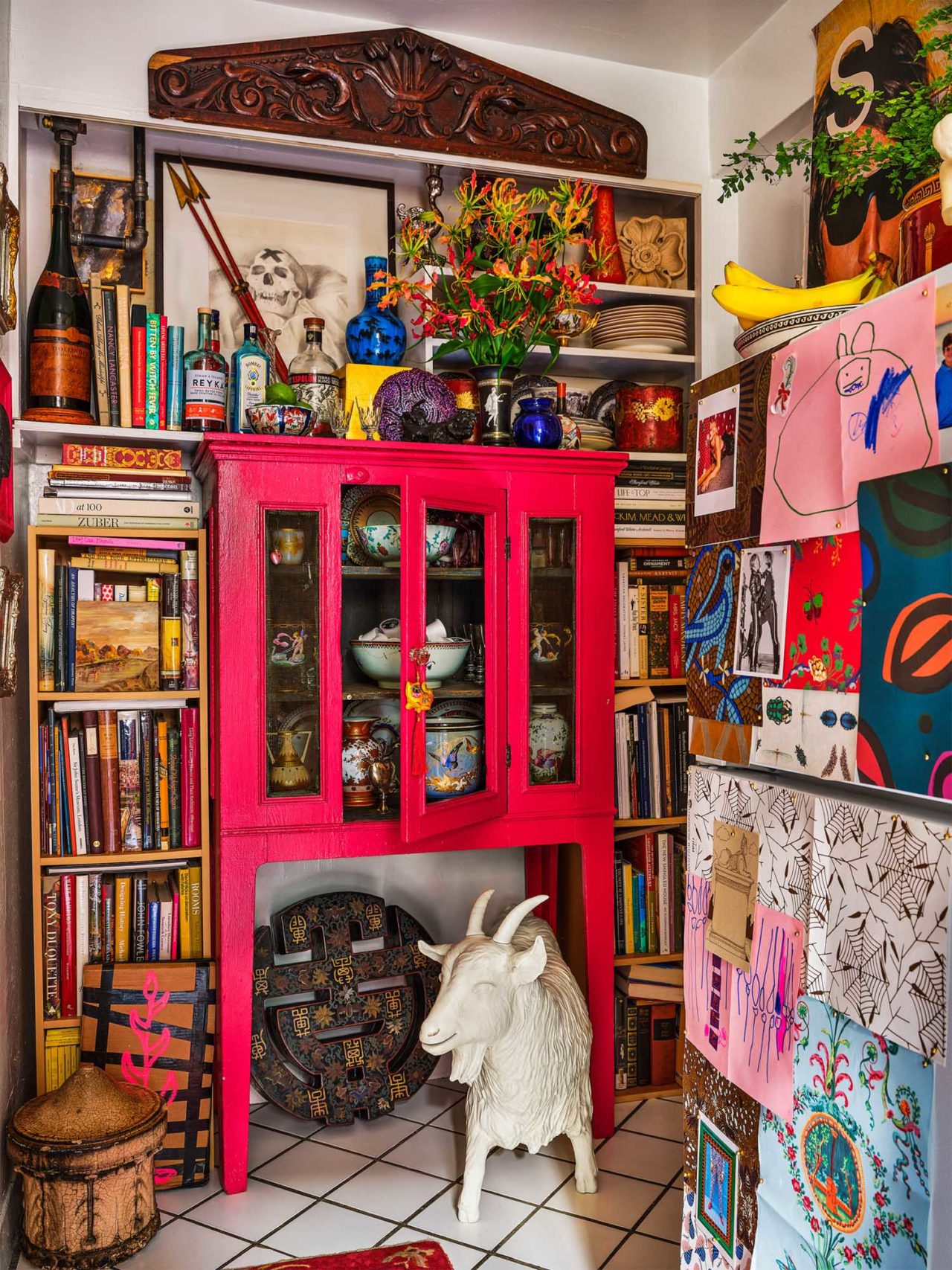 The kitchen, which is rarely used and large by New York, became 'visible storage' for Cullum's collection of objets and a make shift library for their collection of books on art and interior design. Instead of building out the space Cullum used a family pie safe – painted hot pink – and flanked it with a pair of contemporary bookcases.
The refrigerator is collaged with favorite wallpaper samples and ephemera including drawings by Cullum's five year old niece.