Dating back to the early 19th century, Chandler Farm sits on the property of Winterthur Museum, Garden and Library. Originally it was a two family house for a neighboring farm and it was converted to the director of Winterthur's home in 1958. Thomas Jayne, a graduate of the Winterthur Program, offered to redecorate the home for the directorship of Carol Cadou. The design incorporated plenty of Winterthur-influenced details as well as many of Carol's own pieces, creating a comfortable and beautiful home for her family.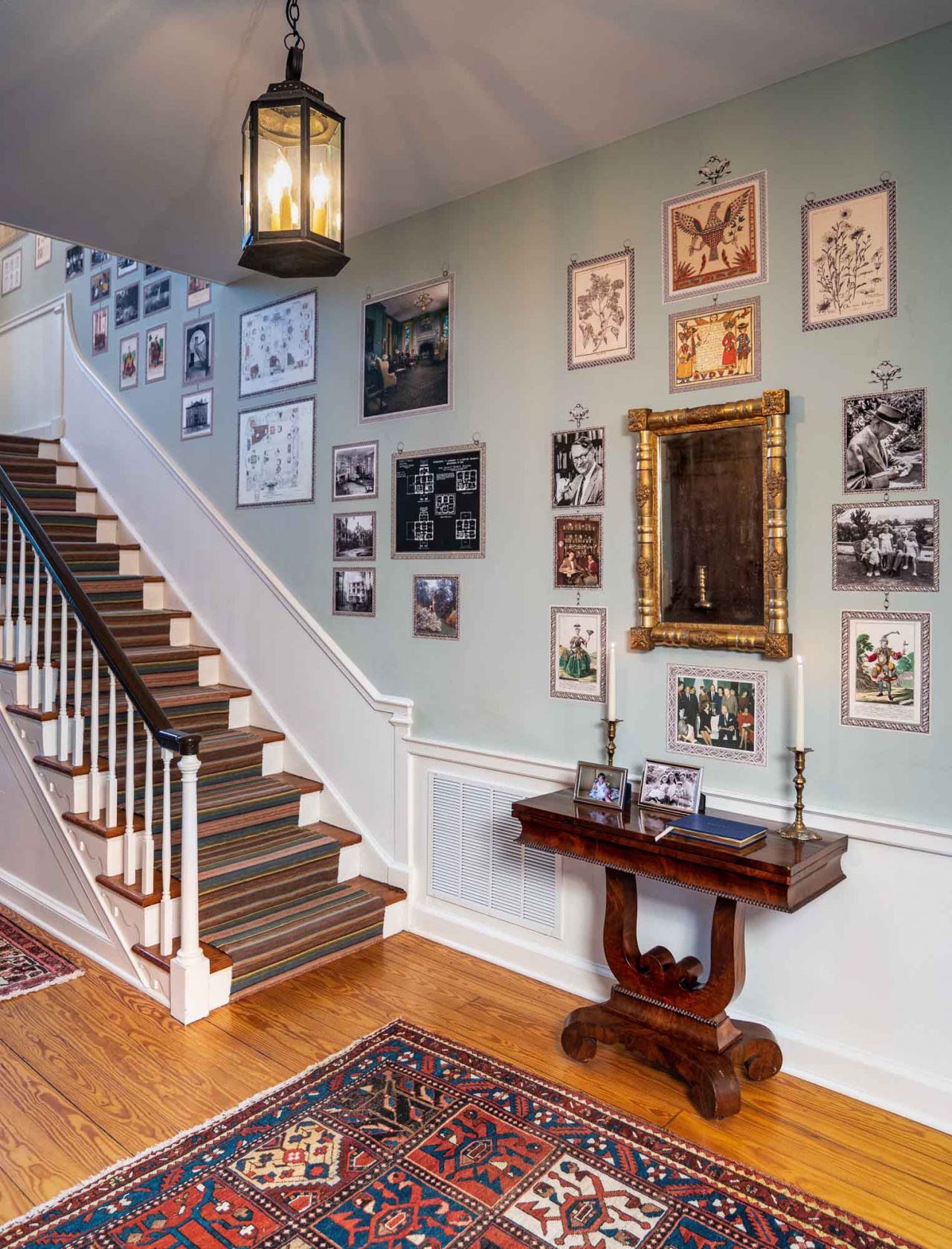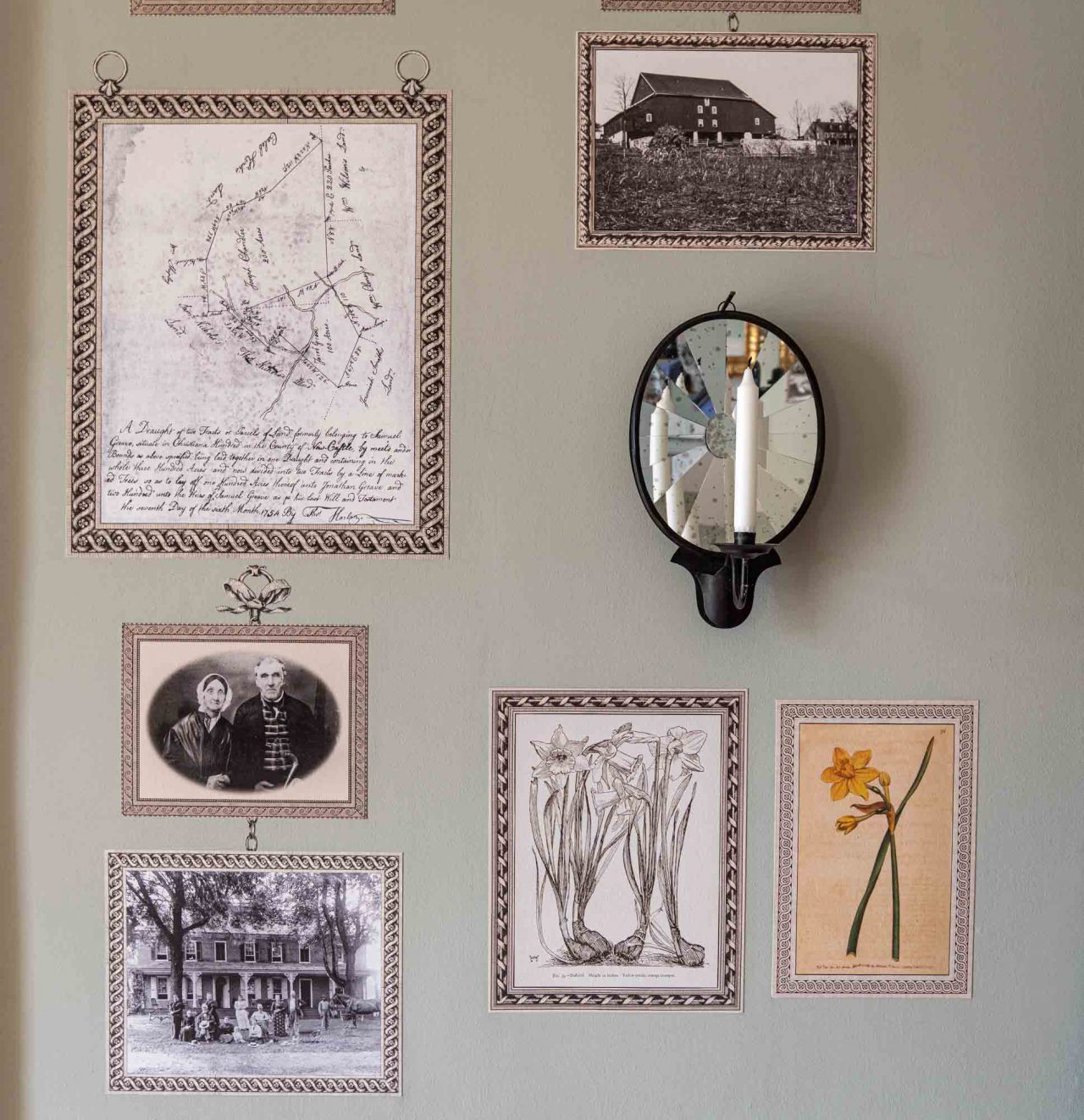 The entry hall and stairway featured our modern take on a "Print Room". Print Rooms were a popular form of interior decoration in the mid 1700s to 1800s, where a mix of prints, surrounded by paper borders and other decorative elements were pasted directly to walls. Thomas' husband, stylist Rick Ellis, arranged them and worked with Simon Blake Studio to design and print a 21st century version in the entryway to tell the story of Winterthur's history using photos from their archives, including one of famed horticulturalist and museum founder Henry Francis duPont with Jacqueline Kennedy and one of Thomas and his Winterthur class at The White House.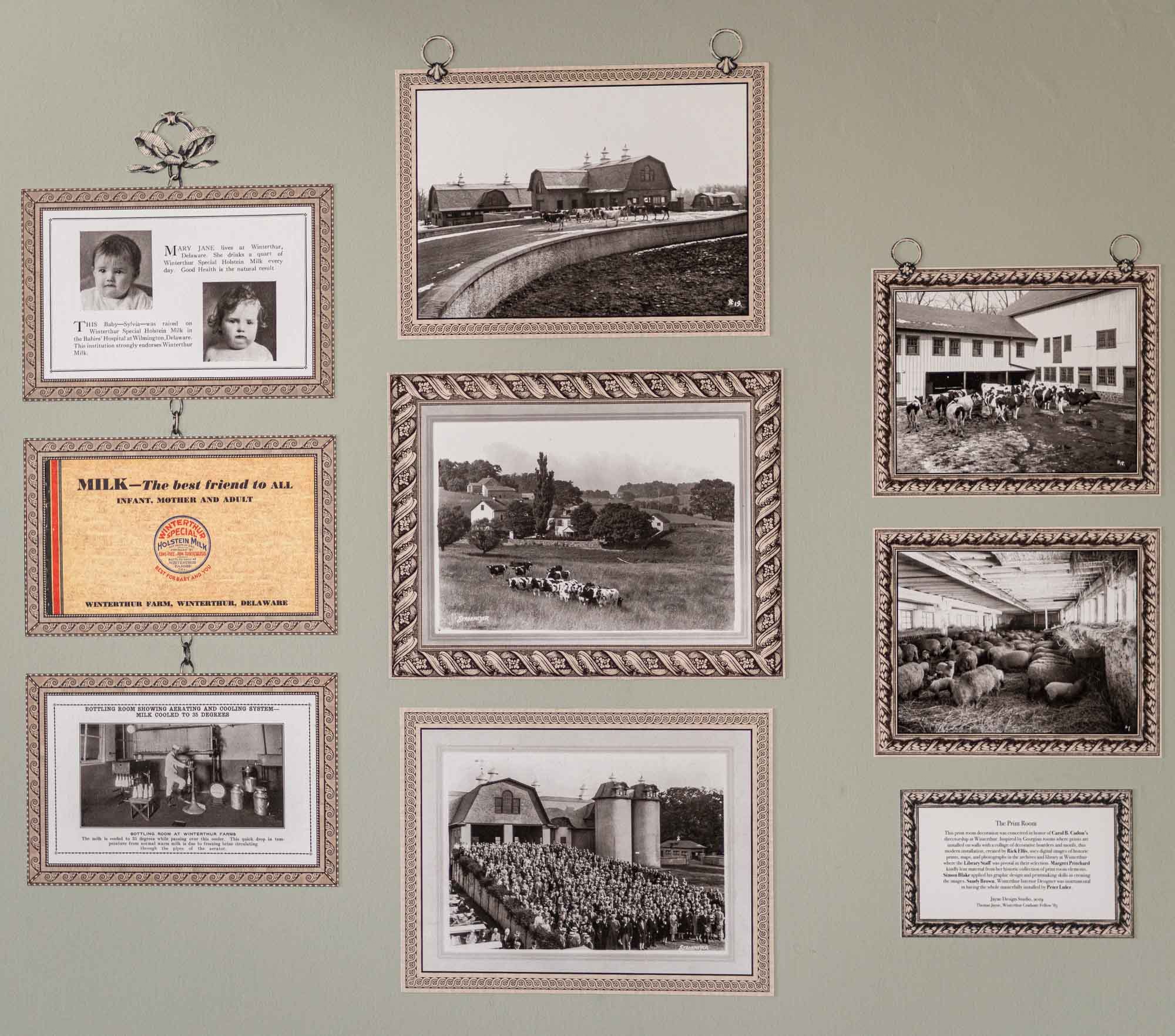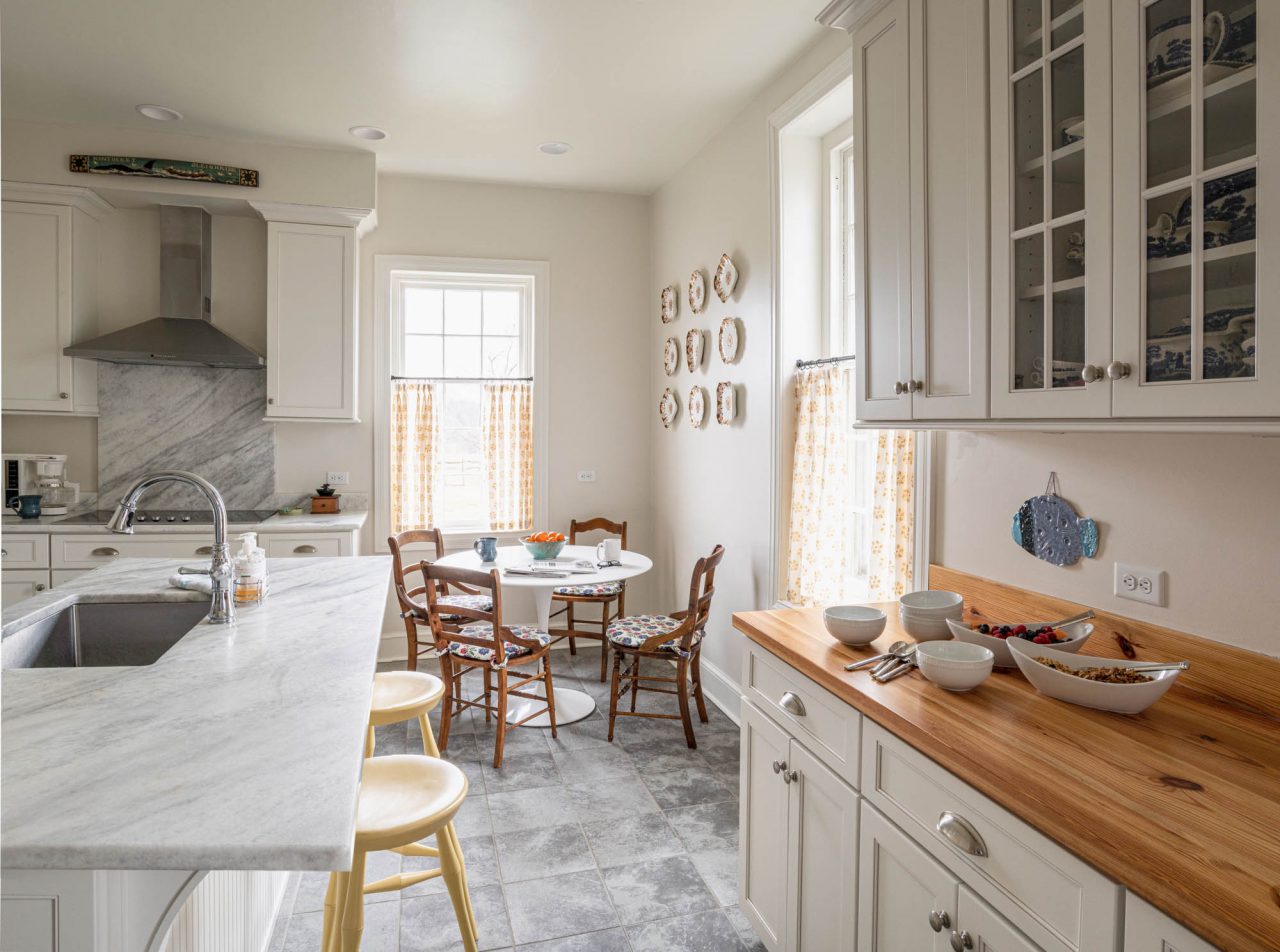 The kitchen was designed by Sandy Brown, then the principal interior designer for Winterthur Design Associates. Thomas chose the modern Saarinen dining table to juxtapose the Cadou's Victorian chairs.
A reproduction of an eighteenth century paper made by Adelphi Paper Hanging gives the dining room life. The custom candle sconces are copies of Winterthur originals commissioned for this house. Thomas recovered the dining chairs left over from the museum's visitor waiting room. The oval mirror was chosen as a contemporary contrast to an otherwise traditional furnishings of the room.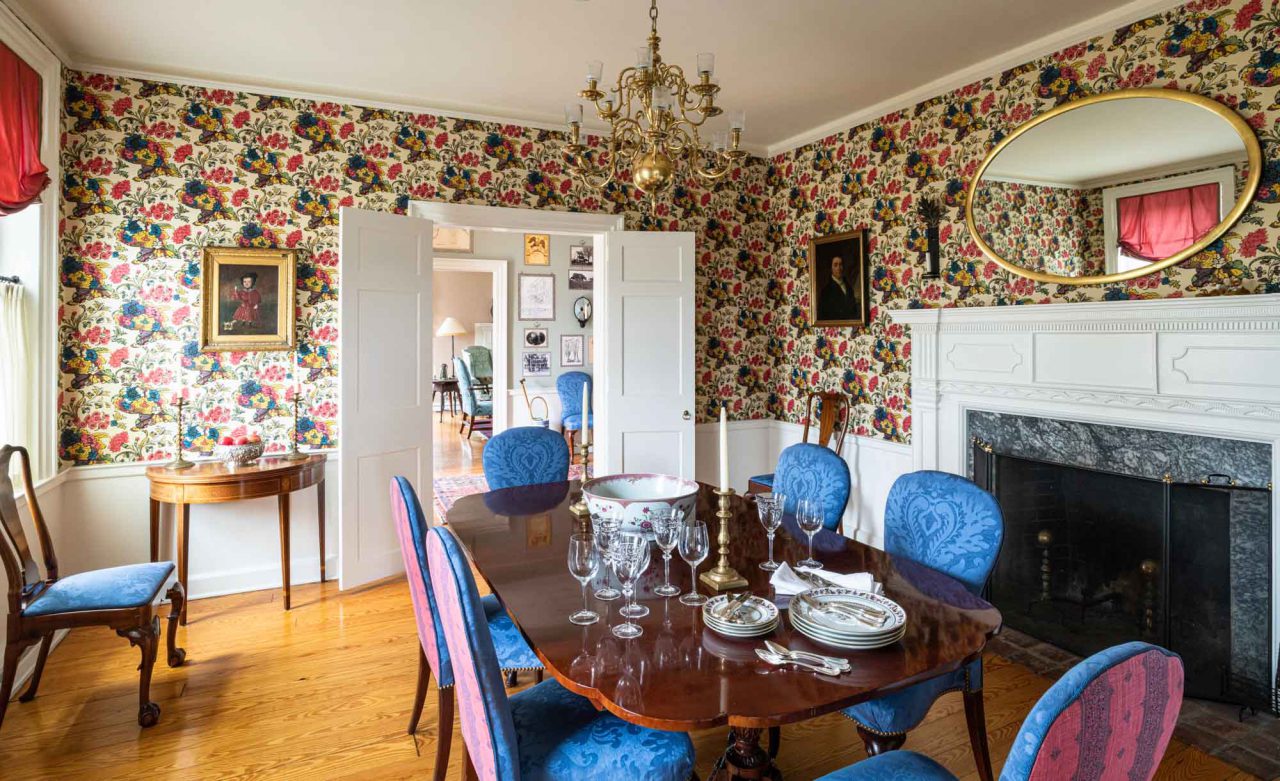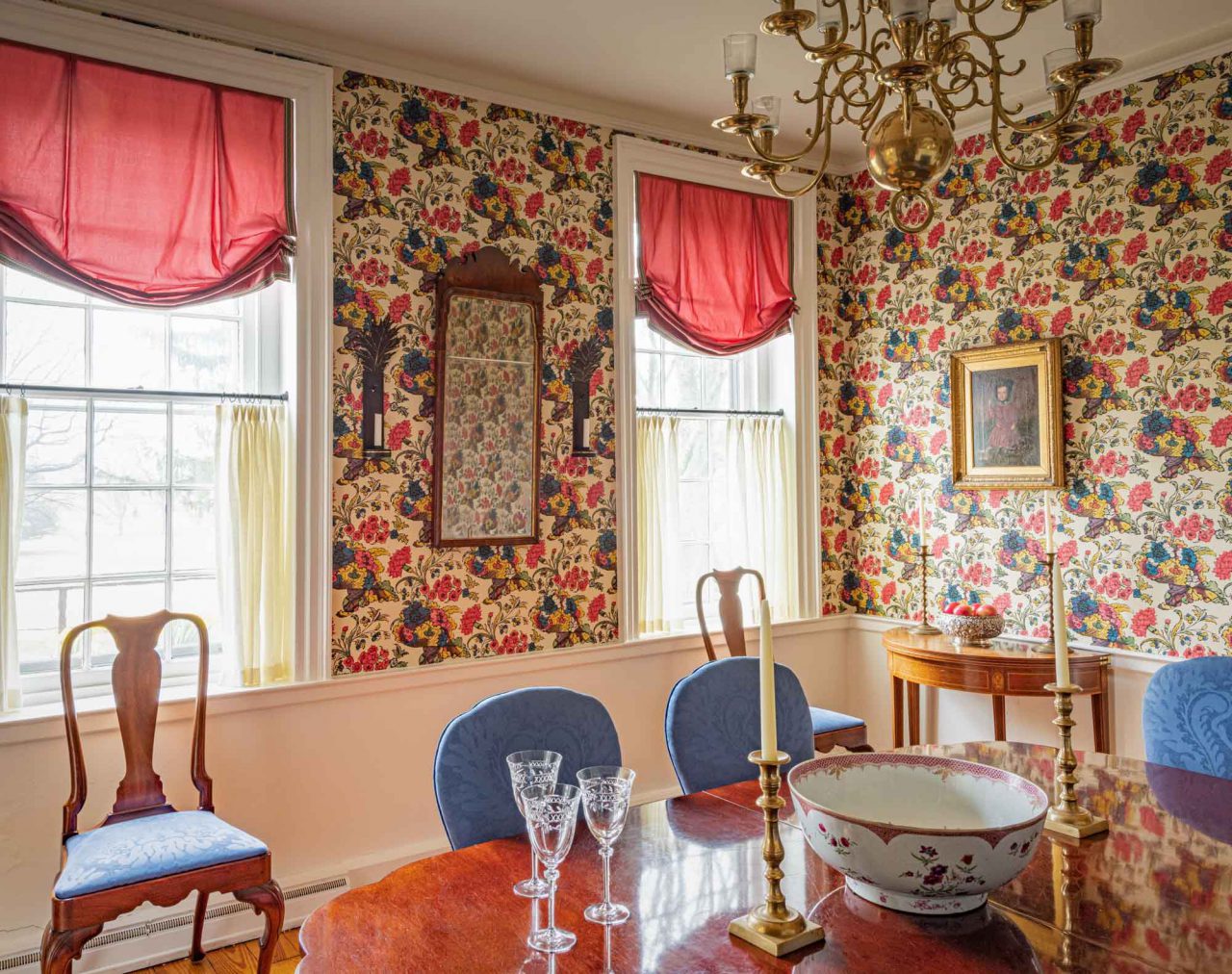 The living room was often used by Carol's family and for entertaining special museum guests. She had found the carpet in Istanbul's Grand Bazaar. Though somewhat more unusual in today's decorating, its combination of colors were popular in early 20th century design and were favored by Mr. du Pont. The armchairs are covered in a Christopher Moore Chintz based on a Regency document that dates back to when the home was first built, and coordinate well with the carpet. The recent Larry Lieberman painting above the sofa is a view of Winterthur. The swags and jabots window treatments are also a nod to du Pont. They were made by Natalie Faulkner Larson, an anthropologist who now makes historic curtains. Thomas backed the bookcases with a print he found in Winterthur's archives that he had scanned and made into a custom wallpaper.