These grand rooms are located in the first luxury apartment building on Fifth Avenue and one of the first on the Upper East Side. Designed by McKim, Mead & White in 1910, the building—which was quickly colonized by New York society—galvanized the city's elite to begin moving into apartments.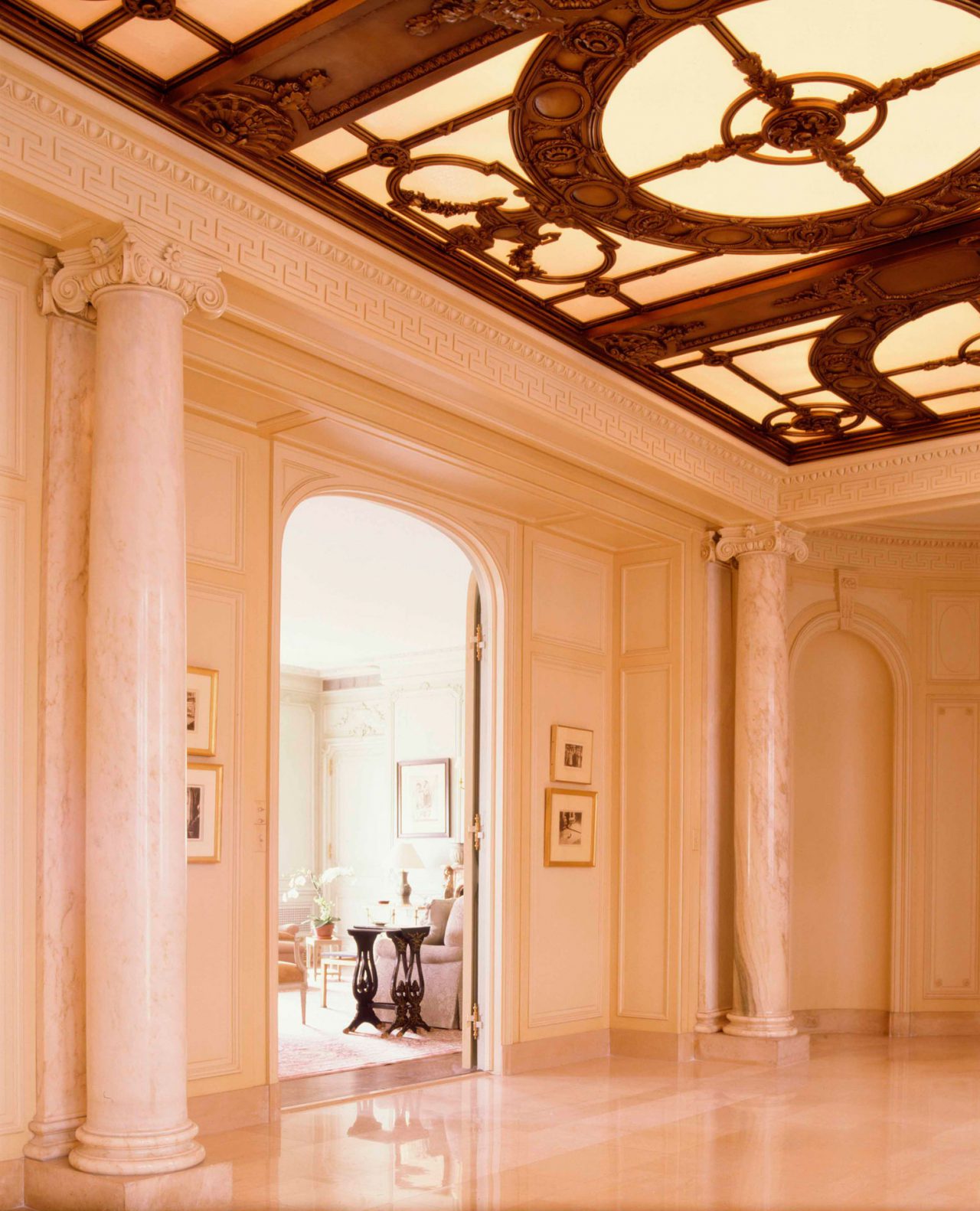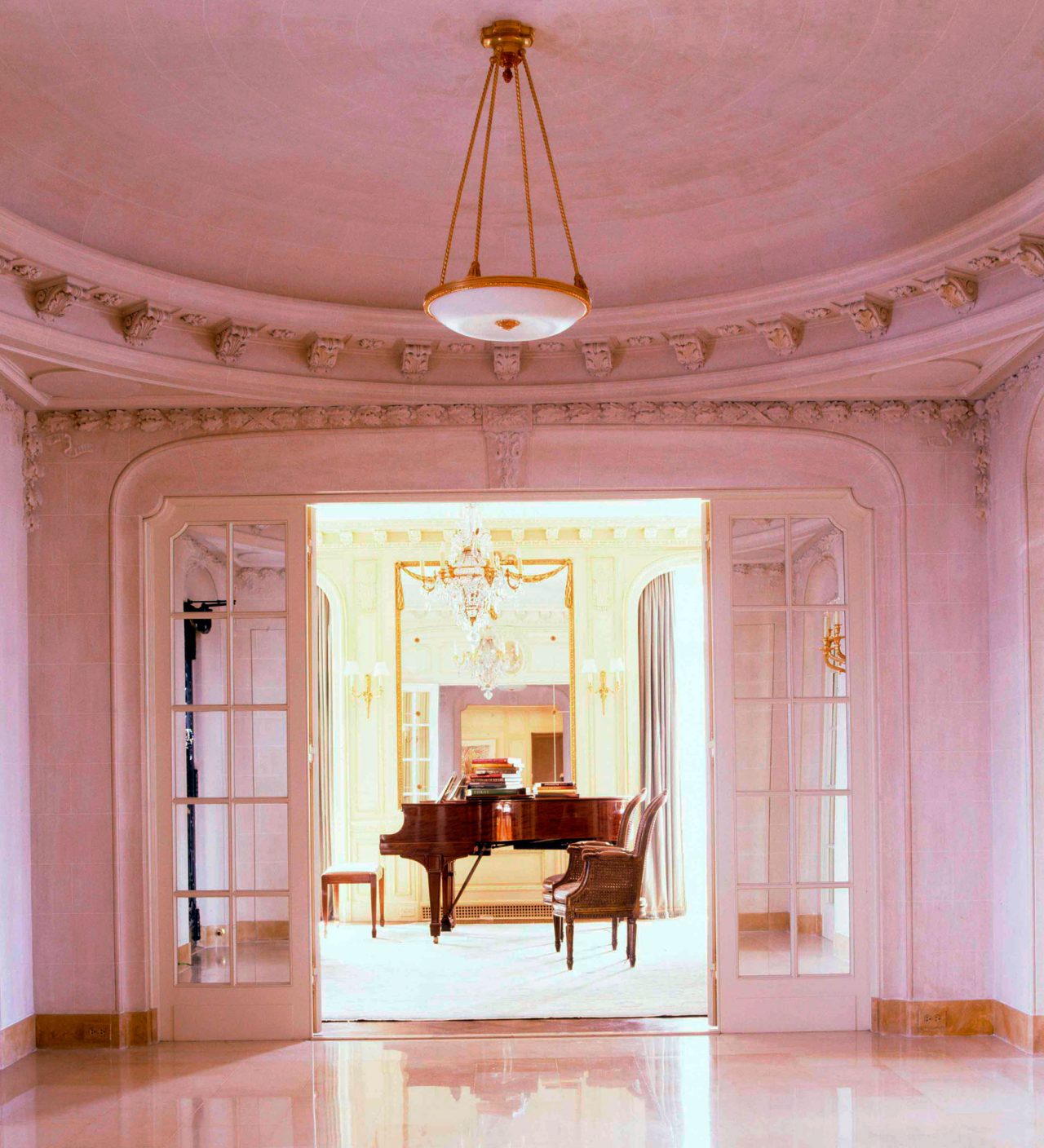 The entry hall, original to the apartment, is grand and stately.
The striking features of this apartment are the Beaux-Arts stone entry hall and reception room as well as the dining room, the living room, and the study walled in French boiserie, which are thought to be by the famous French decorator Stephane Boudin. Although our clients were not Francophiles and had more contemporary taste, they chose to build upon the apartment's best attributes rather than gutting the place. When they first visited the apartment, the rooms were richly polychromed and gilded—too much so for today's everyday living. We suggested that color would take the edge off the grandeur and make everything more welcoming. After planning and careful consideration, we decided to repaint the walls in shades of blue and green with a strié finish. We strengthened this decorative paint scheme with marbleized bases, executed with appropriate restraint by Pierre Finkelstein, one of the great decorative painters in America.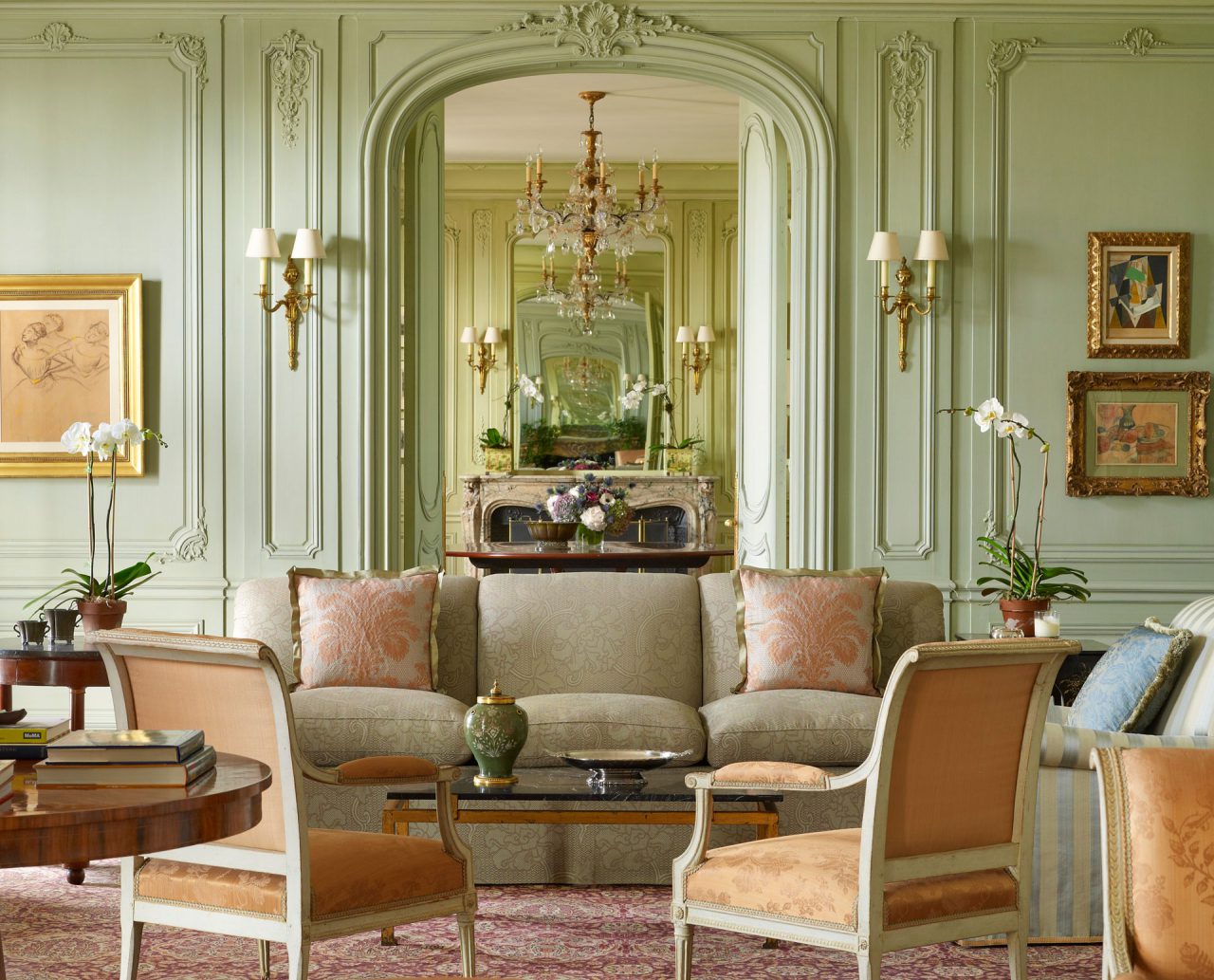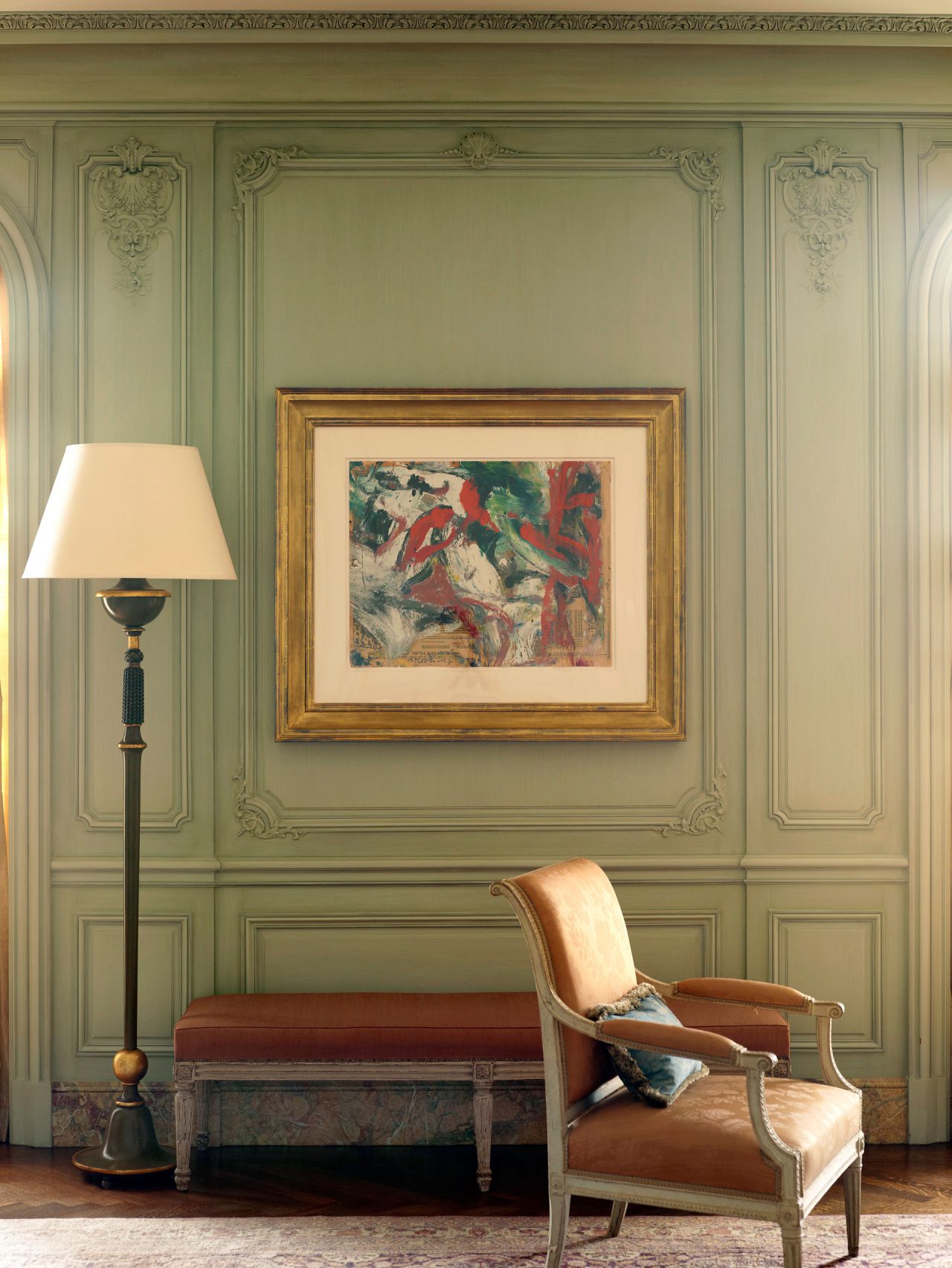 We furnished the drawing room with an array of comfortable seating, including upholstered sofas and chairs, benches, and a handsome suite of fauteuils (French open armchairs) with old white paint by the famous French chair maker Jacob. These helped strike the right balance in the rooms between the old and new. Rather than relying on grand paintings that one might expect in this type of space, our clients opted for prints and drawings of exceptional quality.  

Even within such an important historic context, a family-friendly tone is set. The room is actively used instead of being an off-limits space for entertaining only.
The same suite of Jacob chairs are used in the dining room (below). The classic square proportions of the room are complemented with the use of a round dining table instead of the more typically used oval or rectangular form.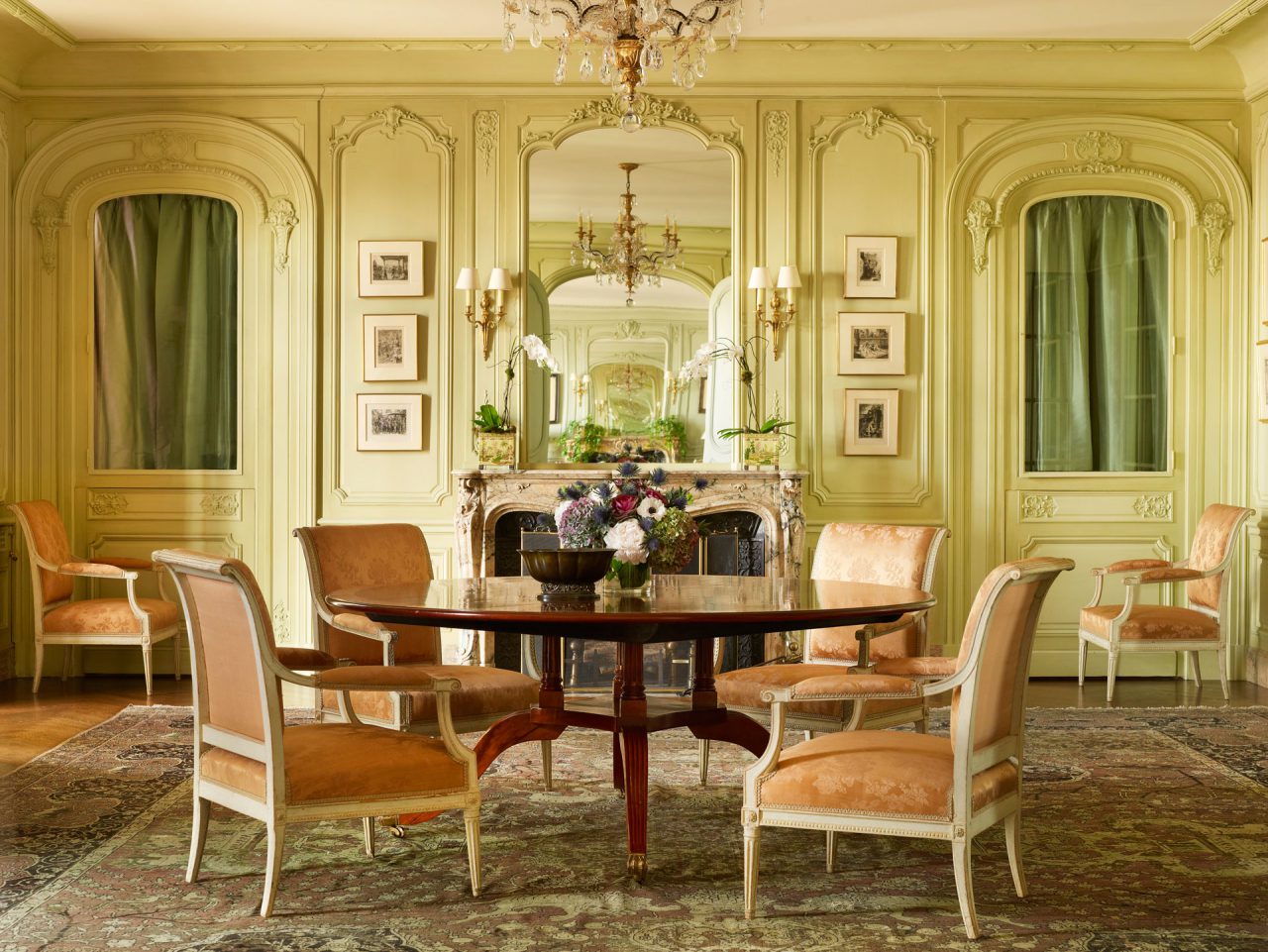 On one side of the music room is an elegant seating group framed by a collection of 20th- century engravings and a large Jasper Johns painting above the sofa. The cocktail table is based upon a Maison Jansen model once owned by the Duke and Duchess of Windsor.
The music room's boiserie is also part of McKim, Mead and White's original architecture. The Louis XVI caned chairs are exceptionally fine examples of their type.