Thomas Jayne and his husband, Rick Ellis, came into their SoHo loft by accident. They were originally seeking a more traditional apartment with rooms to house an ever-expanding collection of more than 5,000 cookbooks, never feeling certain that anything they saw could truly absorb all their possessions and the future acquisitions which would inevitably come. Upon seeing the loft, they realized its potential and saw how its openness and adaptability would be a plus in this scenario.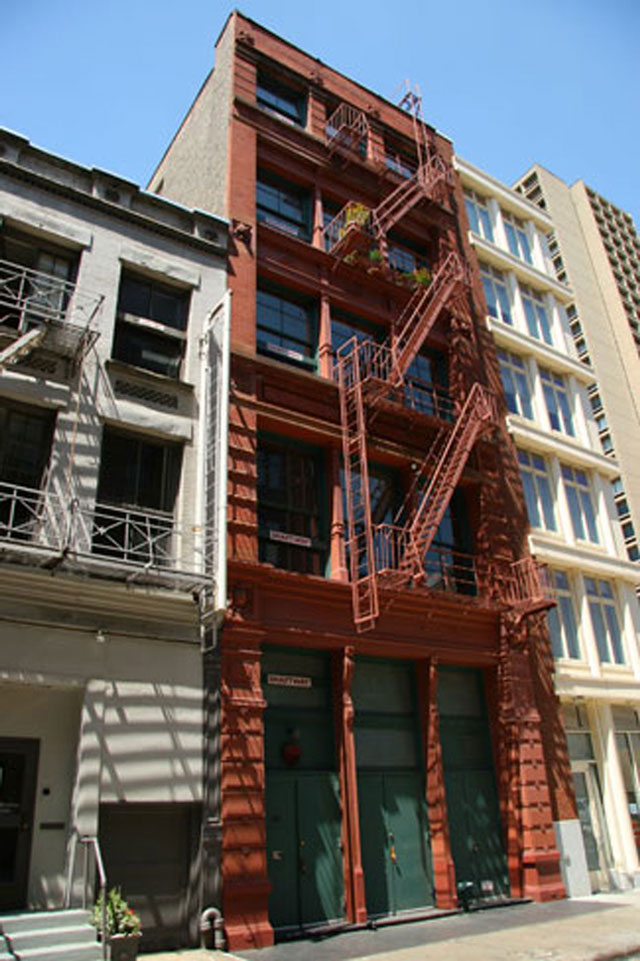 The place they found is the top floor of a cast-iron and brick landmarked loft building, dating from the late 19th century in the SoHo Historic District. The terra-cotta red structure is handsome with much of its original architecture intact (down to the absence of an elevator–its only drawback).
By New York standards, there is lot of space and light–the 1,800-square-foot space has two skylights. Additionally, there are windows not only on the end walls but also along the long southern wall. Before they moved in, they realized that because it is a fifth-floor walk-up, a renovation would involve strategic planning: they decided to move in for a year with a few treasures and no plan.
When the furniture arrived, it all looked lost in what they felt—after living in a studio apartment for two years—was a vast loft. Taking a page from store displays, they came up with the idea of using large blocks of paint on key walls to frame the antiques and art. Because it would only be for a year and there was a vast amount of white to balance, the colors selected were bold and applied in large doses—including bubble gum pink and acid green—shades that ordinarily Jayne would use sparingly. Ironically, because of its bright, graphic quality, the color cubes created one of the more memorable interiors of Jayne's early career.
The renovation proceeded shortly thereafter. The loft is now divided by functional forms such as bookcases, closets, and kitchen counters. These all stand free of the ceilings to allow the industrial sprinklers to work and also to maintain a loft-like appearance. The plan is centered by a large open space that features the seating area, the kitchen, and the dining table and is flanked on one end by a smaller space that is office-cum-cabinet of curiosities, and on the other by a sleeping area. The furniture in the seating area is arranged below a skylight whose collar is lined with yellow mirror.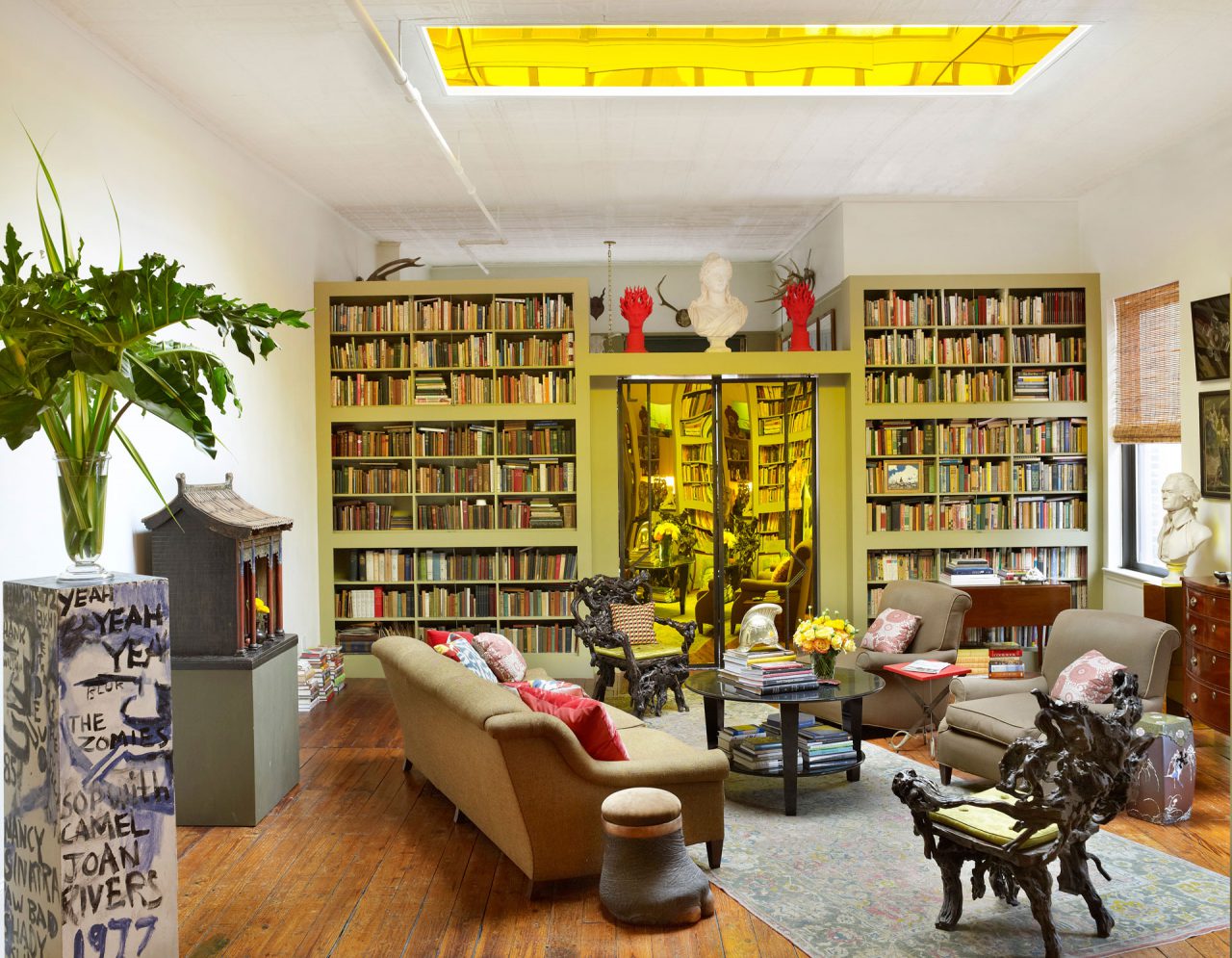 The living room space has a large Istvan carpet—a gift from Darius Sakaki. It is from the late 17th or early 18th century and very worn, but still possesses a beautiful mellow palette. The wall partitions include a pair of colored-glass doors that open into a space called the cabinet room. The space also features a pair of 18th-century Chinese rootwood chairs and a graffiti-covered column painted by artist Robert Loughlin.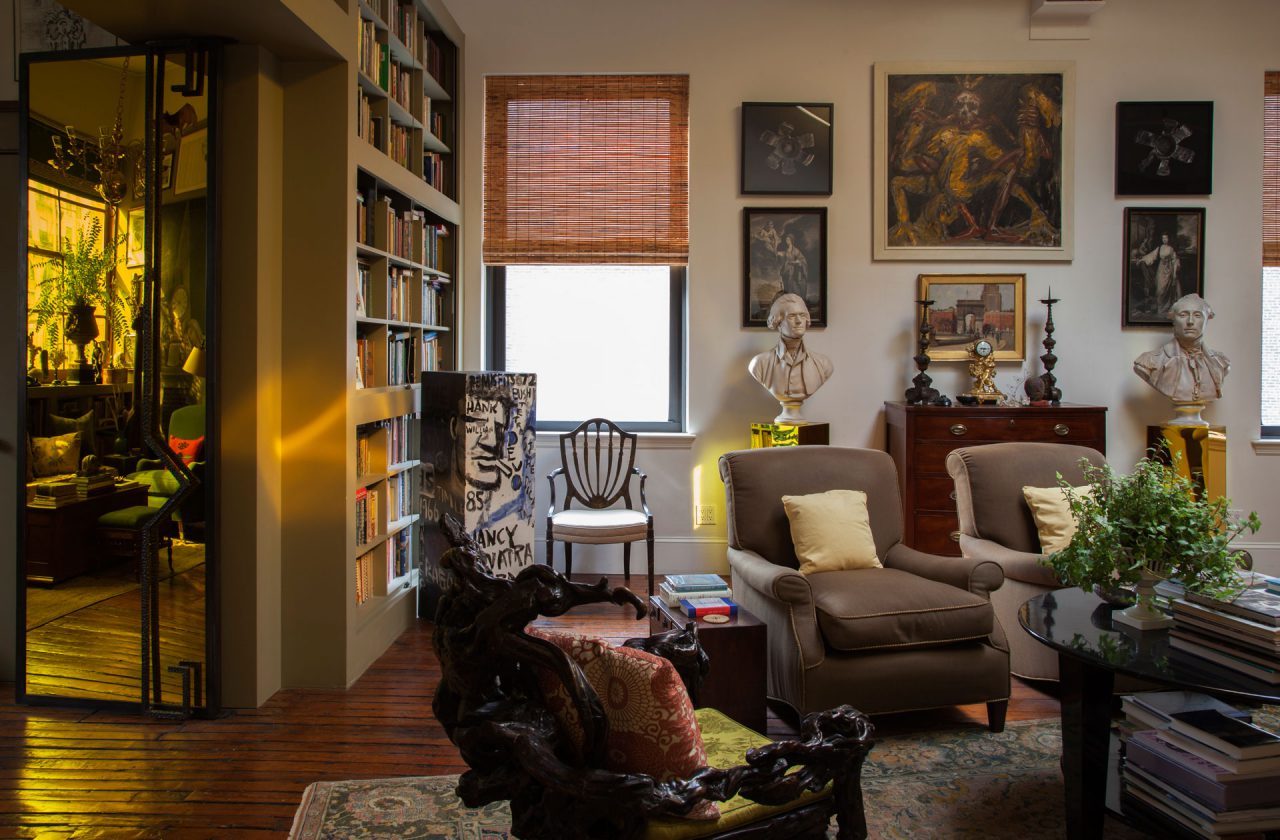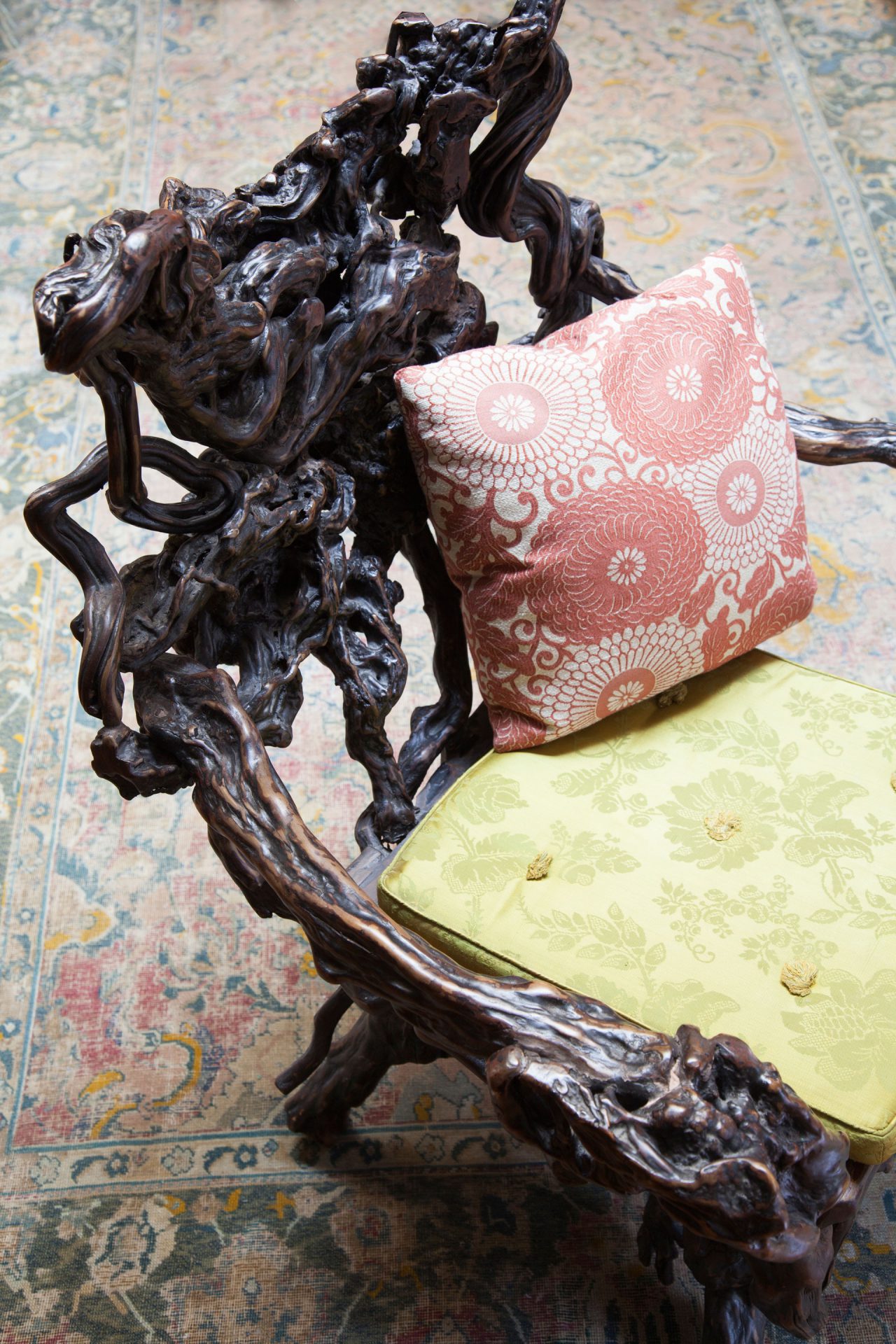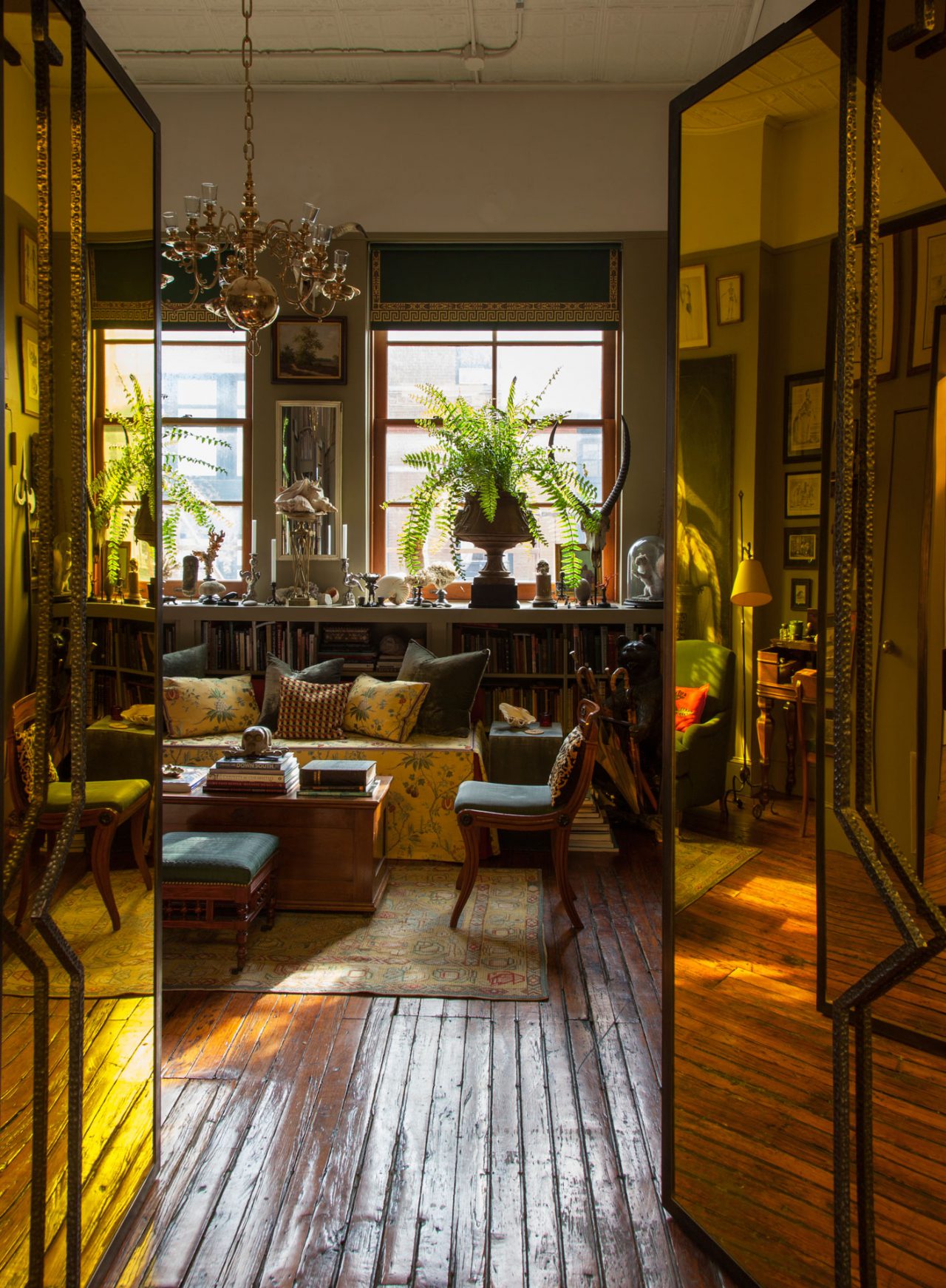 The cabinet room holds a concentration of small sculptures, found objects, and examples of natural history that would have looked lost spread around the apartment. The concept is loosely based on European cabinet rooms, which were first developed in the Renaissance and had their heyday in the 18th century. The room is lit by a Dutch chandelier, a style often used in rooms of this type.

The desk once belonged to Thomas's grandmother and was thought to have been fashioned from a piano. A daybed has pillows made from antique textiles and a silk brocade cover. A stuffed bat nicknamed Jake watches over the room.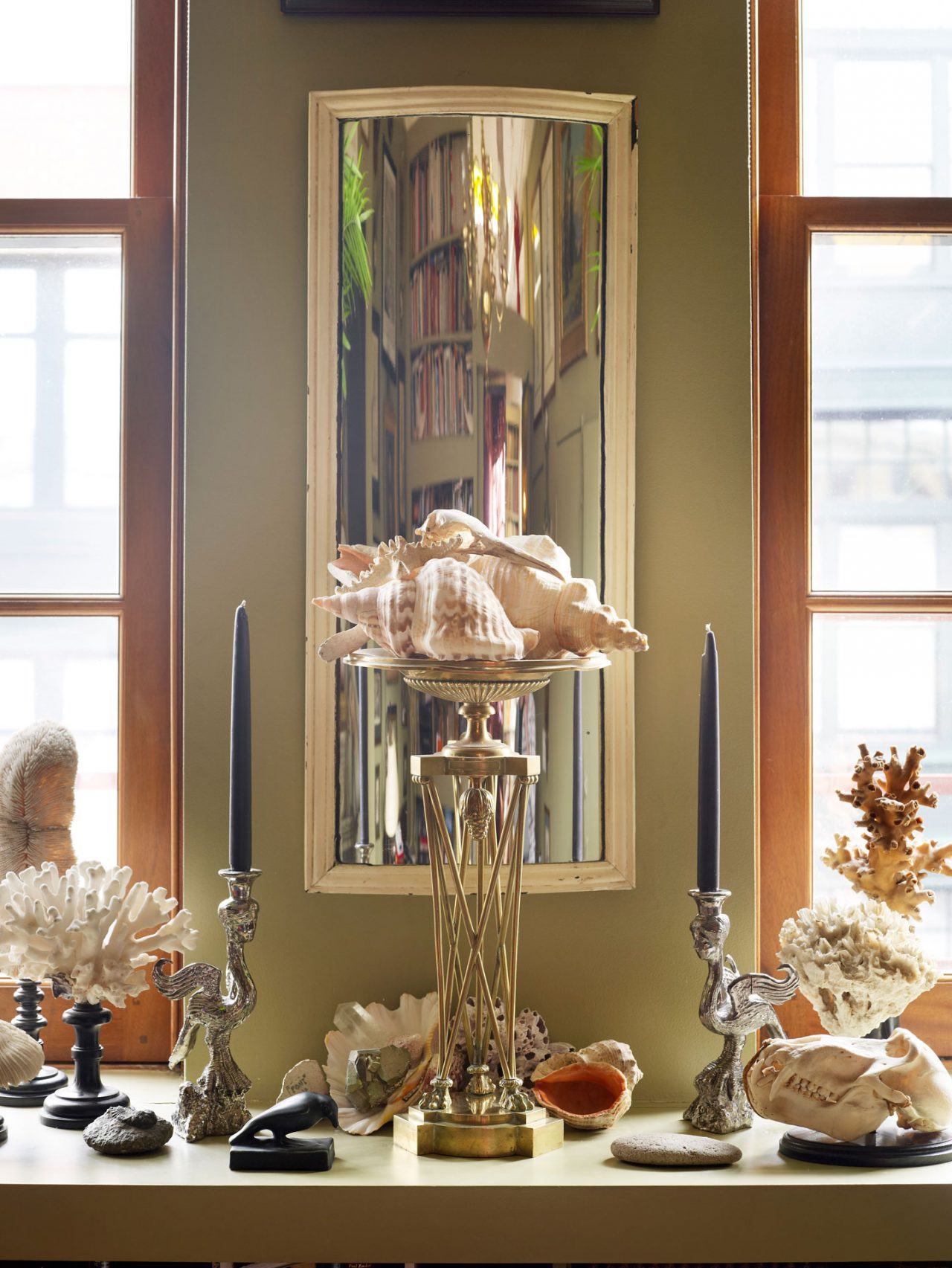 Seashells, corals, animal skulls, and rocks are arranged along the windowsills and open surfaces. The candlesticks are by artist Oriel Harwood, whose whimsical creations– including a mirror frame composed of branches and a pair of red flaming head sculptures– appear in other parts of the apartment.
The dining area has an American sideboard and a bust of George Washington by Houdon, part of a group of busts of the patriots placed around the loft. The yellow mirror here and elsewhere is an homage to John Soane and his house museum in London. A 19th-century English table is surrounded by old and new chairs and summarizes the aesthetic of the loft.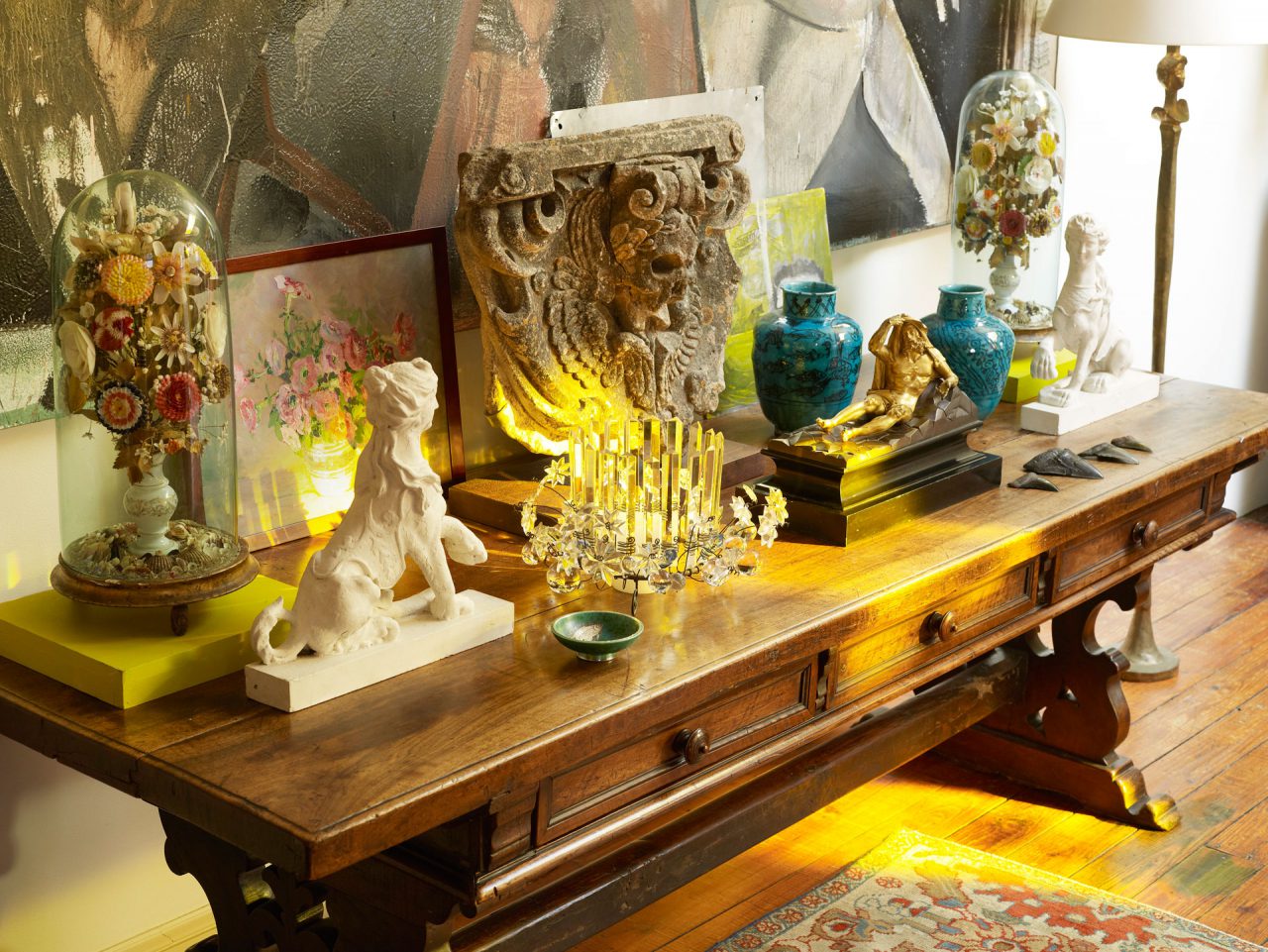 The loft is filled with paintings, sculpture, furniture, architectural fragments and models acquired by Thomas and Rick over their more than 30 years together.
The loft houses an important collection of culinary books spanning from the 18th century to the present, with a sub section on housekeeping and domestic arts.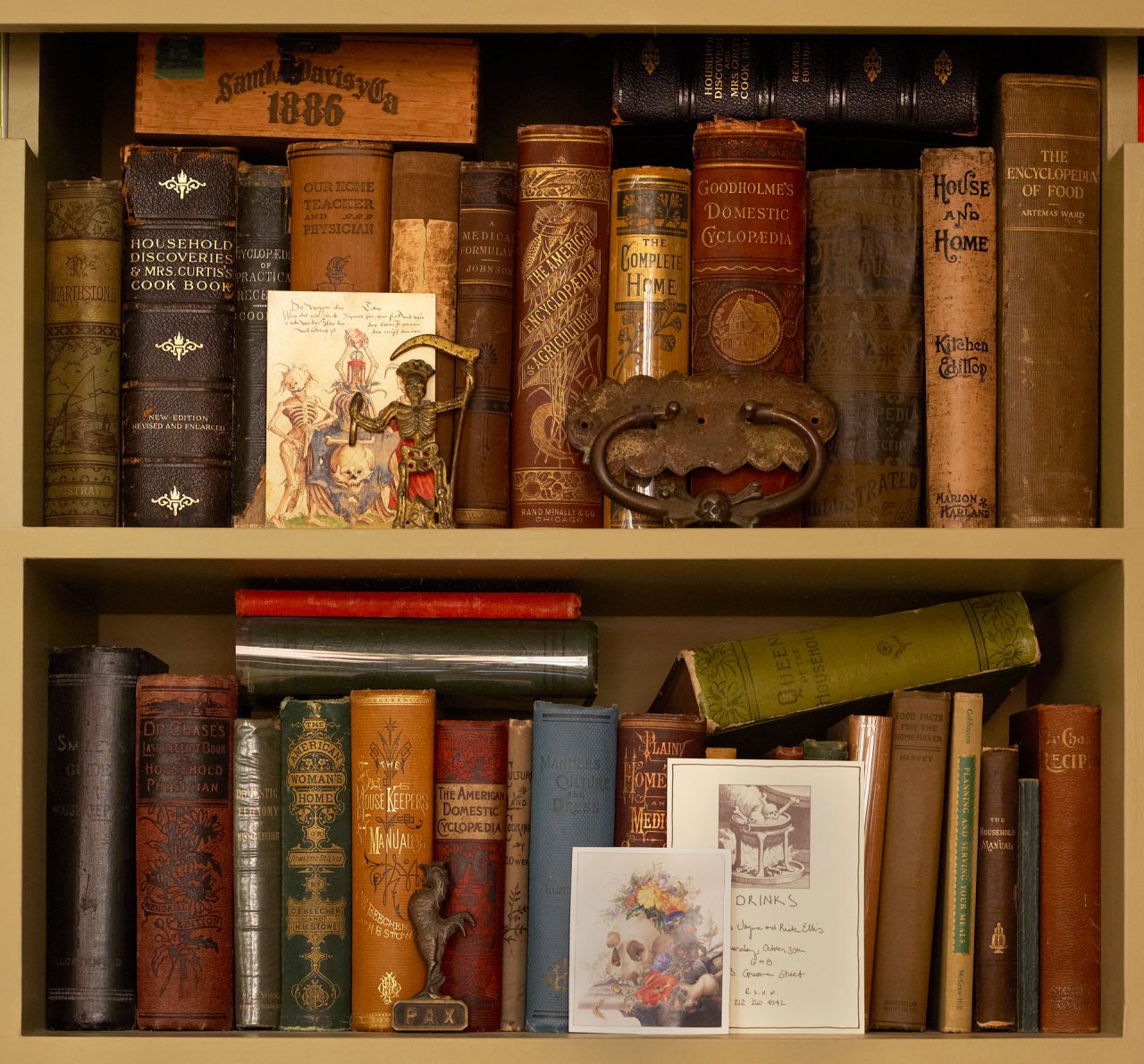 The Victorian bed has a long family connection — it originally belonged to Thomas Jayne's grandparents and was handed down within the family. Heavy Victorian furniture offers its challenges, but the answer came from an old solution, the color block. By framing it within a yellow square and using symmetrical bookcases and pair of plaques, it no longer dominated the room. A certain balance was achieved.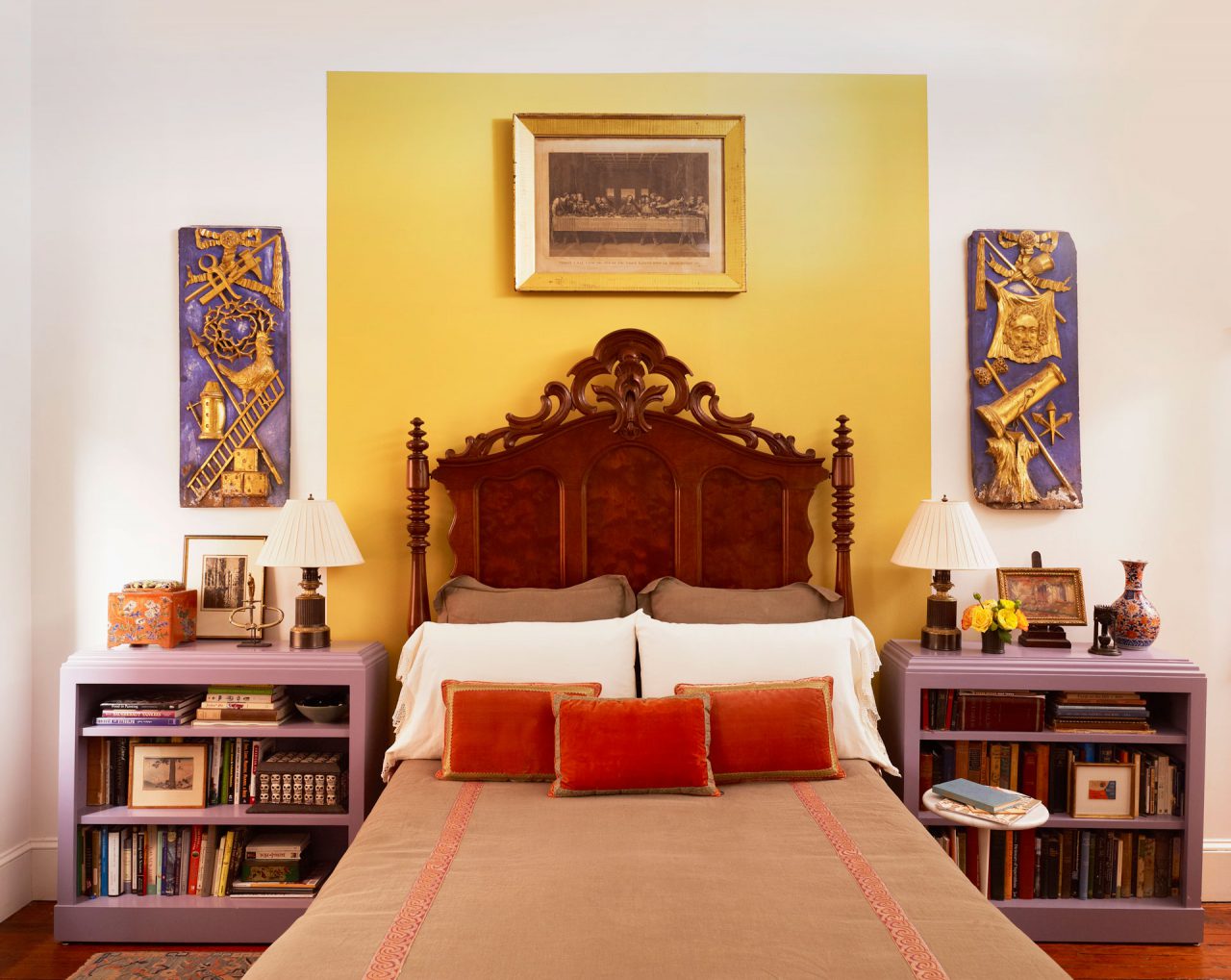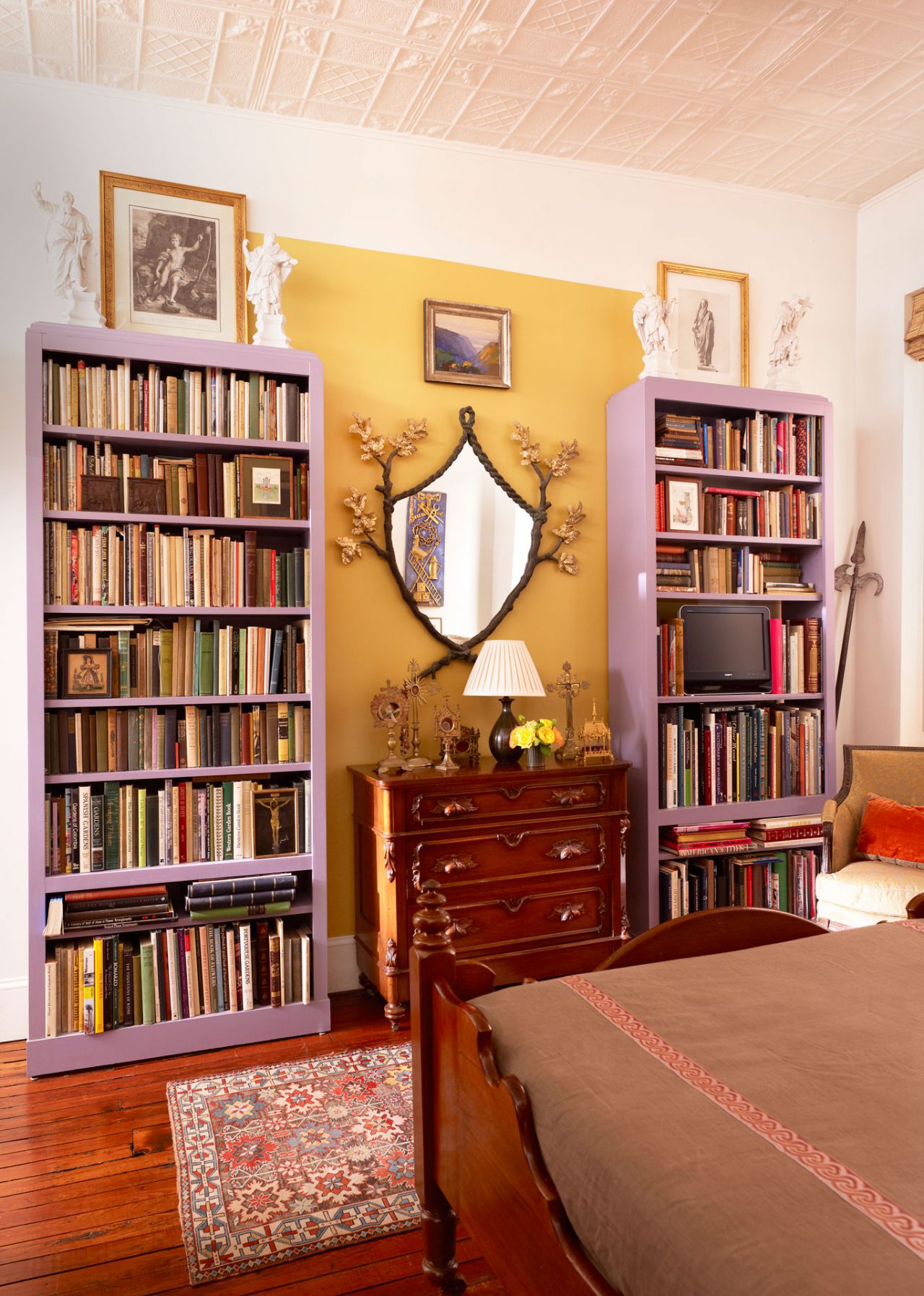 An antique chest with a relic of the true cross and Oriel Harwood's mirror design are flanked by a pair of lavender bookcases.