Over the last quarter century, Jayne Design Studio has worked closely with museums around the country on exhibitions and interior work spaces. Thomas Jayne's background in museum and curatorial study and the Studio's affinity for creating spaces that are attentive to context and history make them uniquely qualified for these kinds of projects. The following shows a sampling of some of these efforts.
The first example shows the public spaces we designed for Historic Hudson Valley's new offices in Tarrytown, New York. HHV's mission is to "restore, preserve, interpret, and promote for the public benefit and enjoyment historic landmarks of national significance within the Hudson River Valley." Working with Peter Pennoyer Architects, we designed the reading room (shown above and below), assembly room, and conference rooms, the most heavily used spaces in the new facilities.
Historic Hudson Valley's general book collection consists of more than 12,000 titles in subject areas as diverse as early African-American history, agriculture, American 18th- and 19th-century culture, art, and architecture, with additional material available in its rare books and manuscript collections. Hence, the importance of the reading room and its need to embrace both the casual reader and serious researcher. We proposed a space that would be both welcoming and practical, combining classic study tables with a suite of comfortable upholstery.
The assembly room has tall, classic proportions ideal for presenting portraits and landscapes from the collections. The formal draped curtains were designed in the spirit of those found in the famous houses of the area. A practical set of chairs and tables in handsome colors was selected to stand up to the daily use of a busy organization whose mission strives heavily towards community outreach and educational programs.
Colors seen in the region at Kykuit and Boscobel are used in the conference rooms, elevating the setting from its everyday purpose. Portraits of prominent local figures add further local historic connections.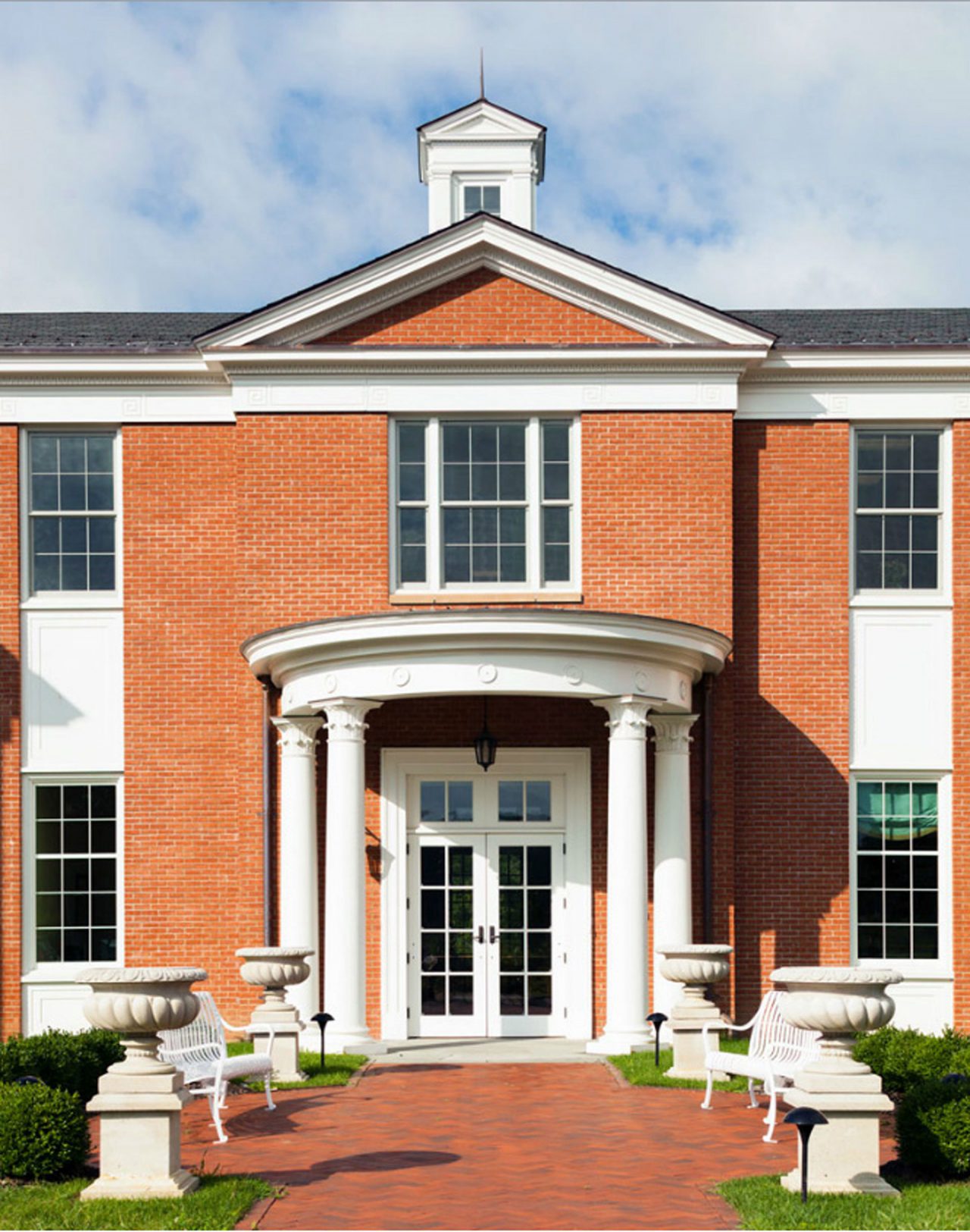 The Historic Hudson Valley headquarters by Peter Pennoyer Architects is noteworthy for its classical detailing and the skillful way it addressed the needs of the organization in its plan.
Edith Wharton's former summer house, The Mount, in Lenox, Massachusetts, was acquired by a foundation called Edith Wharton Restoration in 1980. Wharton sold the property in 1910, and the house had various owners over the previous decades; the restoration project acquired it in hopes of bringing her spirit back. The Mount hosted a showhouse in 2002 through 2004, inviting prominent decorators to create rooms that recalled the Whartons during their residency. We were assigned Teddy Wharton's study, which we imagined as a private retreat.
The original 1902 architecture (designed with the help of Ogden Codman, Edith Wharton's co-author on The Decoration of Houses, published in 1897) remains intact, spruced up with a delicate yellow paint on the walls and pale green on the ceiling. The Whartons had a challenging relationship, so the study would be a place for Teddy to find quiet and pursue his own interests and tastes. Modern cube tables and slope-armed upholstery reflect where those tastes might deviate from his wife's, whose preference was for the decoration of 18th-century France.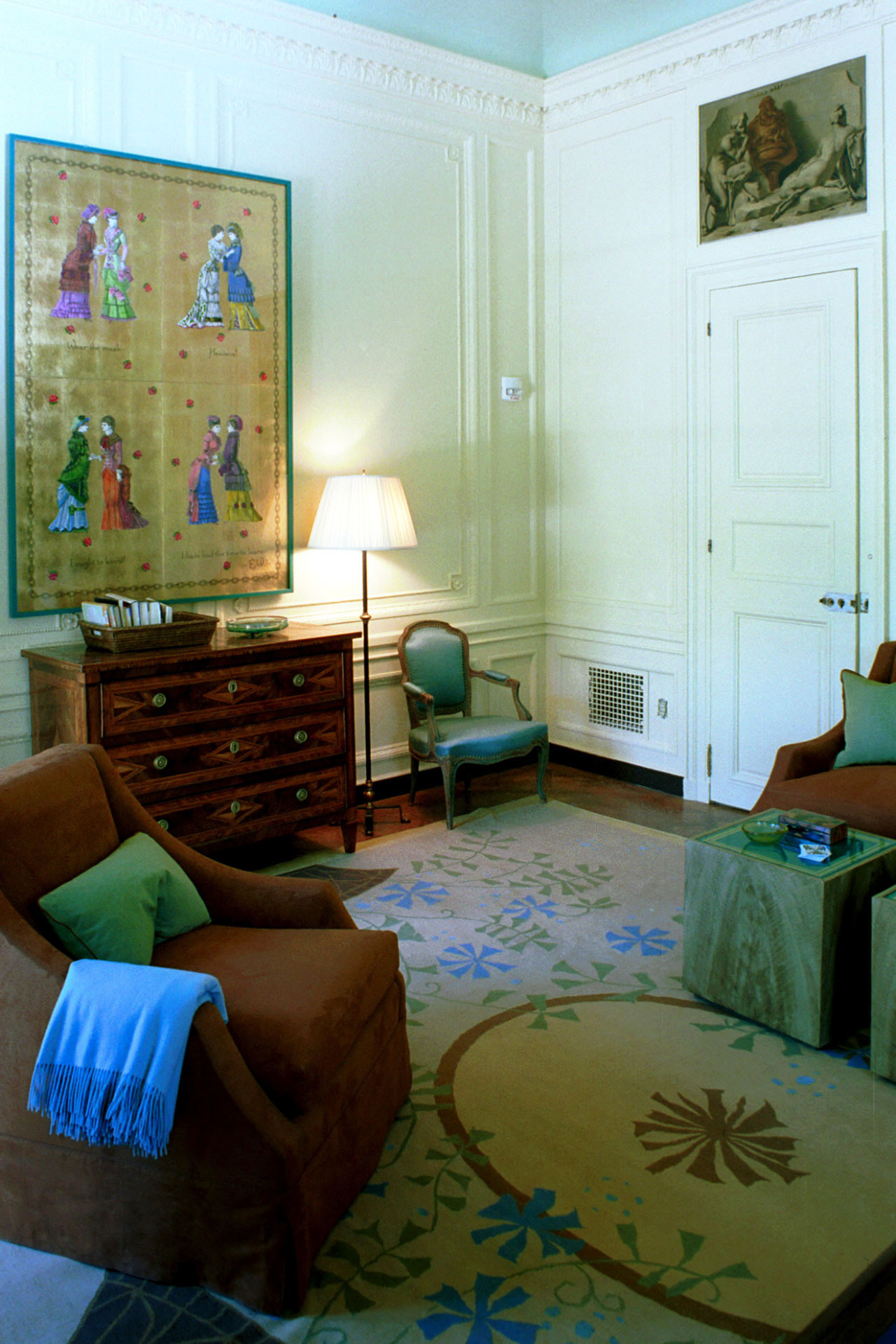 Thomas Jayne designed the carpet which is a lighthearted take on French Aubusson patterns. It was produced as a limited edition design through Doris Leslie Blau Carpets. It recalls Edith Wharton's admiration of French decorative arts, but its freehand style lends a cheery and relaxed spirit to the room. The collage over the chest by artist Robert Clepper, "She Loves Me, She Loves Me Not", was created for the room.
Winterthur Museum invited Thomas Jayne to redecorate the Marlboro room, du Pont dining room (above), and Baltimore room for their annual Yuletide celebration in 2005. It was a great honor for Thomas, a graduate of their fellows program in American material culture.
Thomas approached the Marlboro room as a space for a present-day family. He was given full access to the museum's collections and introduced some of his discoveries into the existing decoration. Modern paintings and sculptures acquired by Henry Francis du Pont, Winterthur's creator, made their way in as well as newly commissioned striped armchairs and pillows with bold graphic patterns meant to acknowledge present-day taste. The early American furniture already present or added to the room suddenly felt modern, giving prominence to their sculptural shapes and texture. The results were very American, which Mr. du Pont, a passionate collector of Americana, might have enjoyed.
A study in contrasts — objects found in Winterthur's storage room, including a contemporary painting, a folk art angel, and a handcarved storage box with intricate details is mixed with prime examples of 19th-century furniture.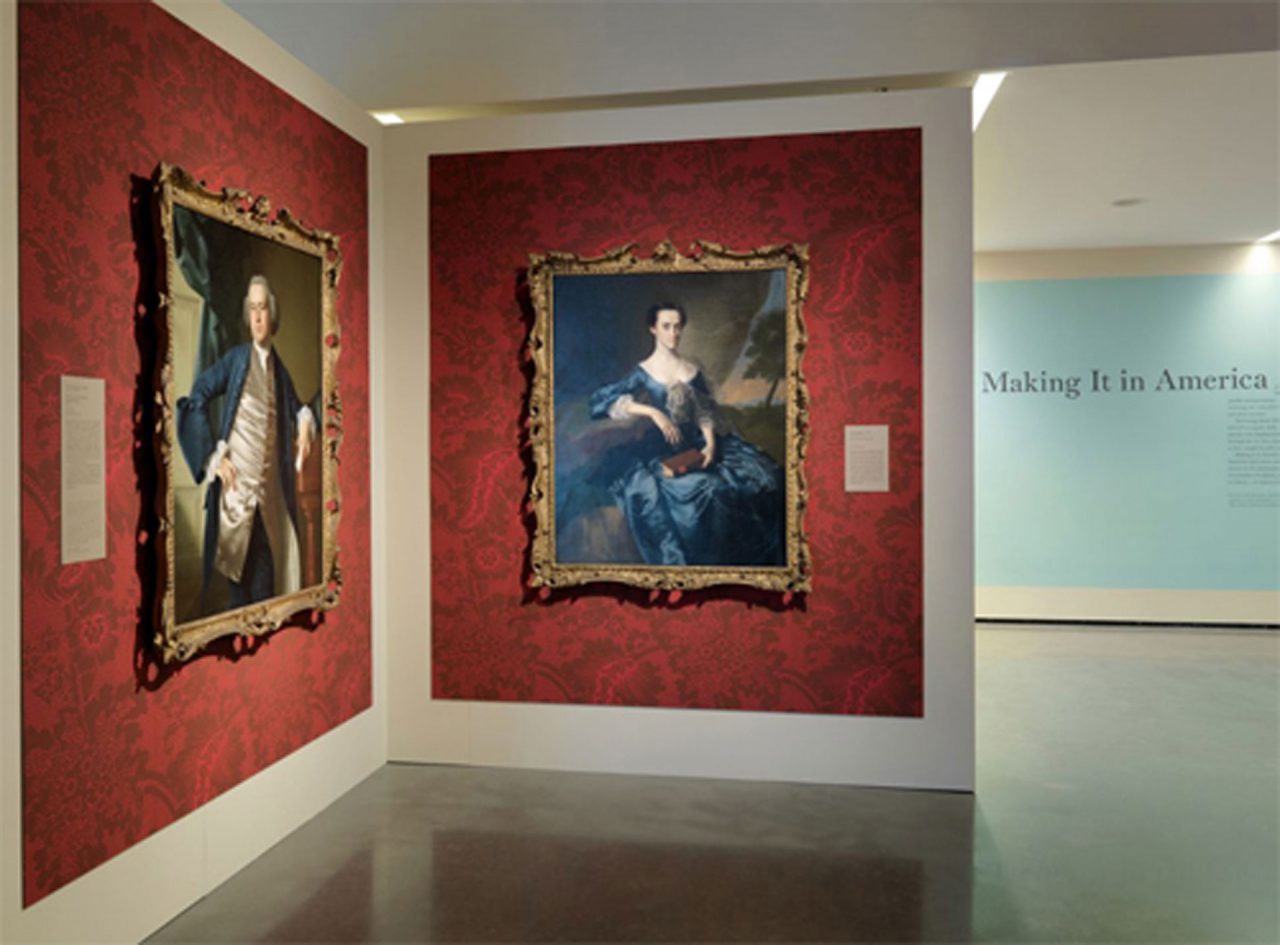 The Rhode Island School of Design Museum invited Thomas Jayne to design their exhibition, "Making It in America," in 2014. He used his knowledge of the history of American design along with his skill as a practicing designer to create an innovative display to present the museum's best American paintings and decorative art.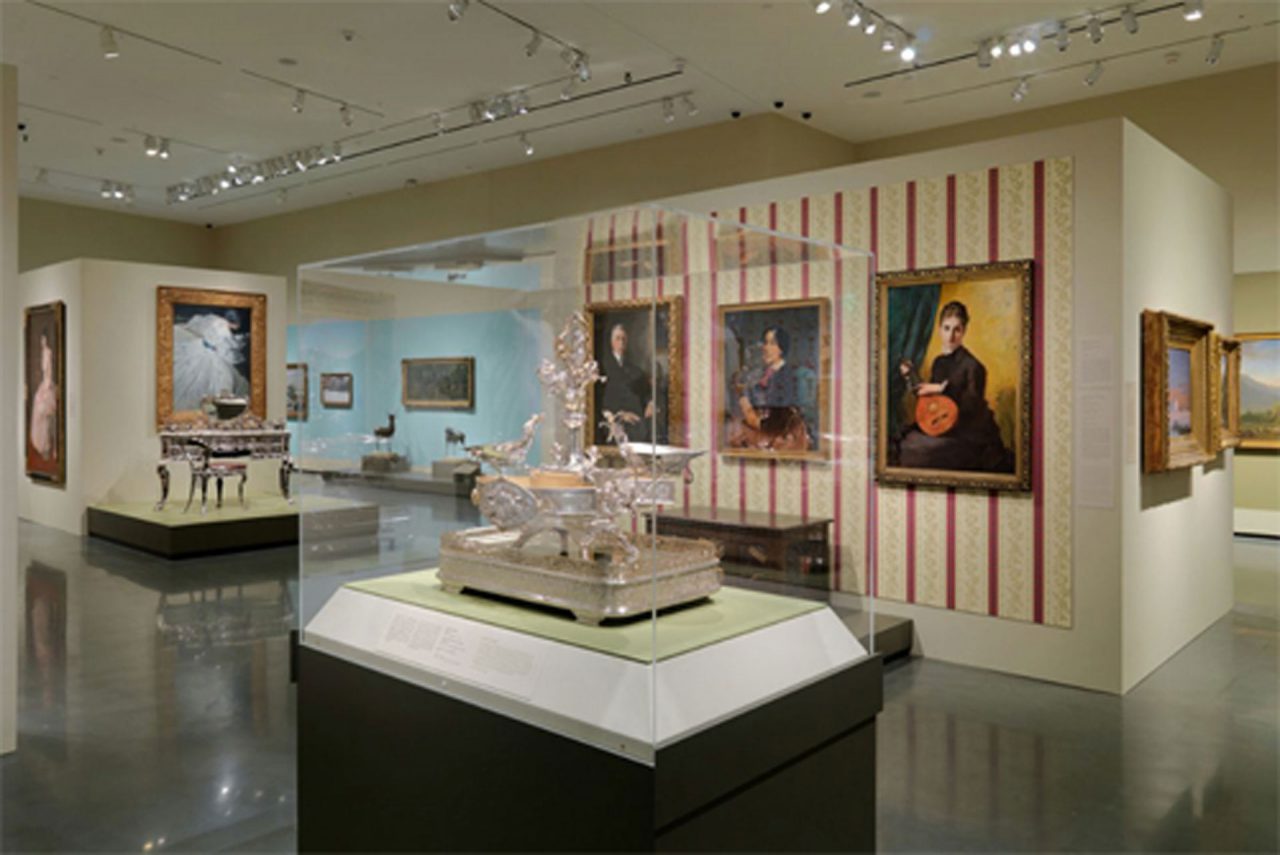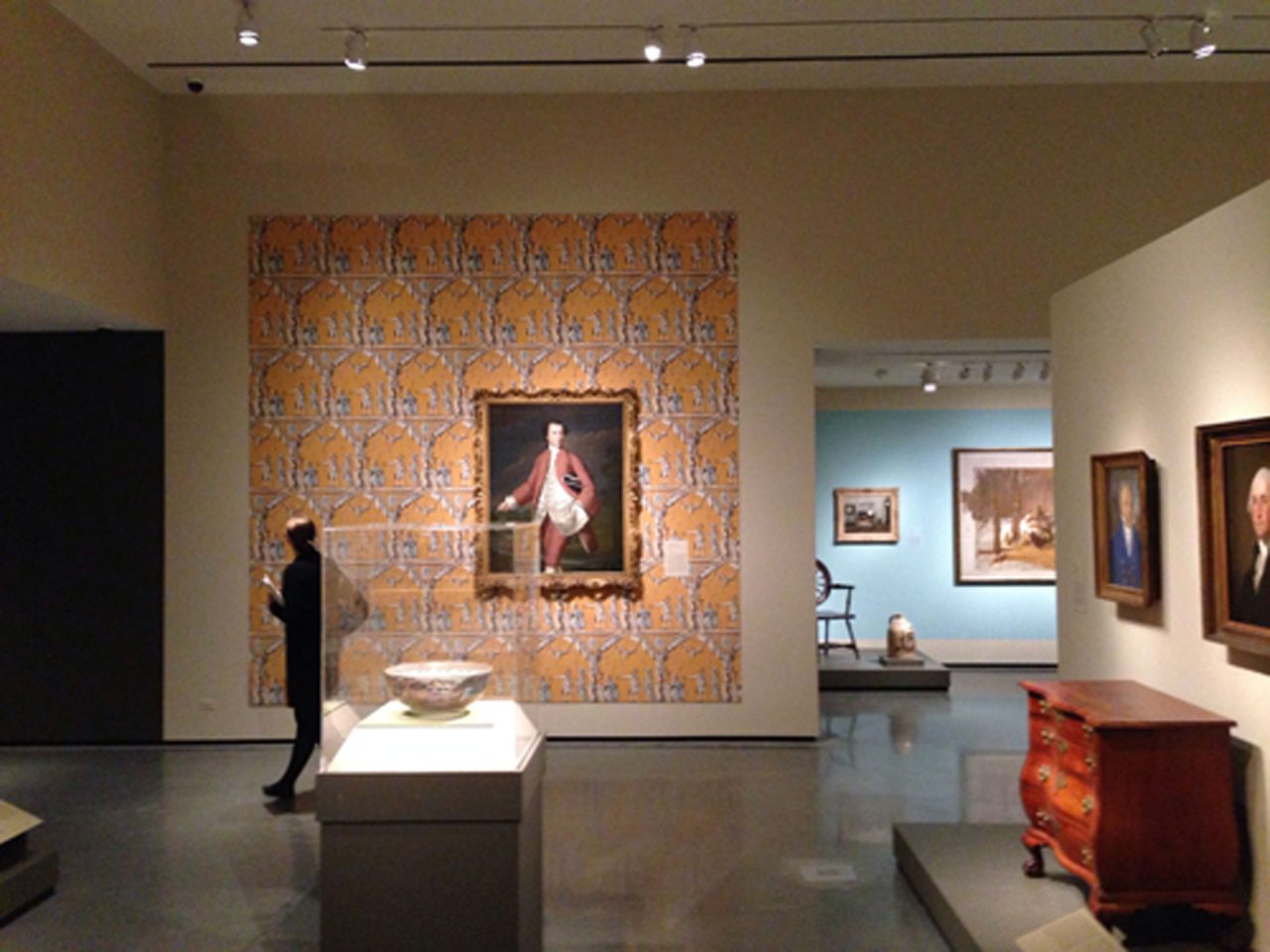 The mission was to create a striking and unexpected exhibit that is both historically informative and flattering to the objects, with an eye to attracting new audiences to the American arts. This was the first time these important examples of Americana had been displayed together, hence this was particular cause for celebration.
This exhibition eschews the usual contemporary museum approach for the display of Americana: the use of white or neutral-colored walls, or period room settings. Instead Jayne called up his often-repeated premise that historical American objects and paintings were most often created for environments that were patterned and colorful–these qualities were especially valued in America before the middle of the 20th century. He used backdrops of bold, old-fashioned colors and squares of historic wallpaper to provide informative historic contrast in addition to creating an attractive setting for the exhibits.