This Federal townhouse from 1817, with its remarkable parlor floor, has been beautifully restored through the efforts of Rob and Jane Hicklin. The ground floor, which has always been commercial, now houses Rob's business, the Charleston Renaissance Gallery; upstairs, "above the store," is this lovely retreat and a place to display their private collections.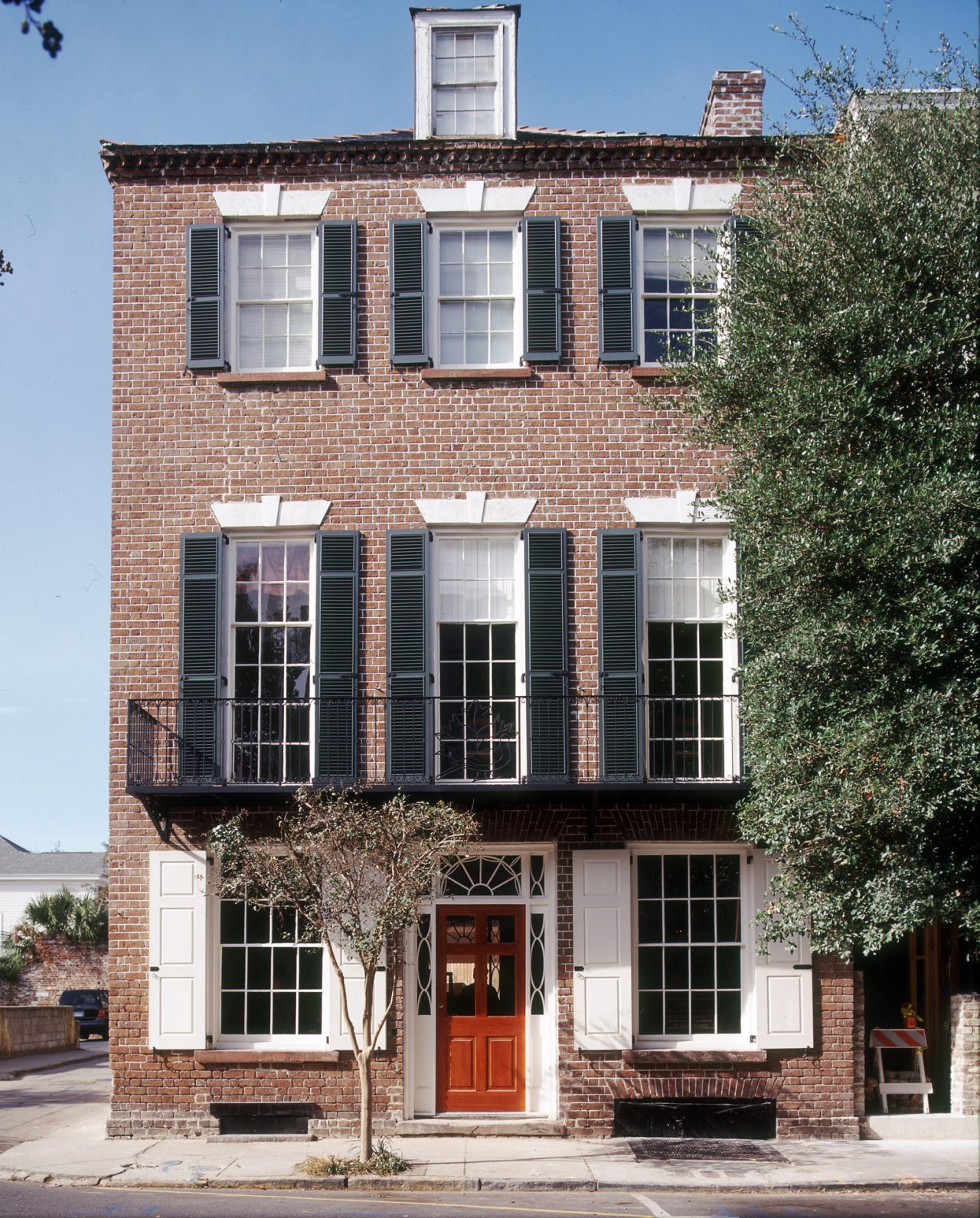 At the same time that we were working on the Hicklins' house, the Historic Charleston Foundation was restoring the Nathaniel Russell House, an important Federal residence with beautiful interiors. Based on their paint research — the chemical examination of historic paints to re-establish original paint colors — and evidence found in the Hicklins' rooms, we used a palette of so-called stone colors, which were popular when these houses were built and happily set off the paintings well — strong enough to balance their rich colors– and appealing to contemporary taste.
Decorating for today's use within a historically important context is always a balance between period verisimilitude and the personal comfort expected today. We often arrive at comfort by using fully upholstered chairs and sofas contrasted with select antiques. Here, we took the so-called "period room" approach. Arguably there is not a comfortable place to sit, and in a full- time residence, this antiquarian approach would be unusual. However, in this pied-à-terre, the decoration does not have to be practical and the imagination of the past takes precedence.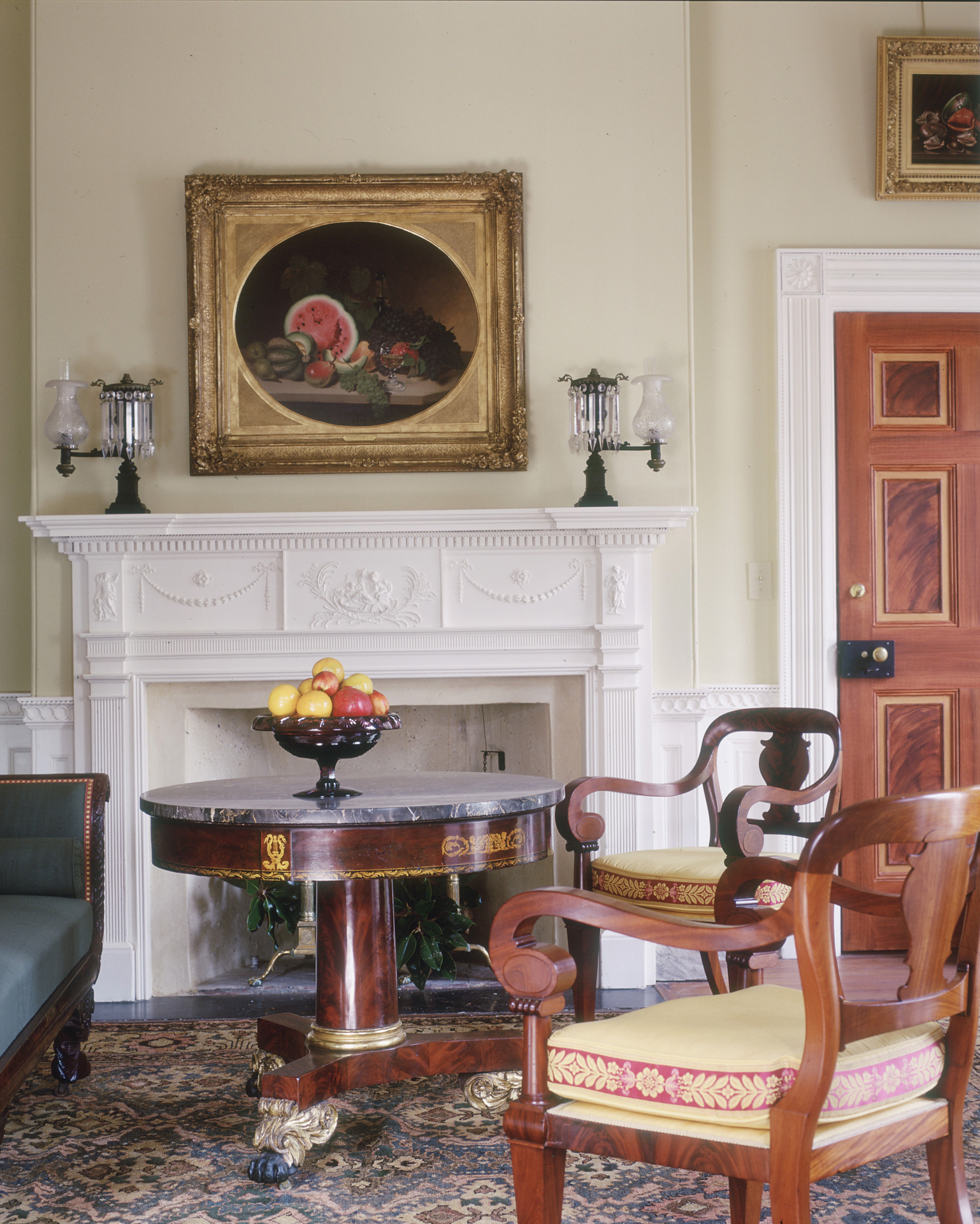 In preservation circles, there is often the dilemma of whether to install curtains over enriched, often historic woodwork, especially since many historic designs covered the architecture with elaborate concealing drapery. The Russell House research documents evidence of screw holes, for cloak pins, at the top of the window, which informed our curtains designs — a swag that hangs below the frame. We liked them because they reflect historic evidence and also have modern appeal.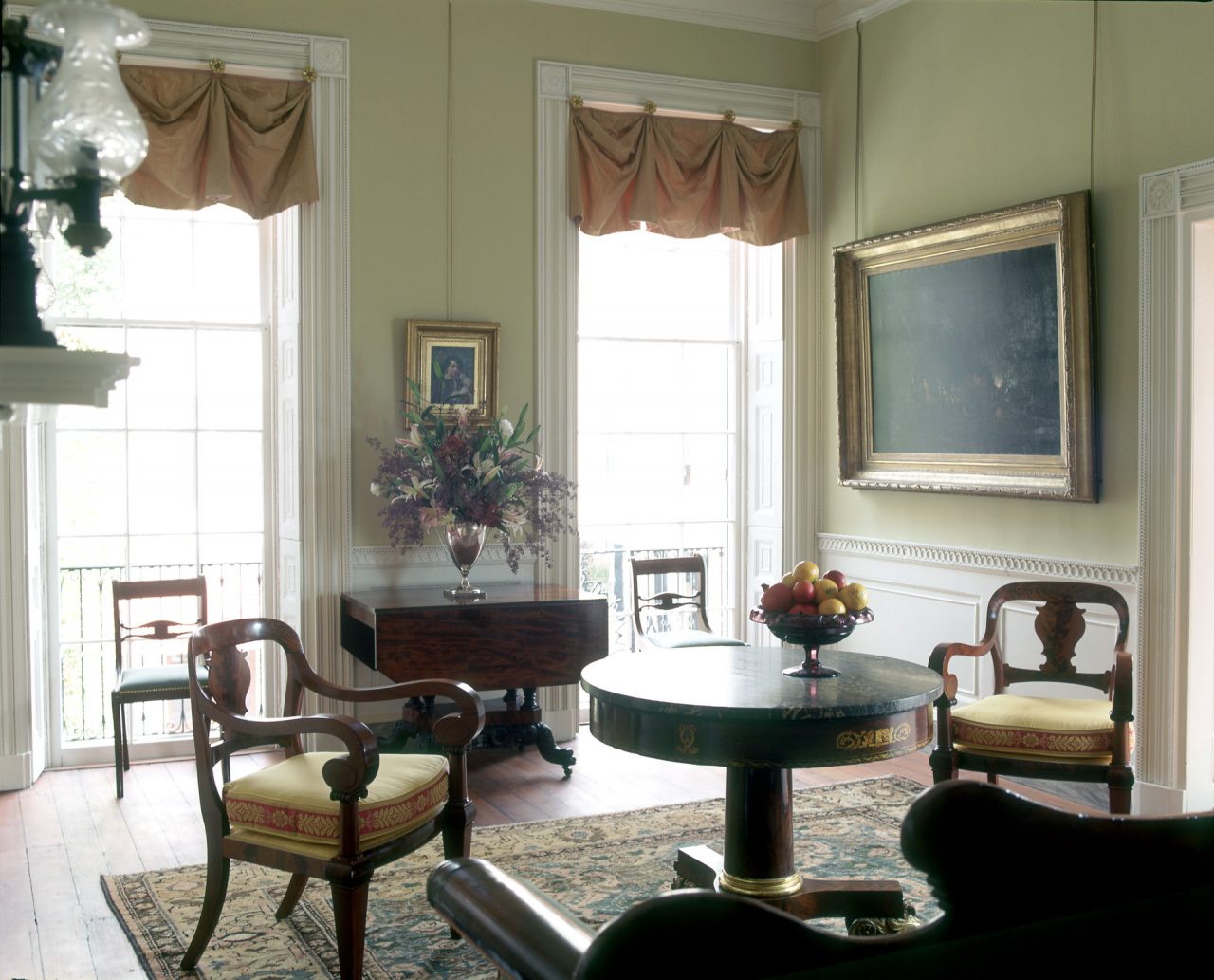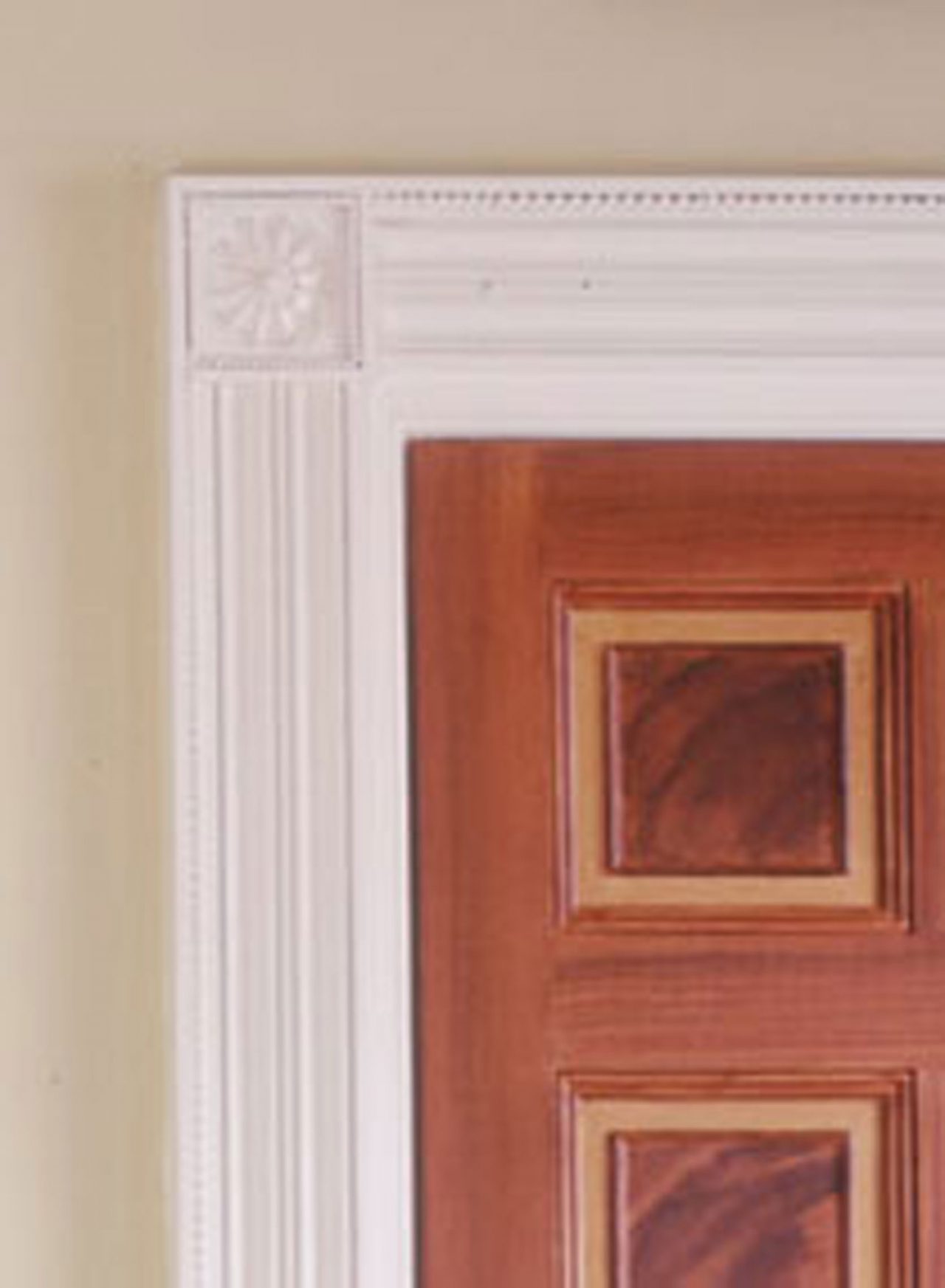 One of the special attributes of the house was the intact original woodwork. Working with architect John "Chip" Laurens, we had the woodwork restored — in fact thoroughly cleaned by two very focused conservators with dental tools — so that it looked crisp and revived.
After discovering that one room had been wallpapered — something that was extraordinarily popular in the early 19th century — we selected "Gallier Diamond," a document wallpaper design taken from a historic New Orleans house, for the study. Dense wallpaper designs with low-contrast colors serve as good backgrounds for displaying paintings.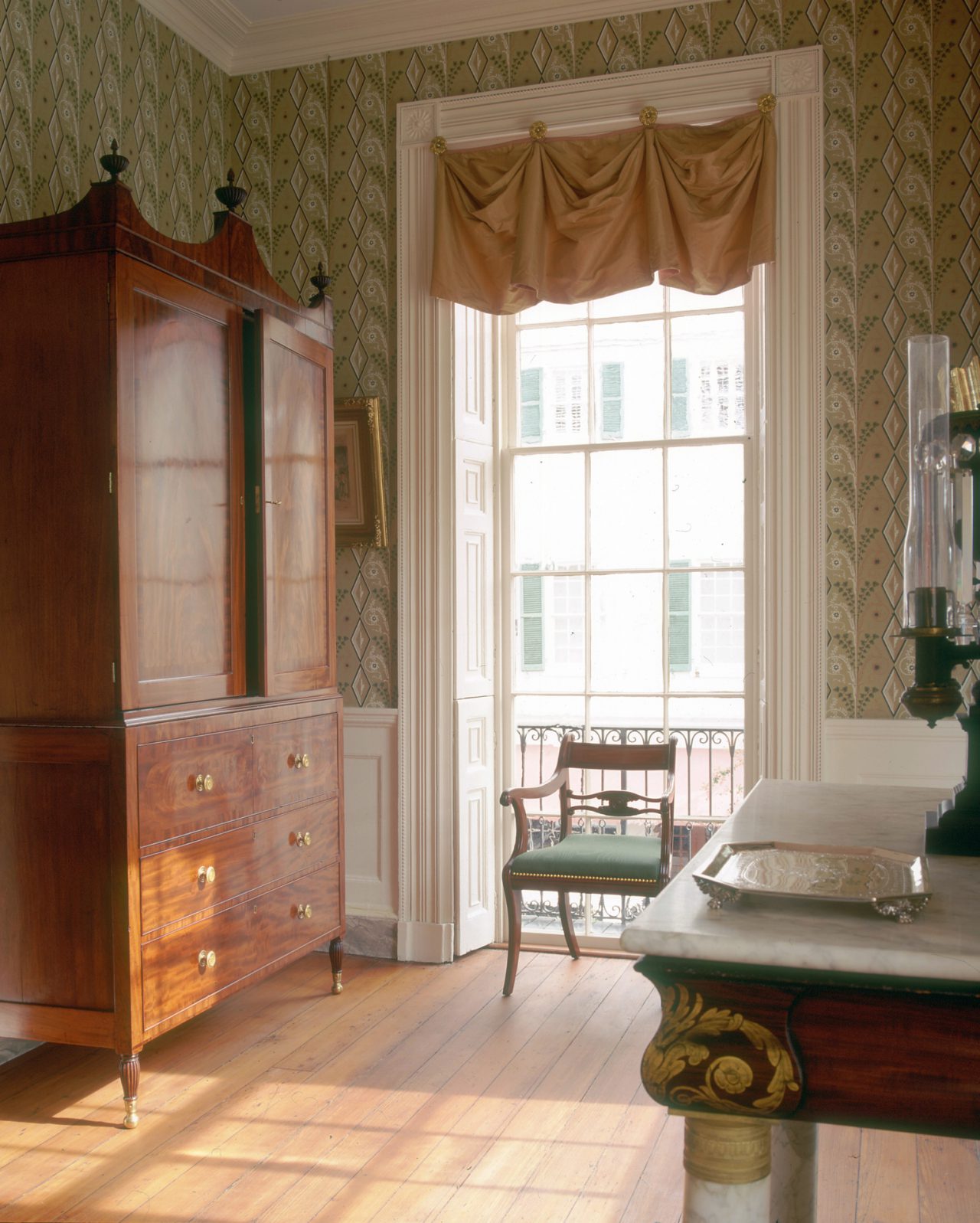 The carved sofa is attributed to the workroom of Samuel McIntire, one of the most important American cabinetmakers of the early 19th century.
In contrast with the public rooms, the bedroom is simply furnished with an antique bedstead. The sense of period simplicity is enriched with an antique quilt.